The trend among Indian students to study abroad has been on the rise for the past few years as it gives students the opportunity to study in top universities with world-class faculties, better career opportunities, and a promise of a bright future.
But studying abroad is not cheap, it requires huge funds to finance an education abroad. Every year there is a rise in tuition fees and living expenses also. According to a report by CNBC, "There is a rise in college tuition fees averaging 2% every year amidst inflation. The numbers were higher before."
The most common way to fund your education abroad is by taking an education loan. Among 2 types of education loans, a Secured loan is preferred due to its low-interest rates and a longer repayment period.According to a report by Researchandmarkets, "The Indian Loan Against the Property Market is forecast to grow at a CAGR of over 14% in value terms to reach USD857.87 billion by FY2026"
There is a common belief that the only option to take a secured education loan is to put the house as security. However, a house is not the only asset that you can pledge as collateral, there are many more. Read the article to know about all the options of collateral for an education loan
Accepted collaterals by lenders for a secured education loan
As we have mentioned above, there are many things you can use as collateral. It is always preferred to go with public banks if you have a property to pledge. Different Properties accepted for education loans could be-
Immovable property like a house, flat, and land(agricultural or non-agricultural)
Liquid security like Fixed deposits, Insurance policies (Term Insurance), and govt bonds.
You can also get an education loan on the property of your relative or friend who is willing to pledge his/her property for your education loan.
Preferred property by lenders for education loans
Among the immovable properties listed above, there are some types of properties that are most and least favored by the banks. Also, you can not use any property for an education loan. There are certain requirements created by banks.
Let's have a look at the properties that are most preferred, least preferred, and not at all accepted by banks as collateral security.
| | | |
| --- | --- | --- |
| Preferred Property | Least Preferred | Not Accepted |
| Urban Property | Rural property | Gram Panchayat Property |
| Residential Property | Commercial property | Mutual Funds |
| Build up (house/flat) | Empty Land( Agricultural or Non-agricultural) | Cantonment Area Property |
That means you can not take an education loan against agricultural land, or land approved by gram panchayat, or a house/flat in the cantonment area. If you have an empty land, then you can build a 2 feet boundary wall on that land to get a loan against it.
Agricultural lands are not accepted by most lenders. However, the Union Bank of India has special education loan schemes for education loans against agricultural land.
City-specific collateral requirements
Depending on the states/cities you belong to, there may be an additional type of property that is preferred, or state-specific requirements needed to be taken care of. For eg-
For Mumbai
Chawl Properties are not accepted
Properties under Pagdi System are not accepted
Properties without an Occupancy Certificate are not accepted
For Delhi
Properties on leases are not accepted
Lal Dora (Red Line) properties are not accepted
Conveyance deed and DDA allotment letter is required for DDA flats
For Telangana
LRS (Land regularization scheme) is required for open plots
BRS (Building regularization scheme ) is required for build-up properties
Notary registered properties are not accepted
For Kerala
Wetland or Nilam land is not accepted
Properties with rubber plantations are not accepted
Pledged property should have proper road access (municipal road with a minimum width of 8 feet)
For Bengaluru
A-Khata properties are accepted
Public banks don't accept B Khata properties but provided DC conversion, some private banks may accept it.
Learn how to convert B Khata property to A Khata property.
Mandatory documents required for education loan against property
Getting an education/student loan on Property is easy if you have the documents mentioned below-
Property Title Deed
Registered Sale Agreement/ Gift Deed/ Will
Original registration receipt for the above agreement
Allotment letter by Municipal corporation
Copy of municipality-approved building plan or plot layout
Latest property tax bill and electricity bill bearing the same address
30 years link document or previous chain of sale deed establishing title or EC is required.
For agricultural land, if that area has been converted into residential then a "conversion document" will be required.
Loan limits and interest rates on collateral education loans
Education loan against property can get you from 10 lakhs to 1.5 crores depending upon the property value and your total loan requirement. The interest rate on a collateral Education loan is usually between 7.65% to 9%.
To know how immovable properties are valued by banks for collateral education loans, read our dedicated article on the same subject here- How are collaterals valued for an education loan?
Process of getting an education loan on property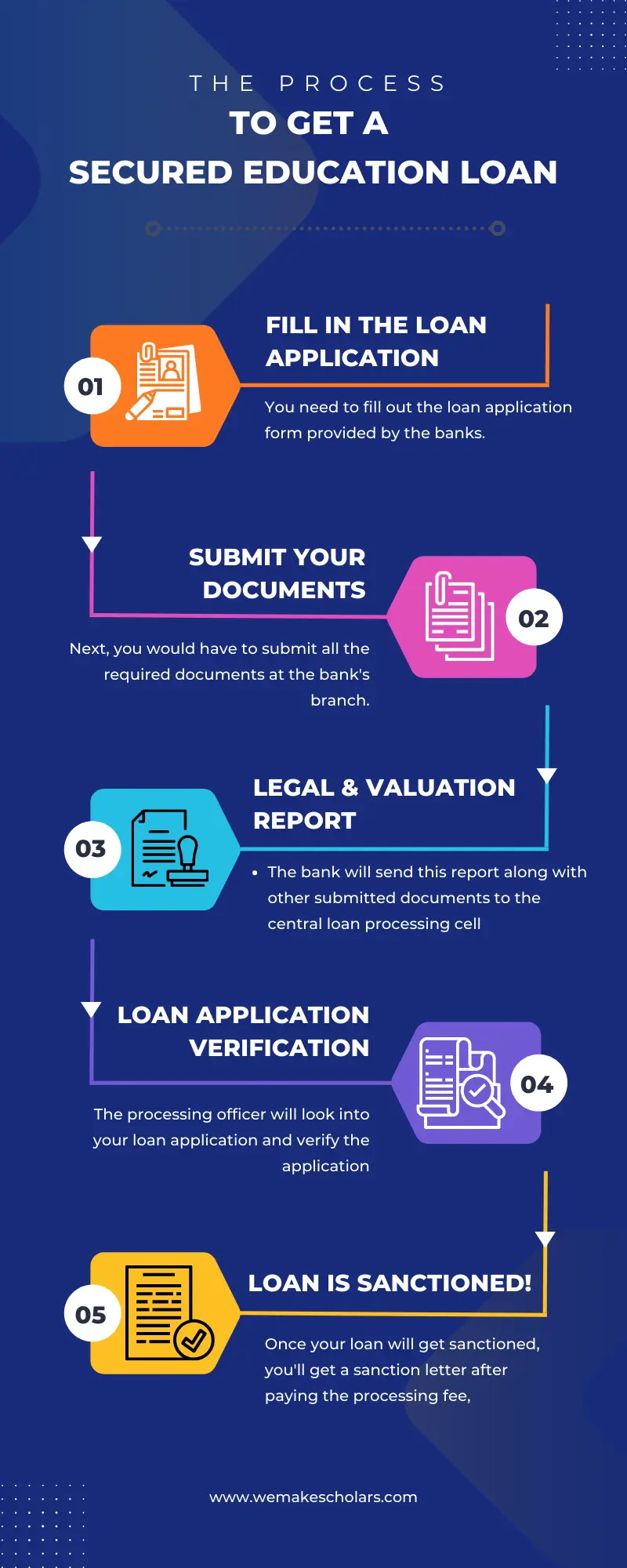 The process starts with students visiting the bank's branch with all the required documents. Then the bank will assign a lawyer and a valuer for your property for which students have to pay some 7K to 8K to banks as a fee to the lawyer and the valuer, this is not needed if the collateral is liquid security. After receiving the legal and valuation report, they send these reports along with all the documents to the central processing cell that takes care of the loan process.
Once the loan gets sanctioned, students get a sanction letter which stays valid for approx 6 months. And then students with their co-applicants have to submit all property originals to either CPC or the branch. The process involves stamp papers, affidavits, etc which will be charged at approx 0.5% of the loan amount, then the account is ready for the loan amount to be disbursed.
Getting an education loan on Property can be a laborious task but not necessarily if you go via WeMakeScholars. With a convenient process and lesser processing time, we can get your education loan done within 15-20 days.
Benefits of opting for an education loan on property
Indeed the process involved in getting an education loan on the property takes weeks and sometimes more than a month for an entire loan process but you can't deny the advantages with which it comes-
A lower rate of interest helps you save lakhs in a long run
Minimal processing fee of just 10K plus GST, and for some public banks 10K is refundable.
Larger loan amounts and a longer loan term compared to any other lenders
Moratorium period / Grace period of course duration plus 6-12 months where simple interest is charged but You need not have to pay anything during your moratorium period although you can if you want to.
Even after your moratorium period if you for some reason miss 2-3 months EMI, public banks won't get bothered much
The biggest advantage of an education loan on the property is that you can opt for any course be it a bachelor's degree because not many lenders will give an unsecured loan for a bachelor's degree.
Public banks give the best deal in the market, it is just that they take a longer time to process your loan if you go on your own, but if you go through WeMakeScholars then we can speed up your loan process by coordinating directly with the loan processing dept. Even if you don't have any property to pledge, WeMakeScholars can help you in getting an unsecured loan as well. We try our best to get students the best deal they can get. So do reach out to our financial officers by requesting a callback. Our team of Financial officers assists you with the entire education loan process until sanction, disbursement, and beyond. All the services offered by WeMakeScholars are free of cost as this initiative is supported by the IT Ministry, Govt. of India.