An education loan is an excellent source of funds for students who wish to fund their education in India or abroad. It is a sure-shot way to ensure an unrestricted flow of funds to further their higher education. But how to apply for one?
As there are multiple lenders both public and private who provide education loans to students, students can now also apply for education loans online.
And in this article, we'll describe the procedure for both the collateral and non-collateral education loan so that you'll know beforehand what to expect during your education loan process.
In this article, we'll go over the steps for both collateral and non-collateral education loan so you know what to anticipate during your loan process. With that, we'll also help you understand the loan jargons and terminologies that you might encounter during your education loan procedure.
Important aspects in an education loan process
For you, your education loan process begins the day you start looking for lenders, their education loan schemes, loan amount and interest rates as per your requirement, and so on. There are a few important aspects in an education loan process-
Type of education loan- As you may already know that there are two types of education loans available, the procedure for obtaining one depends on which one you take (explained the process of both education loans later in this article)
Education loan lender- Education loan type paired with a lender will change your entire education loan process. As it is preferred to take a secured and unsecured education loan from public and private lenders respectively.
Documentation- Both secured and unsecured loans have different document requirements. unsecured loans process requires less paperwork compared to that of secure loans process.
Education loan processing time- A secured education loan takes a lot more time than an unsecured education loan.
Different terminology related to the education loan process
There are some common education loan terminologies that you certainly will come across during your education loan process. These few terms are very important to understand as they will help you understand the terms and conditions of the bank as well as will guide you to form the right decision during your education loan process.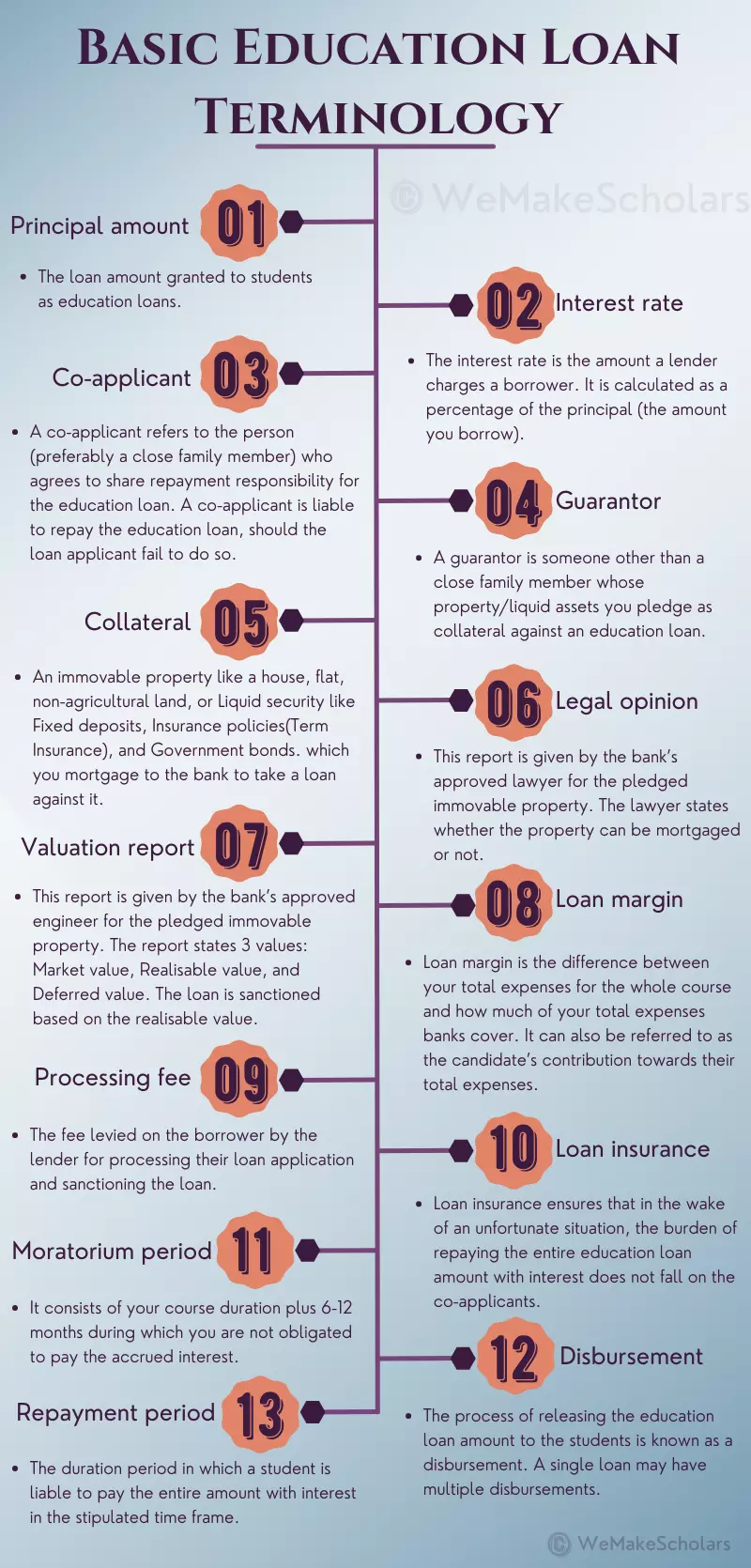 Procedure for an education loan for abroad studies
A secured education loan and an unsecured education loan have different procedures and so it depends on the type of loan you opt for.
Below is a standard bank procedure that requires more time and is complex too. Read till the end to know how you can avoid these complexities and save time.
1. Here's the procedure for a secured education loan for abroad studies:
First, fill out the online application form provided by the bank.
Visit the bank and list out all the documents needed for the education loan for study abroad.
Visit the nearest bank branch to submit the required documents and acquire details of the lawyer and valuator.
Acquire the Legal Opinion from the lawyer and the Valuation report from the valuator. The lawyer and the valuator will submit the reports to the bank branch( Know how are collaterals valued?).
After this, complete documents are sent to the education loan processing cell of the respective banks.
Your processing officer looks into your loan application and verifies the application.
Once the processing officer is done verifying the application, they will sanction the loan.
After the loan is sanctioned, you will be required to sign the documents for which you are required to visit the bank again.
Post visa approval, students are required to visit the bank and complete the property mortgage process (Students prefer to complete this process after visa approval in order to avoid risk)
A disbursement agreement is signed and after that, the funds are disbursed.
This is the entire procedure of a study loan abroad with collateral.
Generally secured loans are provided by Government/ Public banks but the processing of sanctioning the loan is slow. They take around 45 days to 2 months time just to start the processing of the loan application.
Therefore, we recommend you to reach out to WeMakeScholars as we share a professional affinity with the bank officials and we can process your loan in just 15-20 working days. Our Financial officers will guide and assist you throughout your education loan process till repayment.
Read more: What to do if Collateral is Located Elsewhere?
2. Here's the procedure for an unsecured education loan for abroad studies:
The education loan procedure for an unsecured education loan is fairly simple and straightforward. Once all the documents are submitted and everything is fine with lenders, you can expect your sanction letter within 7-10 days.
You can start applying for an unsecured loan once you have received your offer letter from the university.
The process of an unsecured loan starts with you submitting the documents along with the loan application form to the lender.
After that the lender will log in to your file, then if you are eligible as per their set eligibility parameters, the loan gets approved.
You finalize the offer by paying the processing fee and signing the loan agreement.
Do you know? The education loan terms (interest rates, processing fee, loan insurance, etc) in private lenders are negotiable. And if you lack the negotiable skills, you can miss out on a better offer.
Through WeMakeScholars, you get an automatic 0.5% reduction on the education loan interest rates. Apart from that, your assigned financial officer will also negotiate on terms even further if possible.
Why you should apply for an education loan for abroad studies through Wemakescholars
There are very few organizations that work for the benefit of students. Wemakescholars is one of them. We are funded and supported by the Ministry of IT, Government of India. So the first benefit of applying through us is that our services are free of cost.
We are affiliated with 10 plus Government banks, private banks, and NBFCs. So we can help students in finding the right lenders as per their requirements.
No hassle of visiting the bank again and again with different documents. Our financial officers walk you through the list of required documents and you can submit them in one go.
We work PAN India digitally, therefore we can assist students across India.
Last but not least, you get a companion in the form of a financial officer who will be available for you at all times, assisting you throughout the loan procedure till repayment
So now let me tell you how can you apply through us:
First, request a callback on the official website of WeMakeScholars
Within 1-2 working days of submitting your request, you will receive a call from our financial officer.
Your financial officer will be able to assist you in selecting the right lender for you after receiving some further information about your education loan requirement.
You will then be given a secured link to a portal by your financial officer, where you are required to upload the documents online. We request you to not send any documents to any other source as the confidentiality of the documents is jeopardized. Therefore, only upload the documents on the portal provided to you by your financial officer.
Once you've uploaded all of the necessary documents, your financial officer will connect you with numerous lenders that are most suited to your needs and assist you in getting the best offer possible
Our financial officer also negotiates the rate of interest offered by the respective banks and processing fee on your behalf.
As soon as the student is ready with the agreement, he/she heads towards the payment of the processing fee and gets the sanction letter.
We understand how confusing and daunting an education loan process can be. We make every effort to make the process as simple as possible for you. Request a callback and get in contact with us right away!