Students looking for an education loan often get confused when they come across the term collateral education loan. It's because they have no idea what it is or what all they can put up as security.
If you're here looking for the same answer then it's fair to assume that you too likewise the majority of students do not know what collateral is, right? Do not worry, as said you are not alone, there are many such terminologies related to education loans that students find confusing.
And you've come to the right place since this article isn't only for novices, it's also for individuals who are familiar with collateral education loans but don't understand them completely.
"A collateral education loan which is also known as a secured education loan is a loan where you are required to pledge a property or any other eligible financial assets to take the loan against it. This property and financial assets (immovable property or liquid security) you pledge to the lender are called collateral."
In case you don't know there is another type of loan that doesn't require any kind of collateral security which is known as a non-collateral loan or unsecured loan.
Rather than using collateral as security, lenders approve unsecured education loans depending on the income of your financial co-applicants, provided you're eligible for a non-collateral education loan.
What are the types of collateral security for education loans?
There are basically two types of collateral that banks accept as security for abroad education loans. It is always preferred to take a collateral education loan from a government bank if you have a property to pledge (Why? Read on to find out).
The two types of collaterals are-
Immovable Property: Properties that cannot be moved from one place to another like a house, flat, and non-agricultural land.
Liquid Securities: Liquid securities include Fixed Deposits (FDs), Term Life Insurance Policies (LICs), and Government Bonds.
Banks also consider third-party collateral for education loans. It means you can also get an education loan on the collateral of your relative or friend who is ready to pledge his/her property for your education loan.
Also, keep in mind that there are certain types of properties that banks prefer as collateral for education loans like agricultural lands, gram panchayat properties, Cantonment area property, etc are not accepted.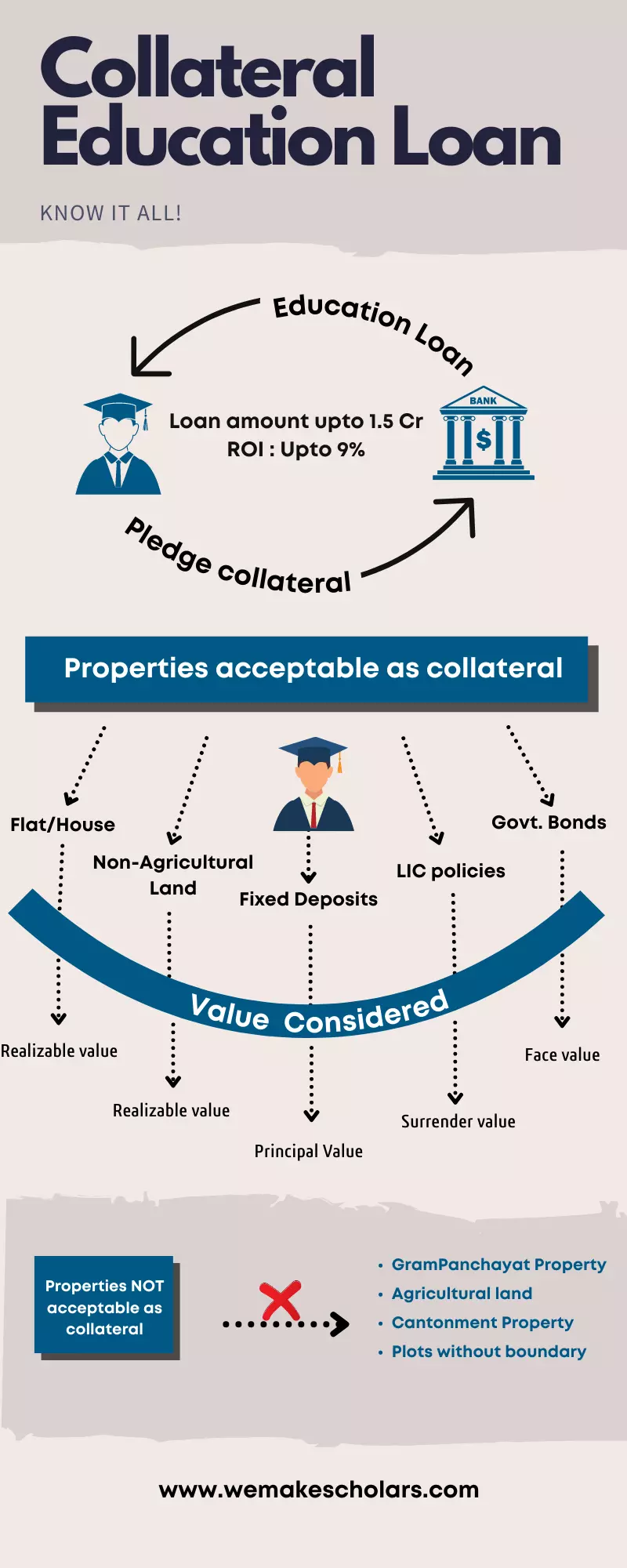 Property documents required for education loans:
Getting an education loan with collateral is easy if you have the required documents, plus you'll save a lot of your valuable time (by arranging these documents in advance) if you know the required collateral documents beforehand. We have listed all the needed documents in the list below:
Property Title Deed
Registered Sale Agreement/ Gift Deed/ Will
Original registration receipt for the above agreement
Allotment letter by Municipal corporation
Copy of municipality-approved building plan or plot layout
Latest property tax bill and electricity bill bearing the same address
30 years link document or previous chain of sale deed establishing title or EC is required.
For agricultural land, if that area has been converted into residential then a "conversion document" will be required.
Additional collateral related points to keep in mind:
If a joint property is divided into two or more, then clear segregation of the property would be required
If a huge land was registered and later cut into plots, then the mother land registration would be required
If the value of the property sought is more than 1 crore, then two legal and two valuation reports of the property would be needed.
So, these are the just collateral-related documents you are required to present when pledging collateral for an education loan. Other papers, such as KYC documents, academic qualifications, co-applicant papers, and so on, will also be required which is covered in-depth in this article- Required documents for Education loan
What are the loan limits and interest rates on collateral education loans?
Collateral education loans are considered to be the best option to finance your studies abroad and in India, because you can get up to 1.5 crores as a collateral education loan or even more if required. The amount depends on
The value of the pledged collateral and
Your total loan requirement (tuition fee, living expenses, travel fare, etc)
As of January 2023, the interest rate on a collateral education loan in public banks is between 7.65% and 9% and starts at 10.5% in private lenders.
How are collaterals valued for an education loan?
For immovable property-
To understand how immovable properties are valued, you would first need to know about loan margin. Similar to a loan margin, most lenders don't approve the 100% value of the collateral for education loans.
The valuation of the property is done by bank-approved valuators (engineers). Valuators will visit your property, check all the property-related documents and municipality approvals, click pictures of your property, and submit a brief report.
There will be three values mentioned in a valuation report:
Fair Market Value
Realizable Value
Deferred Value
Must Read: Valuation of Collateral Property
When calculating loan amounts, most banks use realizable value. The maximum any Government bank will lend you is 100% (for certain universities) of the realizable value, but the typical market scenario is for a loan to be accepted at 70% to 80% of the realizable value.
For eg- After valuation, if your collateral value comes to 50 lakhs and the collateral margin is set at 20%, then 80% of the value will be considered i.e 40 lakhs as a loan amount.
For Liquid securities-
For Fixed Deposit - FD principal value is considered.
For insurance policies - Surrender value is considered.
For Government bonds - Face value is considered.
Liquid securities have no collateral margin because they can be converted to cash instantly, thus eliminating the legal and valuation process resulting in faster loan processing time.
What is the process of getting a secured education loan?
You can start your education loan process as soon as you receive your admission letter from the university, although you should begin the education loan process before (Why? In the next section, we've covered it for you).
You need to fill out the loan application form provided by the banks. (With WeMakeScholars, you would only have to fill out one common application form that can be forwarded to all the banks).
Next, you would have to submit all the required documents at the bank's branch. (We will provide you with the checklist of documents for different banks).
The bank will then appoint a lawyer and a valuator for your collateral (for only immovable properties) for which you have to pay some 7K to 8K to banks as a fee to the lawyer and the valuator. They will submit the legal and valuation report of the pledged collateral to the bank.
After receiving the legal and valuation report, The bank will send these reports along with other submitted documents to the central loan processing cell that handles the education loan process.
The processing officer will look into your loan application and verify the application, and once done verifying the application, they will sanction the loan.
Once your loan will get sanctioned, you'll get a sanction letter after paying the processing fee, which stays valid for about 6 months.
At last, you and your co-applicants will have to submit all property originals to either CPC or branch for mortgage creation. It involves stamp papers, affidavits, etc which will be charged at approx 0.5% of the loan amount, then the account is ready for the loan amount to be disbursed.
Getting a collateral education loan from a public bank can be a laborious task as they take around 45 days to 2 months time to sanction an education loan.

Therefore, we recommend you to reach out to WeMakeScholars as we share a professional affinity with 10+banks, NBFCs', we can process your education loan on collateral security from a public bank in just 15-20 working days.
Why should you begin the education loan process early?
It is preferable to commence your loan process before you receive an admission letter because
The legal report and property valuation can be done beforehand and it would clarify the chances of you getting a secured education loan much earlier in the process. The legal and valuation report has a validity period of about three months.
There would also be plenty of time to arrange additional collateral or other property documents that the bank requires. This increases the chances of getting your loan sanctioned on time and well before the visa interview date.
Banks are unlikely to start your loan process before you receive an admission letter from a university if you go on your own. This is also why you should start your loan process with us. You will get more similar privileges with WeMakeScholars.
Do banks provide an education loan on a home loan property?
Ok, so what if your collateral is under a home loan? Will you still be able to get an education loan on such collateral?
Yes, you can pledge collateral that is already under a home/housing loan as security for an education loan. For this, banks consider certain factors before finally approving the education loan like-
The market value of the collateral that is currently under a home loan
The pending home loan amount to be paid,
However, the collateral under a personal loan can not be pledged for an education loan.
To know more in detail about this, refer to this article- Education Loan On a Home Loan Property- Know Everything!
What are the benefits of taking a collateral education loan from Government banks?
Although the process of obtaining an education loan with collateral from Government banks can take weeks, if not months, you cannot ignore the benefits that come with it.
A reduced interest rate helps you to save lakhs over time.
Minimal processing fee of just 10K plus GST (refundable in a few public banks).
Larger loan amounts and a longer repayment period compared to private lenders.
Moratorium period of course duration plus 6-12 months where simple interest is charged but you are not obliged to pay anything to the bank during a moratorium period.
Even after your moratorium period if you for some reason miss 2-3 months EMI, public banks won't get bothered much.
Even if you miss 2-3 months of EMI following your moratorium period, public banks won't get bothered much.
For your education, you can take practically any course in almost any country.
Public banks give the best deal in the market, it is just that they take a longer time to process your loan if you go on your own. But when you go through WeMakeScholars, we expedite your loan process by coordinating directly with the loan processing department. Even if you don't have any collateral to pledge, or for some reason your collateral security is not accepted by the banks, WeMakeScholars can help you in getting a non-collateral education loan as well.
We try our best to get students the best deal they can get. All the services provided by WeMakeScholars are free of cost as this initiative is supported by the IT Ministry, Govt. of India.