Education loan in Bangalore- Eligibility Criteria, Application process-Know all
Abroad Education Loan | Updated
Are you planning to study abroad? So You must've weighed the pros and cons of studying abroad and have decided to go for it. One question that may be troubling you though, can you afford it with or without education loans?
When it comes to your education, you need to make the right choices, and to be able to do so you need proper information on the subject. So if you've opted for an education loan to fund your study abroad like the majority of students, it is crucial to know your options.
Now in Bangalore, with the pandemic still looming around, it is not feasible for students or parents to directly go to the banks and get all the information by themself due to the covid situation, and with the lockdowns and restrictions on movement, it got difficult altogether to get an education loan in one go. And as it is also not feasible to visit every bank, 'WeMakeScholars' comes to the rescue since we are associated with 10+ banks and NBFCs to help students get education loans. It is an organization, funded and supported by the Ministry of IT, Government of India, and as this initiative comes under the Digital India Campaign, WeMakeScholars does not charge any service charges, hence it's free of cost.
So while taking an education loan in Bangalore, many a time due to lack of information regarding the type of acceptable collaterals and all the required Bangalore specific documents (which we will discuss later in this article) students don't get the best deal that they could've gotten from the lenders. Bridging the gap with this article, we will explore the types of education loans (collateral / non-collateral) students can get. Who all are the lenders, what are the Bangalore education loan eligibility criteria, about how much they can fund for your education abroad?
First up you should know there are two types of education loan you can opt for-
1.Collateral/Secured loan
To get a secured loan you pledge collateral to the banks to take a loan against it, and with a secured loan you can expect to receive more lenient loan terms, which include a lower rate of interest, a larger loan amount, or a longer loan term. now collateral is of two types,
Immovable property like a house, flat, non-agricultural land and
Liquid security like Fixed deposits, Insurance policy(Term Insurance), and Government bonds.
You can also get a loan against third-party collateral where your relative or friend is ready to pledge his/her property for your education loan.
Now for Bangalore, as mentioned above there are few things you need to keep in mind about collaterals.
In Bangalore, the municipal corporation has divided the properties into 3 types in 2007-"A Khata" which are fully legal and have paid all taxes and others as "B Khata" marking it as illegal, and "E Khata" - Electronic Khata.
A Khata: Everyone accepts the A Khata for an education loan in Bangalore, an 'A' Khata certificate is issued to a legal property that fulfills all Government regulations regarding building bylaws and taxation rules in Bangalore.
B Khata: Government banks don't accept B Khata but some private banks accept it if there is DC conversion. A 'B' Khata refers to properties that are in violation of building bylaws or are pending for clearance of property taxes or do not conform to Government regulations with respect to properties.
E Khata: E Khata refers to electronic Khata which is filed online. It allows the owner of the property to pay their property taxes online. It is mostly acceptable in some Government banks but it may depend on a case-by-case basis for Karnataka, for that Khata certificate, and Khata extract is required.


Khata Certificate - The certificate is a document that asserts that the tax records of a particular property are in the name of the owner. It is issued by BBMP and is required for registration of property or transfer of property in the name of the owner to any other person.
The Extract - The extract contains all the details of a property as collected from the property assessment register. Such details include the name of the owner, property size, property valuation, date of last assessment, property used for, demarcations, etc. It is valid for 5 years.
Convert B Khata to A Khata
B Khata properties deviating very little from the current laws and regulations accepted for building can be converted to A Khata. By meeting certain standards, the B Khata property's owner can upgrade it to an A Khata. Follow these few steps-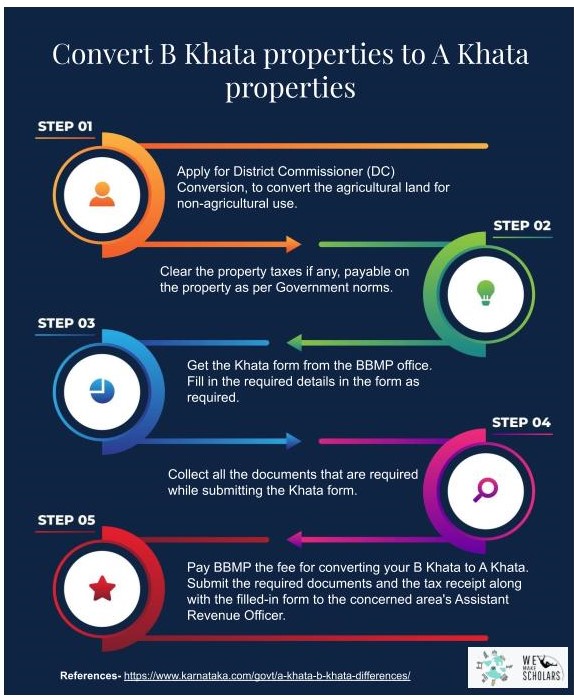 Step 1- Apply for District Commissioner (DC) Conversion to convert the agricultural land for non-agricultural use.
Step 2- Clear the property taxes if any, payable on the property as per Government norms.
Step 3- Get the Khata form from the BBMP office. Fill in the required details in the form as required.
Step 4- Collect all the documents that are required while submitting the Khata form.
Step 5- Pay BBMP the fee for converting your B Khata to A Khata. Submit the required documents and the tax receipt along with the filled-in form to the concerned area's Assistant Revenue Officer.
Generally, after submitting the form along with the relevant documents, you can expect your A Khata within a period of 4 to 6 weeks.
Now few general points about collaterals as well to keep in mind
Banks do not accept agricultural lands as collateral for an education loan
Banks generally do not accept the properties under Gram Panchayat. The property should be under the municipal corporation.
Cantonment area properties are not acceptable at all.
Banks prefer and mostly only accept residence property over commercial property.
For an open plot, a clear demarcation is required i.e. must be surrounded by a wall of at least 2 feet.
It is mandatory to have a property title deed, registered sale agreement/ gift deed/ will of the collateral.
2.Non-collateral loan/Unsecured-
An unsecured loan is a loan without collateral. For an unsecured education loan, lenders examine a set of deciding factors to check the eligibility of the applicant, even for Bangalore education loan Eligibility criteria for an unsecured loan will be the same, which are-
The academic profile of the Applicant- The previous academic records of the students must be at least 60% and they must not have more than 3 backlogs in order to qualify for an unsecured education loan.
Financial co-applicants income. The financial co-applicant should have a good and stable income source who will be able to pay interest during the moratorium period.
CIBIL report- Students and their co-applicants should have at least a CIBIL score of 685 or above and there should not be any major issues in the CIBIL report.
Course/Degree. Lenders prefer courses like UG, PG in STEM subjects over other courses like public policy or aviation but it is almost impossible to get an unsecured education loan for Ph.D., MBBS, Theology, Tailoring, etc.
The country. If you're going abroad then, major abroad destinations like the US, UK, Canada, Australia, Ireland, Germany have more approval rates for unsecured education loans since the applicant is more likely to be hired there.
University. Private banks have a list of top 300 universities with them for which they mostly approve an unsecured education loan.
Documents required for a Bangalore education loan process-
We have earlier written an article on documents required for the education loan process. It has comprehensively covered the topic to which you can refer to know about- Education loan documents required by Private and Government banks
For the Bangalore education loan process, the extra documents you would need to take care of are A Khata, B Khata, etc. which is already mentioned above.
And also go through The Education Loan Procedure in India: Secured Loans and Unsecured loans.
For an education loan in Bangalore: an overview of lenders and their offers
1.Govt banks/ Public banks - Government banks are the best for a secured education loan in Bangalore, if you have collateral, it is always better to go ahead with Government banks.
| | |
| --- | --- |
| Amount | Up to 1.5 Crores |
| Interest rates | 8-9% |
| Processing fee | 10,000 plus GST |
| Moratorium period | Course duration + 6 months to 12 months |
| Repayment period | Up to 15 years |
2.Private banks- Private banks are more suited for an unsecured education loan but as already specified above they prefer the promising profile of both student and co-applicant.
| | |
| --- | --- |
| Amount | Up to 40 Lakhs unsecured education loan |
| Interest rates | 10% and above |
| Processing fee | Around 1% on the loan amount +GST |
| Moratorium period | Course duration + 6 months |
| Repayment period | Up to 10 years |
3.NBFCs- NBFCs are Non-Banking Financial companies and there are 4 NBFCs in India that provide unsecured education loans and also partially secured loans for education. Their offers are variable and subjected to your preferred country for your education.
| | |
| --- | --- |
| Amount | Up to 60 Lakhs unsecured education loan |
| Interest rates | 11-13.5% |
| Processing fee | 0.95% to 1.5% on the loan amount +GST |
| Moratorium period | Course duration + 12 months |
| Repayment period | Up to 10 years |
So to summarize, if you have and can provide collateral it is recommended to go with Government banks for an education loan in Bangalore as they provide better deals with a lower interest rate. With private banks and NBFCs, the interest rates are on a little higher side as they provide an unsecured education loan but with no other options, we can go with these private lenders as well for an education loan in Bangalore. We try our best to get students the best deal they can get. So do reach out to WeMakeScholars by requesting a callback, our team of financial officers assists you with the entire education loan process until sanction, disbursement, and beyond.
Note: WeMakeScholars is an organization funded and supported by the Government of India that focuses on International Education finance. We are associated with 10+ public/Pvt banks/ NBFCs in India and help you get the best abroad education loan matching your profile. As this initiative is under the Digital India campaign, it's free of cost. The organization has vast experience dealing with students going to various abroad education destinations like the US, Canada, UK, Australia, Germany, Sweden, Italy, New Zealand, France among others.