Education was, education is and it will always be the way for a country to progress. Education has always been given importance since the independence of India. Even before we got Independence many of our freedom fighters took the support of education to fight against the British. Given the importance that education carries, the government started, kind of the first step in education loans in 1963. Below we see a series of important events in the history of education loans.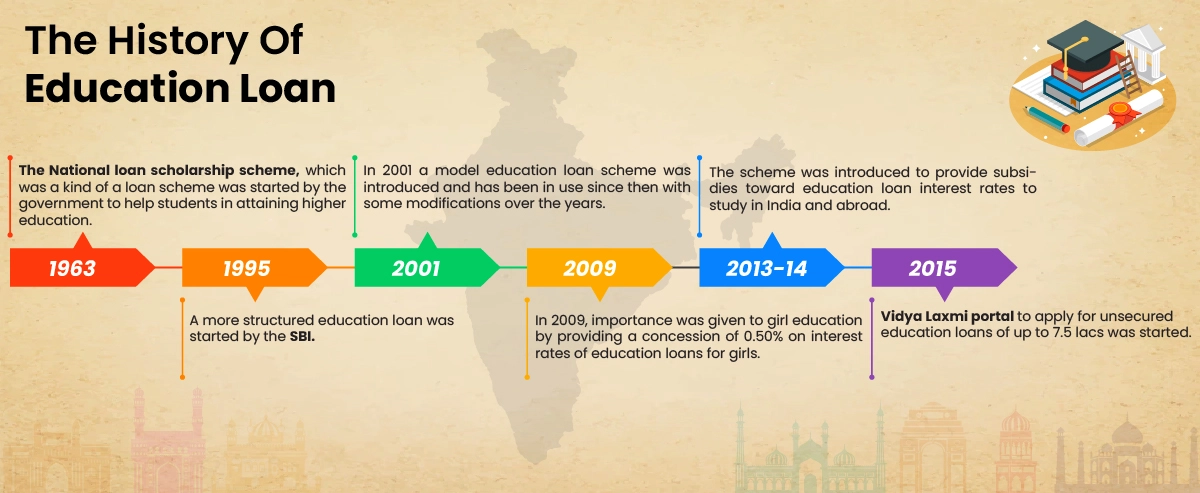 1963 - The National loan scholarship scheme, which was a kind of loan scheme was started by the government to help students in attaining higher education.
1991 - The scheme was stopped in 1991 because of the low recovery rate.
1995 - A more structured education loan was started by the SBI.
2001 - In 2001 a model education loan scheme was introduced and has been in use since then with some modifications over the years.
2004-5 - Changes in the security norms for education loans that are between 400000 and 7,50,000.
2009 - In 2009, importance was given to girl education by providing a concession of 0.50% on interest rates of education loans for girls.
2009-10 - New central loan scheme to provide subsidy on the interest in the moratorium period to economically weaker section( parental income less than 4,50,000 annually). These loans were provided to students to study in professional or technical fields in India.
2013-14 - The scheme was introduced to provide subsidies toward education loan interest rates to study in India and abroad.
2015 - Vidya Laxmi portal to apply for unsecured education loans of up to 7.5 lacs was started.