Thinking of going abroad but finding it difficult to choose an option from a plethora of them? Congrats! We are here to give a much clearer vision of different lenders with our guide. In this particular guide, we will present before you the benefits of taking an education loan from NBFCs.
NBFCs short for Non-Banking financial companies are financial institutions that provide a much easier option for students to take an education loan.
Easier? How?
Banks lend the money that is deposited by their customers and have a lot of nonperforming assets, so have to be stringent in providing loans.
Investors fund NBFCs and so do not have stringent rules when providing a loan. It is relatively easy for students to obtain loans from NBFCs than from banks. So, if you are not qualified for loans from Private or Public banks, then you can get it from NBFCs.
We will read more benefits of taking an education loan from NBFCs in the below article.
While we do that check for your eligibility to obtain an education loan from NBFCs or private banks by requesting a callback from WeMakeScholars.
Benefits of taking an Education loan from NBFCs
Taking an education loan does have its flipsides, but more than the flipsides the NBFCs have benefits which are stated below in this article. Have a detailed read to select your favorite lender.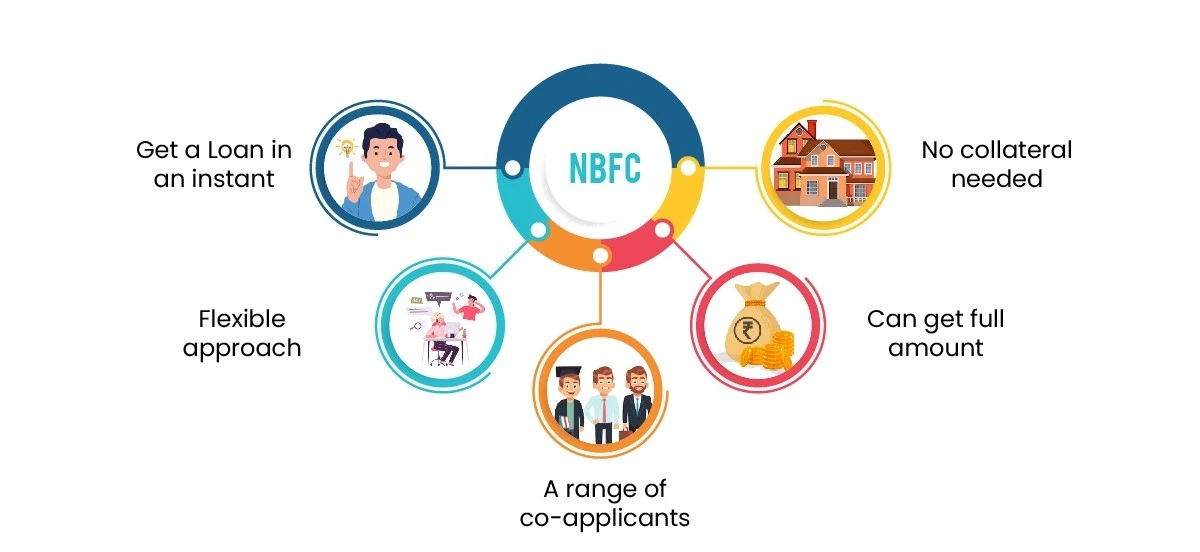 Get a Loan in an instant:
Can get vegetables in an instant, fruits in an instant, and food in a moment but can we get a loan in an instant?
Yes! Now you can also get a loan in an instant with the superfast process of NBFCs.
With NBFCs, all you need is the right documents submitted in time, and then pay the processing fee of 1 to 1.5% and you will be good to go with your loan. The NBFCs will get you a loan in about 7 to 15 working days, once the file is logged in with all the required details and documents.
Flexible approach:
NBFCs have a very flexible approach when dealing with students. They understand students' concerns about the interest rates or the loan amount to be sanctioned and hence can comprise their terms a bit.
We too at WeMakeScholars understand the concern of the students when they say that the ROI is high. In case the students are unable to negotiate the ROI or the loan amount with the NBFCs, they let us know that and we do the negotiation part on the behalf of students.
No collateral needed:
NBFCs do offer loans against collateral, but most of the loans sanctioned by NBFCs are non-collateral loans. Non-collateral loans are one of the most attractive features of NBFCs which is also the reason most students opt for NBFCs over other lenders.
There were star students who wanted to study abroad, but could not as they did not have finances and no collateral as well to pledge against the loan. They got education loans from NBFCs as they provided the loan without stressing much on the importance of collateral.
Can get the full amount:
The banks, private or public have a concept called loan margin which asks you to arrange a certain percentage of the whole amount of your expenses by yourself. The loan margin concept does not apply to the NBFCs and you can get the full amount that you need.
Also, banks will provide only the amount that you are eligible for like it may be according to the value of your collateral or the category of the university, whereas with NBFCs even if your eligibility for a certain amount is not met you can get the full amount by negotiating with them.
A range of co-applicants:
Let us first see the list of financial co-applicants eligible for each lender and then discuss how versatile the list of financial co-applicants for NBFCs is.
| | |
| --- | --- |
| Lenders | Eligible candidates for financial co-applicant |
| Government banks | Parents / Parents-in-law, Siblings, Parents siblings, Spouse, First cousins |
| Private banks | Parents / Parents-in-law, Siblings, Spouse |
| NBFCs | Parents / Parents-in-law, Siblings (preferable brother over sister), Spouse, Brother-in-law, Parents siblings, First cousins |
You can see in the above table that the range of eligible financial co-applicants for NBFCs is relatively higher than that of public or private banks. For NBFCs, along with the other options of co-applicants, even your brother-in-law can be considered a co-applicant.
NBFCs provide the flexibility of choosing a co-applicant from a wide range of candidates. That gives them a chance in taking an education loan even if they do not have financially stable parents or siblings or first relatives.
Conclusion
In the above article, we saw how flexible it is to get an education loan through the NBFCs. They have a flexible approach towards ROI negotiation, have a faster face of the education loan process, can provide the full amount that the student needs, are ok with students not having collateral, and also have a wide range of co-applicant lists to choose from. These reasons are enough for students to decide on the lender that they want to choose for an education loan.
Yes, NBFCs do have many benefits like the ones that we discussed above. But they also have some negatives if you go through them directly. Sometimes when you go through them directly, you might find it difficult to negotiate with them in case of ROI or the loan amount. Also, you might face issues in the disbursement of the amount if you are going directly.
Instead of going directly, you can go through WeMakeScholars with a hell lot of added benefits. WeMakeScholars will negotiate on your behalf with the lenders about the ROI. Also, WeMakeScholars will support you throughout your process of the loan until the full repayment.
So, we will also talk to the lenders on your behalf in case you face any issues in the disbursement of the amount after taking the loan. So, wait no more! Request a callback from WeMakeScholars today and get started with the hassle-free process of your education loan today.