Imperial College London: QS Ranking, fee, and courses
Admissions | Updated
Imperial College London, legally called the Imperial College of Science, Technology, and Medicine is among the top ten universities in the world. The University was founded in 1907 and the main campus is located in South Kensington.
The University is ranked at No.6 in the QS ranking and forms the golden triangle of six British elite universities along with University of Cambridge and Oxford University.
Imperial College has a high international community consisting of 59% of international students from around 140 countries. The university is ranked as UK's most international University and the world's fifth most international university. These numbers definitely explain the global experience that a student will get while studying there.
The average fee at the university might be a bit high depending on the course, and the quality of education at the university is very high. About the fees and the other expenses, read the article till the end. Apart from that in the below article, we are going to talk about the World Ranking of the Imperial College London, the Requirements to get into the university, popular programs with fees and finally we will help you with the application process.
QS and World Ranking:
Imperial College London has been consistently ranking among the top 10 UK universities since its inception. Below we have listed the current rankings of the University: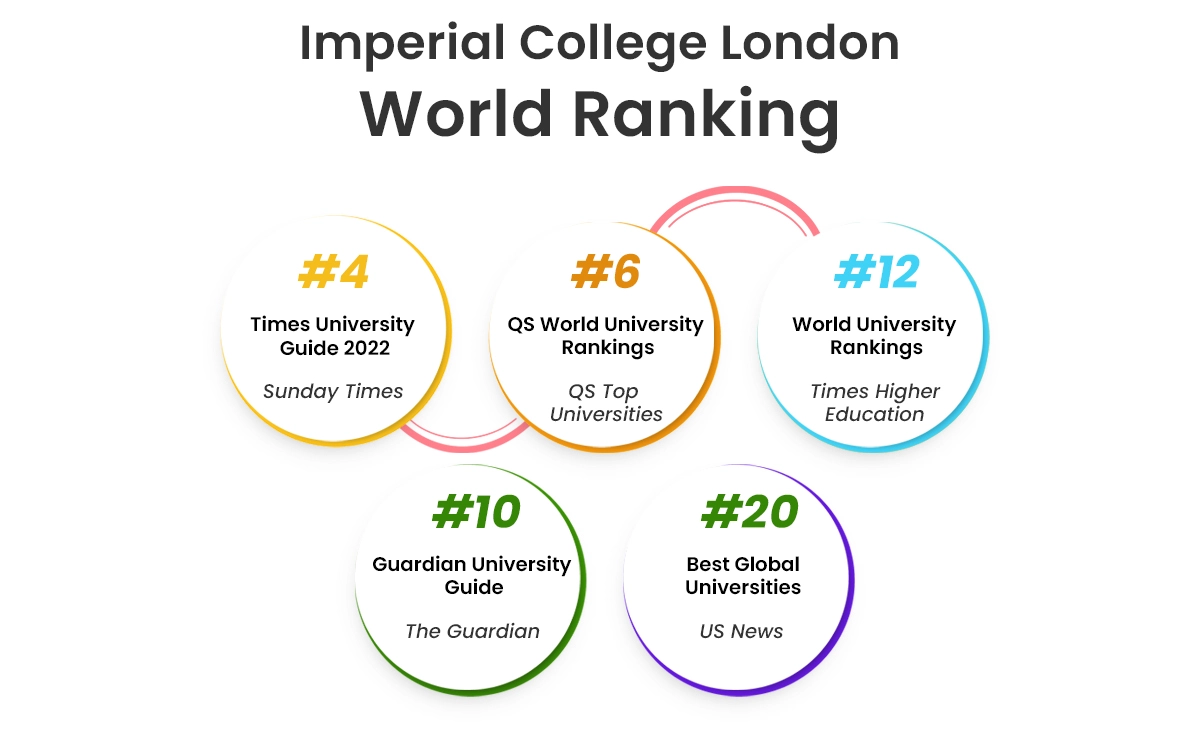 | | | |
| --- | --- | --- |
| Rank | Name of the Ranking | Ranked by |
| 6 | QS World University Rankings | QS Top Universities |
| 12 | World University Rankings | Times Higher Education |
| 4 | Times University Guide 2022 | Sunday Times |
| 10 | Guardian University Guide | The Guardian |
| 20 | Best Global Universities | US News |
Taking an education loan to manage expenses for universities like Imperial College London? Contact Wemakescholars to get started with the process of your education loan.
Requirements to Apply at the University
The requirements to get into the university differ from course to course, though we have listed below some entry-level requirements that are common.
Academic requirements:
Academic requirements to get admission to the university are based on the country that you are applying from and the course that you want to pursue. Please refer to the official website to know your academic requirements according to your course and country.
English Language Requirement:
The University has a certain English language requirement that can be met by writing one of the English language proficiency tests. There are two different levels called standard and higher which are according to the course you are applying for. Below is the score that you need to get for either IELTS or TOEFL that you need to meet.
The standard score for IELTS is 6.5 with a minimum score of 6 in each section. The score required at the higher level is 7.0 with at least 6.5 in each section.
Read More: Tips to Prepare for IELTS
The standard score for TOEFL Exam is 92, with a minimum of 20 in each element. The TOEFL score required for a higher level is 100, with a minimum of 22 in each element.
Read More: 11 tips to prepare for TOEFL Exam
Read More: Difference between IELTS and TOEFL Exam
Personal statement:
Provide a personal statement with your UCAS application, which will convince the university as to why you are the perfect candidate.
References:
The university will ask for references from your teachers, make sure they write a good one, to increase your chances of selection.
Admission tests:
The university may ask you to write an admission test depending on the course that you are applying for.
Interview:
You might need to give an interview if the department you are applying to requires it.
Programs with Fees
The University is exclusively for courses related to Science, Engineering, Business, and Medicine. Hence courses related to these departments are very popular at the university. The below table lists 10 popular courses at the university with an estimate of the fees.
| | | | |
| --- | --- | --- | --- |
| S.No. | Course Name | Course Duration | Estimated Fees P.A |
| 1. | MEng Biomedical Engineering | 4 years | 33.8 lacs |
| 2. | MEng Chemical Engineering | 4 years | 33.8 lacs |
| 3. | BSc Biochemistry | 3 years | 34.96 lacs |
| 4. | MBBS | 6 years | 45.03 lacs |
| 5. | MEng Chemical with Nuclear Engineering | 4 years | 33.8 lacs |
| 6. | BSc Physics | 3 years | 34.96 lacs |
| 7. | MEng Civil Engineering | 4 years | 33.8 lacs |
| 8. | BSc Chemistry | 3 years | 34.96 lacs |
| 9. | BEng Computing | 3 years | 33.8 lacs |
| 10. | BEng Mathematics and computer science | 3 years | 33.8 lacs |
How to apply to the University
To apply to the Imperial College of London, you will need to first fill out a UCAS (the Universities and colleges admission services) application form. You can go to this link to start your UCAS application.
Once you have submitted your application form, the officers and tutors at the university will evaluate your profile and then you will receive an update by email, which you can view by signing into your UCAS account. Sometimes the University may even directly contact you.
The Imperial College of London being consistently in the top 10 universities list, offers quality education. The university might seem a bit expensive and so it is tough for a student from a humble background to get into the university.
We at Wemakescholars believe studies should not be hindered by a lack of finances. That is why Wemakescholars provide quality guidance to students and also connect them to suitable public and private lenders. The services at Wemakescholars are free of charge as it is funded by the Ministry of IT, the government of India. The financial officer at Wemakescholars will not only provide you with suitable lenders but will also negotiate on your behalf for interest charges or loan amounts. So wait no more! Connect to Wemakescholars today by requesting a callback for a hassle-free education loan.