TOEFL Preparation: 11 tips to score good in TOEFL
Admissions | Updated
Toefl exam is widely accepted in Universities worldwide to check the English language profieciency of students and job seakers. According to ETS website report of 2020 "TOEFL scores are accepted by more than 11,000 colleges, universities, and licensing agencies in more than 150 countries." So, you can assume the competition there will be.
There are students who top the exam by working hard on the syllabus. Then there are students who prefer smart study rather than gulping in all the syllabus but still score well in the exam. As you have decided to go through this article, I assume that you belong to the second category of students who prefer to apply tips to score well in exams. In the below article, we will discuss 11 tips to score well in TOEFL.
There are a ton of language proficiency tests, but if we go by the popularity of tests, none can match the popularity of TOEFL and IELTS exam. To decide between the two popular tests read our article on TOEFL vs IELTS. However, in this article, we are going to talk about TOEFL. It is the only language proficiency test that is accepted by every university in the USA.
There are many versions of TOEFL, though in this article we will discuss TOEFL iBT as it is the most accepted version of TOEFL.
11 tips to score good in TOEFL
Below we have figured out 11 tips to score good in TOEFL. Go through them to have a good idea of scoring well in TOEFL.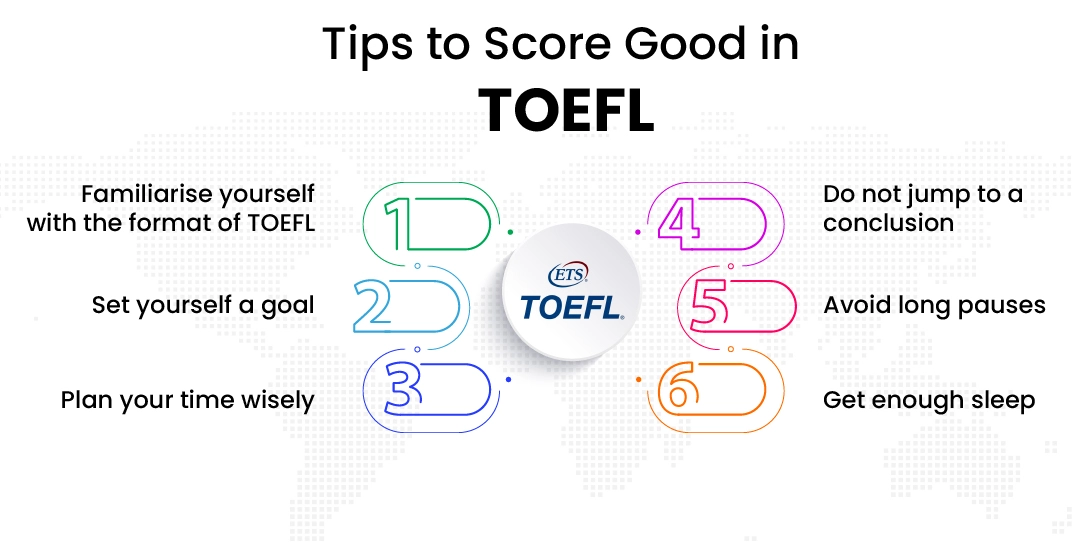 1. Familiarise yourself with the format of TOEFL:
It is important that you soak in the format of the exam, as that will help you prepare well for your exam. Also, make yourself comfortable with the pattern by practicing according to it, so you don't feel surprised when you are actually writing the exam. You can read about the details of the format of TOEFL in this article.
| | | |
| --- | --- | --- |
| Section | Number of Questions or Tasks | Time Given(in minutes) |
| Reading | 36-56 | 60-80 minutes |
| Listening | 34-51 | 60-90 minutes |
| Speaking | 6 tasks | 20 minutes |
| Writing | 2 tasks | 50 minutes |
2. Set yourself a goal:
Set yourself an achievable goal, and maybe a bit the criteria set by your University to be on the safer side. A goal will help you plan your studies accordingly. As they say action without a goal is just directionless, you won't know where you are going or what you are doing without setting a goal. When you have a goal in mind, you will have clarity about your score and also a plan of action to achieve that.
3. Personalize your plan:
Every person or student has their share of strengths and weaknesses. So do not try to copy study plans from your batch mates or friends. Make your own study plan according to your strengths and weakness. Try to make extra time for the topics or sections that you feel you are not good at. It can be anything like, if you are weak in vocabulary or grammar then you will have to devote extra time to that particular topic.
4. Do not jump to a conclusion:
Some questions will have similar options, so it is natural for you to get confused. Reading the first options may feel like the right answer and hence you might select that. But you need to carefully read all the options even if you consider the first option is correct, because the last option may seem more appropriate. So do not jump directly to the conclusion after reading the first few options, read all the options carefully.
5. Use the process of elimination:
Sometimes you don't know what the answer is, but you certainly know what can't be the answer to the given question. Eliminate the options that you think cannot be the answer to the question and if there is more than 1 option left after elimination, you can take a guess.
Also, in listening sections, if you haven't heard the whole clip properly, but have an idea of a part of the clip and some of the options are totally opposite to that, then you can definitely eliminate them and then guess the answer in the options left.
6. Answer all the questions:
Unlike most competitive exams, there are no penalties in the TOEFL exam for wrong answers. So even if you are not sure about the answer to a particular question, you should write the answer as it won't cost you any negative points. The guess sometimes can come true, even if it doesn't then also you don't have much to lose.
7. Plan your time wisely:
This tip is exclusively for the reading section, as people tend to run out of time while attending the reading section. In this section, you will have 60-80 minutes of time for 3 to 4 passages. You will have 12 to 14 questions for each passage so you will have to spend approximately 20 minutes per passage. So practice reading passages before you go for the exam and also do not read the question first and then go into the passage to find the answer as it will eat away a lot of your time. Instead, first, read the whole passage and try to understand it, then answer the questions.
8. Skip difficult questions:
Do not totally believe the subheading that we have given above, as we don't mean to ask you to skip the difficult questions completely. We advise you to skip difficult questions at the start as it might take a lot of your time. So skip them at the start and answer them once you are done with all the other questions. At last, when you have solved the questions that you know, you can just guess the others, which won't take much time.
9. Avoid long pauses:
In the speaking section, do not take long pauses as you will have only approximately 45 to 50 seconds to speak. By avoiding long pauses we don't intend to say to avoid pauses at all. We are saying to avoid long pauses, but you should definitely take little pauses at the end of sentences or when you feel like breathing. Totally avoiding pauses might make your speech unnatural.
10. Start writing a journal
Journal is a diary that helps you keep a track of your daily activities. Journal writing in English will help you enhance your writing skills and also your fluency in English. Do not forget to regularly update your Journal as this small habit will help you immensely in your TOEFL preparation.
11. Get enough sleep:
Before the day of your examination, have a very sound sleep as you will need to stay calm during your examination. A calm and clear mind will help you in clearing your exam. Even while you are preparing for your exam, give your sleep as much importance as you will give to your studies.
These tips when implemented rightly will help you clear your TOEFL exam on the first go. Meanwhile, as you are preparing for your TOEFL exam, you should definitely check the best deals for education loans. Consider going to the best universities around the world, just do not worry about the expenses, as education should never be hindered because of a lack of finances. Finances will be taken care of by us, all you need to do is give us a chance to assist in your process of education loan. We at Wemakescholars will guide you through the process of education loan and also connect you with the best public and private lenders. Request a callback today from Wemakescholars and get started with your education loan.