TOEFL Exam 2023- Dates, Fees, Registration, Eligibility, Syllabus, Pattern
Admissions | Updated
Are you planning to take the TOEFL exam 2023 and feeling nervous about it? Well, you're not alone. Every year, millions of students take the TOEFL exam and secure admission at American and Canadian universities and education institutions abroad.
TOEFL, which stands for 'Test of English as a Foreign Language' is one of the most popular English proficiency exams in the world that evaluates the four basic communication skills of a student — Speaking, Writing, Reading, and Listening.
TOEFL is administered by the Educational Testing Service (ETS), which offers over 60 dates to give students the freedom to take the TOEFL exam round the year at their convenience. Students can book their TOEFL Exam slot when they feel confident in appearing for the same.
Continue reading this article to know the complete details of the TOEFL exam 2023, including the TOEFL exam pattern, syllabus, dates, fees, and much more.
TOEFL Exam 2023 - Synopsis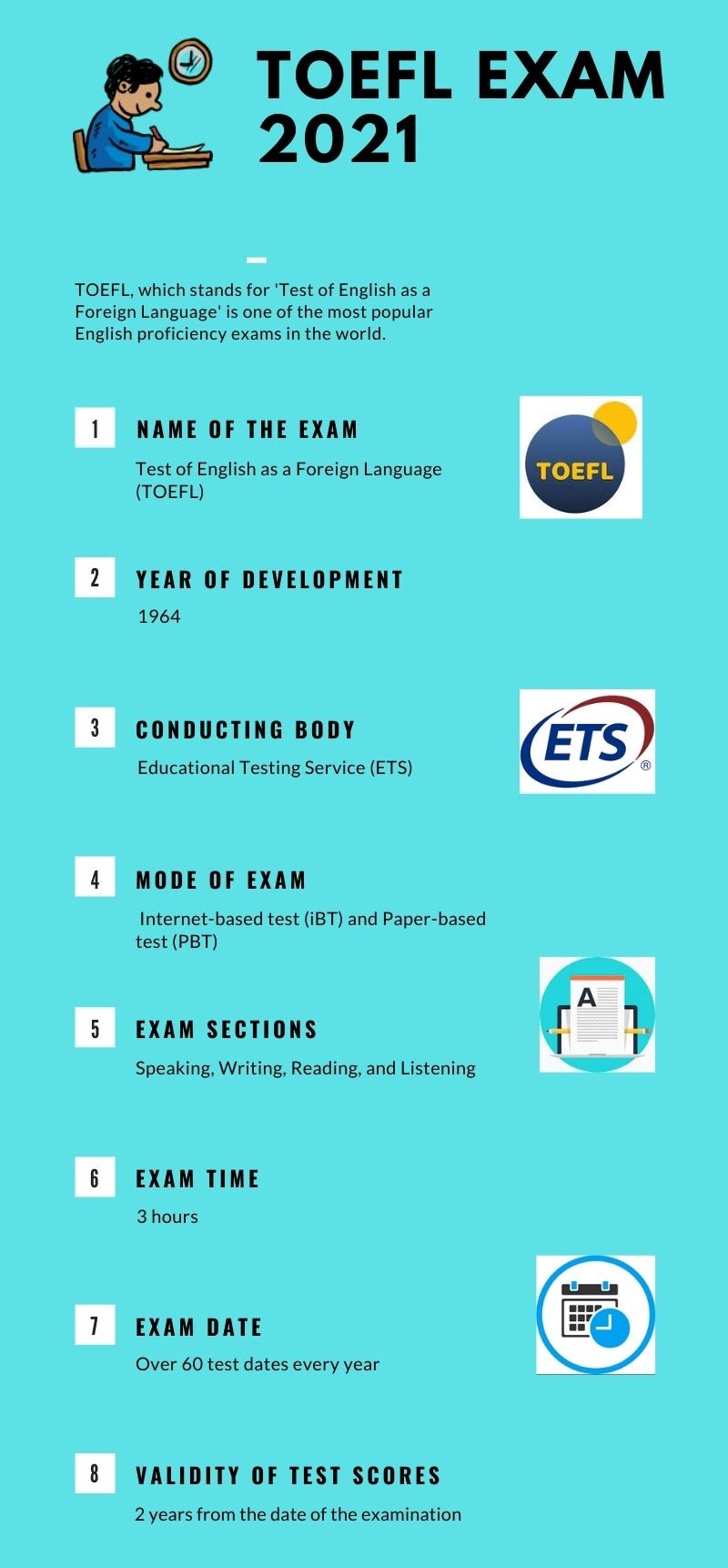 Types Of TOEFL exam - TOEFL iBT Home Edition.
Currently, for students looking to study in one of the top abroad destinations for education, ETS has introduced TOEFL iBT at home edition and it has the same TOEFL exam syllabus. Students now can book a TOEFL test date that is convenient to them and take the TOEFL iBT 2023 exam at their homes. Students will need to have the necessary system requirements and a conducive environment for the same. As of April 11, 2021, TOEFL PBT (Paper-Based Test) used to be another version of the TOEFL exam for students where the TOEFL iBT test was not available, which is no longer offered due to the pandemic. TOEFL iBT Home Edition is a safe and convenient option for students who prefer to take the exam at home rather than at the exam center.
Since there is no limit to the number of attempts a student can take, you can take the test as many times as you want, but you cannot take it more than once in 12 days. The Validity of your test scores will remain for a period of 2 years from the date of the examination.
TOEFL exam syllabus
The TOEFL is one of the most widely respected and recognized English-language tests in the world that measures the ability of non-native speakers of English students to utilize their skills of reading, listening, speaking, and writing.
Reading section- This section contains 3 to 4 passages of academic texts of about 700 words each, with 12-14 questions per passage. Students get 18 minutes per passage to read and answer the questions and accordingly the total duration could be 54-72 minutes.
Listening section- In this section, the students have to listen to 3-4 short lectures and 2-3 long conversations of about 500-800 words, with 6 questions per lecture in each lecture/conversation. Students get 3-5 minutes for each lecture/conversation question and in total 41-57 minutes for the section.
Speaking section- In this section, the students have to express an opinion on familiar/general topics or any academic-related issues. Students have to speak based on reading passages and listening to audio clips. Students get 4 tasks for which they get 17 minutes.
Writing section- Students get 50 minutes for 2 tasks in this section. The first one is an integrated task based on what is heard and read where students have to write essay responses based on reading and listening through articulate opinion, logic, and reasoning. And the second one is an opinion-based independent task.
TOEFL exam pattern

TOEFL exam fees
| | |
| --- | --- |
| Special Requests | Charges |
| TOEFL Registration Fee | $185 |
| TOEFL Late Registration Fee | $40 |
| TOEFL Rescheduling Fees | $60 |
| Reinstatement of canceled TOEFL scores | $20 |
| Additional TOEFL score reports (per institution or agency) | $20 each |
| Speaking or Writing Section score review | $80 |
| Speaking and Writing Section score review | $160 |
| Returned payment | $20 |
TOEFL exam registration
To apply for TOEFL, ETS provides a convenient online system for students to register for the test. The TOEFL exam registration process is fairly simple and straightforward. Students willing to appear for TOEFL must first register themselves for the online exam on the official website of ETS. - https://www.ets.org/toefl/.
The students have the liberty of taking the exam any time of the year from their homes at their convenience. Students must note that walk-in registration for the TOEFL exam has been discontinued due to the pandemic.
How to Register for the TOEFL Test?
In order to successfully book the TOEFL exam candidates need to follow the below-mentioned steps-
Visit the Official Website
Create a TOEFL test-taker profile
Submit your TOEFL application form
Select your TOEFL test date for 2023 and TOEFL test center or opt for TOEFL at Home
Pay the TOEFL exam fee of US $185
Confirm and submit your TOEFL application form
Take a printout or save your TOEFL confirmation page for future use
Getting assuring marks in TOEFL is half the requirement, you would further need to apply for a visa to go abroad. If it's the US, you would need to arrange funds to show to the University as proof of funds to get the I-20, And if it's Canada, you would need to open a GIC account and transfer your one-year living expenses to the account in order to be eligible for the visa process. Keep in mind, education abroad is not cheap as it requires at least 30-40 lakhs to complete your education abroad.
Not everyone has such a huge amount, and hence they approach banks for education loans. But after having gone through stressful preparation days, many students find the education loan process even more wearing when they get caught up in the complexity of the education loan process.
WeMakeScholars is an organization that is funded and supported by the Ministry of IT, Government of India, that helps students to make the education loan process easier for them by coordinating with the bank on their behalf. The financial officer assigned to you takes care of your entire education loan process and also provides you the best overall loan term as per your profile and requirement. You can reach out to WeMakeScholars by requesting a callback and since we are government-funded, we do not charge any service fee from students.
Note: WeMakeScholars is an organization funded and supported by the Government of India that focuses on International Education finance. We are associated with 10+ public/Pvt banks/ NBFCs in India and help you get the best abroad education loan matching your profile. As this initiative is under the Digital India campaign, it's free of cost. The organization has vast experience dealing with students going to various abroad education destinations like the US, Canada, UK, Australia, Germany, Sweden, Italy, New Zealand, France among others