You might have heard that a lot of students are going with scholarships to Germany or different destinations for higher education and might have wondered how they really cracked the scholarship.
This article is an in detail guide for you to know more about education in Germany, why students need scholarships and then the category of scholarships with the 11 best scholarships for you in Germany.
Why study in Germany?
We did place a question mark about education in Germany, which means now we are going to discuss education in Germany and why you should go to Germany for your higher education.
Of course, the main reason most students take with them is the lower cost of education or free education in public universities in Germany. There are of course many more reasons like the quality of education is very high and the cost of living in Germany too is very affordable.
German universities are ranked very high in the league of best-ranking universities in the world. They have a very sophisticated yet intriguing approach towards education, which allows students to not just grab the bookish knowledge, but think practically with an innovative approach.
Scholarships are another reason for students getting attracted to studying in Germany. Although most German universities do not charge a tuition fee, there are a few which does. Also, even if there is no tuition fee, you will have to arrange money to manage your living expenses, which is where scholarships come into the picture.
Now that you are aware of the use of scholarships, let's continue to know the 11 best scholarships in Germany for international students
Scholarships in Germany:
Scholarships are categorized in many different ways like merit-based, need-based, sports scholarships, or according to the organization which is providing them. Selecting the best scholarship for you requires you to go through the categorization and analyze the best one for you.
In this particular article, we are going to list the 11 best scholarships in Germany for international students according to their category. We are going to list government-funded scholarships, merit-based scholarships, university-specific scholarships, and subject-specific scholarships.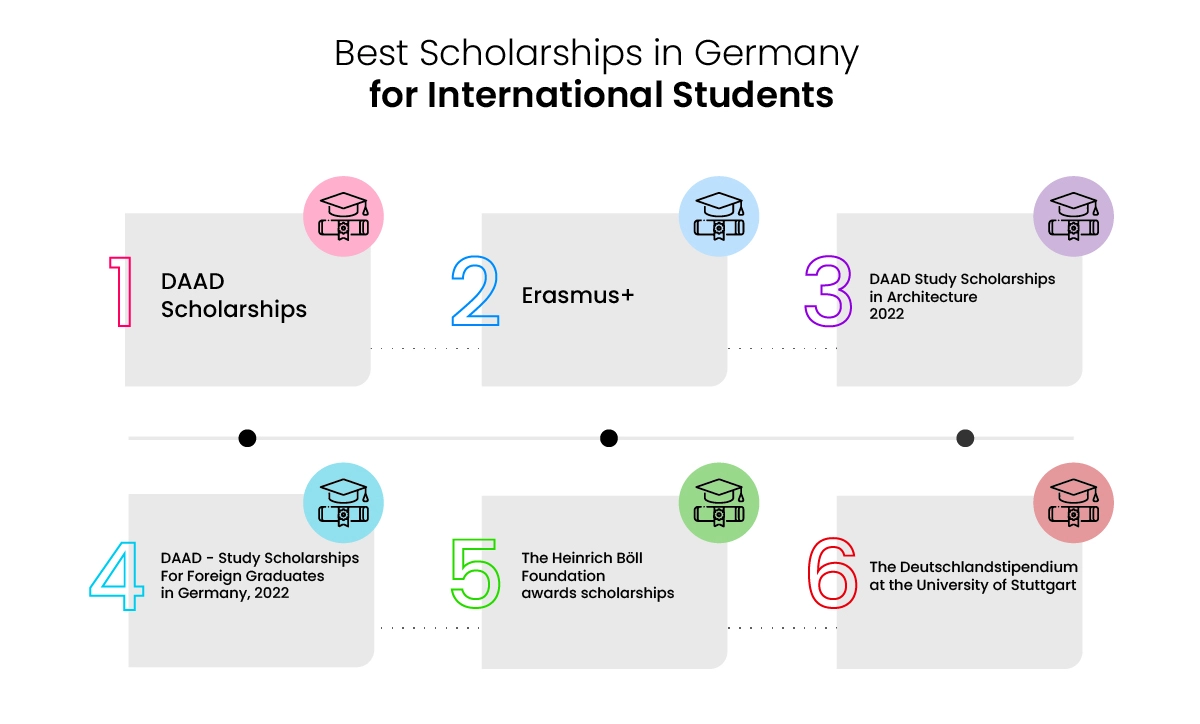 Government-funded scholarships:
These are the scholarships that are funded by the German government or by the European Union for international students to promote their education worldwide. Let us see the two most famous scholarships provided by the German government.
The German exchange academic services, the English name for DAAD have been providing scholarships to attract students from across the world. DAAD scholarships are for various study levels and for students from a wide range of countries. Select from a list of DAAD scholarships that is best for you.
Erasmus Mundus scholarships are funded by the European Commission to attract international students to study not only in Germany but in Europe. The Erasmus program was started in the year 1987 for higher education students. Choose from a wide range of Erasmus Mundus scholarships.
Merit-based scholarship:

Merit-based scholarships are basically for the students who stand out in their academics from their peers. These are like an award to the smart hardworking students who have been doing exceptionally well in their academics or have cleared a particular scholarship test. Below are 5 merit-based scholarships for international students in Germany. Find the detailed information about the below-mentioned merit-based scholarships in our article, 5 Scholarships for Indian students in Germany.
1. DAAD Study Scholarships in Architecture 2022
2. DAAD - Study Scholarships For Foreign Graduates in Germany, 2022
3. The Heinrich Böll Foundation awards scholarships
4. The Deutschlandstipendium at the University of Stuttgart
5. Merit scholarships for international students enrolled at Universität Hamburg
University Specific scholarships:
These scholarships are provided by specific universities to attract the best students. Some of the best university-specific scholarships to study in Germany are listed below.
1. Frankfurt School of Finance and Management Doctoral Tuition Waivers
It is a leading management school in Germany providing tuition fee waivers for Doctoral students. The students can choose their subject between Accounting, Finance or Management.
Funding: Tuition fee waiver plus a stipend of EUR 1820.
Deadline: 15th January
2. FRIAS Cofund Fellowship Programme for International Researchers
The FRIAS Cofund is awarded to about 15 fellows each year from all the disciplines to work on their own research at the Freiburg Institute for Advanced Studies (FRIAS), the international research college of the University of Freiburg for 3 to 12 months.
Value: The fellows receive 7,000 € per month plus mobility and family allowance
Deadline: The deadline isn't given but the applications are open for 2023/24.
Subject-specific scholarships:
These scholarships are specifically designed to attract students to a particular subject. When a university has expertise in a subject, they would want to gather more students of similar approaches or similar interests.
1. Study Scholarships - Postgraduate Studies in the Field of Music:
The above-mentioned scholarship is provided by DAAD(German exchange academic services) to students who want to pursue post-graduation in the field of music. The scholarship is available to students who have completed their bachelor's in the field of music.
Value:
Monthly payment of 861 euros
Travel allowance
One-off study allowance
Payment for health, accident, and personal liability insurance cover
Deadline: The scholarship is open for the whole year and so the applicants can apply at any time according to the dates of their admission into a university.
2. Study Scholarships - Postgraduate Studies in the Field of the Performing Arts
The scholarship is provided by German exchange academic services(DAAD) to students who have done their bachelor's in Performing arts and wants to continue for masters in the same. Students pursuing or wanting to pursue a master's in Drama, Theatre Directing/Theatre Dramaturgy, Musicals, Performance Studies, Dance, and Choreography are only eligible to apply for this scholarship.
Value:
Monthly payment of 861 euros
Travel allowance
One-off study allowance
Payments for health, accident, and personal liability insurance cover
Deadline: The deadline for the scholarship is not provided and you can apply to the university at any time of the year.
Germany is a great country to study for international students for the reasons that we have stated above in this article. You can choose from a varied range of scholarships that are available in Germany. Select the best-suited scholarship for you and you are good to go.
But in case you are unable to qualify for a scholarship, do not worry as we are here to help you in your higher studies. We at WeMakeScholars help students in getting an education loan from private as well as public lenders. We guide the students through the whole process of an education loan and then connect them to suitable lenders for getting one. Also, we will be in touch with you until you repay the last penny of your education loan. All the problems in your education loan process will be dealt with by us. So, do not overthink the interest rates of an education loan or the lengthiness of the process. Request a callback today to get started with your hassle-free education loan process.