IELTS Accepting Countries- Complete Guide
Admissions | Updated
As an international student, you must demonstrate a satisfactory standard of spoken and written English to support your application. This can be accomplished by taking the IELTS Academic test (International English Language Testing System).
The International English Language Testing System (IELTS) is a language competence test for persons who desire to study or work in countries where English is spoken as a first language.
IELTS assesses the four language abilities that are listening, reading, writing, and speaking in a valid and accurate manner. This article "IELTS 2022 Exam" can help you learn more about the IELTS exam's syllabus, exam structure, etc. To know IELTS accepting countries names, continue reading this.
Which countries recognize the International English Language Testing System (IELTS)?
IELTS is accepted by over 10,000 institutions in about 140 countries. But, candidates, usually tend to prefer countries from Europe, North America, etc. Each country in the accepting IELTS countries list has its own set of requirements, norms, and management. So, let's see the most preferred countries accepting IELTS for study, work, or immigration-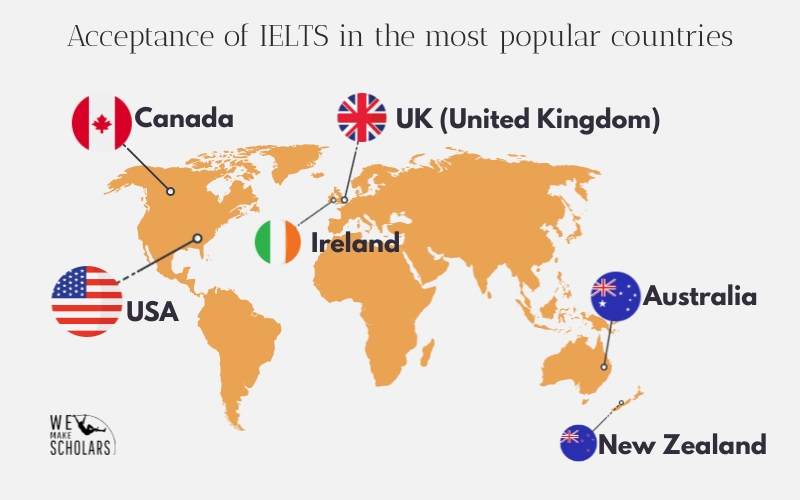 Canada
Universities and colleges all across the country accept IELTS scores to give international students admittance to its numerous UG/PG program. As proof of your English skills, you'll be assessed using the IELTS exam, and you'll need a score of at least 6 to pass. If you have no band below 5.0 in any of the four modules and an overall score of 6.5, you'll have a better chance of getting to Canada for your higher studies. Acquaint yourself with courses, top universities available in Canada by going through this article- Study in Canada- Courses, eligibility, fees, Universities
IDP IELTS is also acceptable for Canadian PR since it is approved by Immigration, Refugees, and Citizenship Canada (IRCC). If you're seeking a work visa, professional recognition, or permanent residency in Canada, you'll almost certainly have to show proof of your English language skills. A minimum band score of 5.5 in each section and a band of 6 overall is necessary.
The USA
IELTS is accepted as proof of English language proficiency by over 3,000 institutions in the United States. Top Universities in America ask for a minimum score of 7.0. The minimum band requirement for other universities ranges from 6.0 to 7.0. Some universities that aren't as competitive accept a 6.0 overall score. So, it mostly depends on the type of colleges to which you apply, the United States does not have a set score.
Education loans could help you finance your education in the United States, which can be one of the most costly countries in the world to study in. Delve more into details by referring to this article - The US Education Loans Process.
New Zealand
Taking IELTS is the first step in getting into your dream college in New Zealand! The IELTS score criteria differ depending on your planned degree of study and the universities you wish to attend. If you're still undecided about whether to take IELTS Academic or General Training, the answer is simple: only IELTS Academic is accepted by universities. To be accepted into any university in New Zealand, the candidate must have an IELTS overall band score of 6.5. The band score for each module should not be less than 5.5.
New Zealand is one of the countries accepting IELTS for immigration. You must be a skilled migrant in order to obtain a New Zealand visa permit. For New Zealand immigration, a minimum IELTS score of 6.5 is required. To learn how to obtain a student visa, read this article- New Zealand Student Visa: Eligibility Criteria and Required Documents.
UK (United Kingdom)
You'll need a Tier 4 Visa to study in the UK, and you'll only be able to get one if you meet your institution's English proficiency requirements. The prerequisites for studying at one of the world's top 200 institutions in the United Kingdom are substantially higher. For higher placement, you'll need a minimum of 6.5 in each module and a total of 7 overall. Refer to this article to learn how to obtain a Tier 4 visa in the United Kingdom- An overview of UK Tier 4 Visa - The UK Student Visa Process
The IELTS General Training and Life Skills are also accepted by the UK visa and immigration authorities (UKVI). It is proof of the English proficiency testing system for those wishing to work or immigrate to the United Kingdom. Minimum IELTS scores for immigration to the UK range from 4 to 7.
Ireland
The IELTS Academic is required in order to receive an Irish study visa and to be admitted to an Irish university. The requirements for admission to a university aren't static, they change depending on the university and the course you want to take. A minimum of 6.0 in each module and a total of 7 is required.
There are two types of Ireland study visas that you can apply for depending on the duration of your programs/courses. Learn more about it by reading this article- Ireland student visa- How to Get a Student Visa to Study in Ireland?
Australia
There are various top Australian universities that accept IELTS scores, for a postgraduate degree. You must obtain a minimum of 6.5 overall in IELTS, with no band lower than 6.0, and a minimum of 6.0 overall for an undergraduate degree. Read this article as well to learn about The Student Visa Process To Study in Australia.
The International English Language Testing System (IELTS) is also used in Australia's point-based immigration system. It has been approved by the Australian government and is recognized by the Department of Home Affairs for a variety of visa categories, including permanent residency in Australia. Some Australian professional organizations and accreditation bodies also need it. A minimum IELTS score of 6 is required for immigrating to Australia.
Conclusion
Finally, we hope that this article has given you better guidance on IELTS accepting countries. So, whether it's for a career or study, go ahead and take the IELTS test for a country from the IELTS countries list. Here is another article on- Ten Things to keep in mind - IELTS Tips.
If you are looking for an education loan to fund your education abroad in IELTS accepting countries and feeling nervous about where to start? Fret not, apply for your education loan through WeMakeScholars, as we are govt-funded and associated with 10+ public banks, private banks, and NBFCs, we can assist students to receive the best offer possible depending on their profiles and needs. Request a callback to get in touch with us.
Note: WeMakeScholars is an organization funded and supported by the Government of India that focuses on International Education finance. We are associated with 10+ public/Pvt banks/ NBFCs in India and help you get the best abroad education loan matching your profile. As this initiative is under the Digital India campaign, it's free of cost. The organization has vast experience dealing with students going to various abroad education destinations like the US, Canada, UK, Australia, Germany, Sweden, Italy, New Zealand, France among others