In today's world where the aftermath of the pandemic has changed so much, formerly innovative technologies and techniques have become old and obsolete, students around the world are required to get quality education to keep up with the post-pandemic world.
Many students, however, are unable to do so owing to financial restraints and a lack of resources to continue their studies. Under such circumstances, students may consider taking education loans for higher education.
Scholarships on the other hand are another valuable financial aid for students as it doesn't increase their liability. Before you begin any of your applications, make sure you are aware of your options so you can select the one that best fits your needs.
In this article, we'll go over the types of scholarships available, a list of highly prestigious scholarships available to Indian students, and how to find and apply for a scholarship to study abroad with some tips as well. Continue reading to learn how to get scholarship to study abroad for Indian students, or you can also watch the below-embedded video from the LoanFlix series on YouTube on the same topic-
What is a Scholarship?
A scholarship is a form of monetary prize granted by the government, universities, or any other organization to students who meet the qualifying criteria set by the granting authority for the scholarship. The majority of these scholarships are only partially funded or grant with a set amount of money.
Types of Scholarships Available
You may apply for as many scholarships as you like, scholarships can majorly be categorized into the following-
Need-based Scholarships - These scholarships are granted to students considering their family's financial situation, which is exceedingly low, and unable to afford their kin's higher education degree. The educational qualifications of the students may also be taken into account by the scholarship providers when determining eligibility for these grants.
Merit-based Scholarships - These scholarships are offered entirely on the basis of the academic achievement of students. It covers their academic marks, the quality of previous internships, published articles, work experience, and other co-curricular accomplishments. The majority of the scholarships available to students are merit-based.
Special Scholarships - This scholarship category is for students who are interested in research, athletics, or arts. Athletic excellence scholarships are particularly popular in the United States, although they are also available in other countries. You must demonstrate your abilities in order to obtain financial help. Impressing scouts, demonstrating research abilities above your age, or creating a work of art that may easily impress critics. Special scholarships can be-

Subject-specific: Students who wish to pursue a certain subject of study may be eligible for these scholarships from certain colleges and universities.
Student-specific: These scholarships are available to students who can categorize themselves based on variables such as gender, ethnicity, religion, and medical history.
Destination-specific: It may differ from one country to the next. Several public authorities, governments, and institutions provide financial aid to students from a certain country.
Sports-based: The greatest of the top athletes are eligible for these scholarships. Applicants must continue to practice and represent their university at numerous sporting events in order to be considered.
Who all are offering these scholarships?
A large number of scholarship providers strive toward the shared goal of providing access to education to underprivileged and meritorious students in India. These scholarship providers are
Government- Could be of the home country as well as of the destination country (if going abroad). For example, Indian students going to the US can apply for scholarships provided by both the Indian government and the US federal government.
Universities: More than 50% of the scholarships applied to in a year are offered by the universities where students are going to study.
Corporates: E.g. Google scholarship, Santander scholarship, Facebook scholarship
Trusts and foundations
Individual donors/ philanthropists
List of Scholarships Offered to Indian Students for Abroad Studies
The following is a list of a few prestigious scholarships available to Indian students who want to study in countries such as the United Kingdom, the United States, Canada, Australia, and so on-
Australian Embassy Fully Funded Scholarships
How to Get Scholarship to Study Abroad for Indian Students
Finding the right scholarships that best suit your profile can be an arduous task. You would need to go through multiple sources one by one to find the right one for which you are eligible to apply. This is where WeMakeScholars.com comes in handy, as it provides excellent options for narrowing down your search and broadening it to a worldwide scale.
WeMakeScholars was created with the goal of making it easier for students to find and apply for scholarships. There are more than 26,000 scholarships from all different sources listed on WeMakeScholars.com. You can choose from over 2000+ scholarships for different fields, depending on your specialization and the preferred country.
Here is how you can search and apply for scholarships from WeMakeScholars.com - Apply For Scholarships from WeMakeScholars Website
Students are also required to apply for the majority of the scholarships approximately one year before their intake as the deadline to apply ends almost a year before. Usually, the majority of the trust, foundations, and corporate scholarships' deadlines will be 8-9 months before the intake starts. Only the university-based scholarships that require an offer letter are the last one to close and it closes 5 months before intake.
The Application Process
If your profile fulfills the eligibility criteria of any particular scholarship then you can apply online either directly from the official website or through WeMakeScholars (you can track the status of multiple scholarships that you've applied for). Almost all scholarships follow the same procedure, which is outlined below.
Online application stage where you need to upload your basic details, your past academics, and your past employment.
You are required to write a scholarship application essay. (Tip- How to write a Scholarships essay)
You must include the names and contact details of your two references as part of your application.
You are required to submit two references letters from your referees.
The last stage would be the interview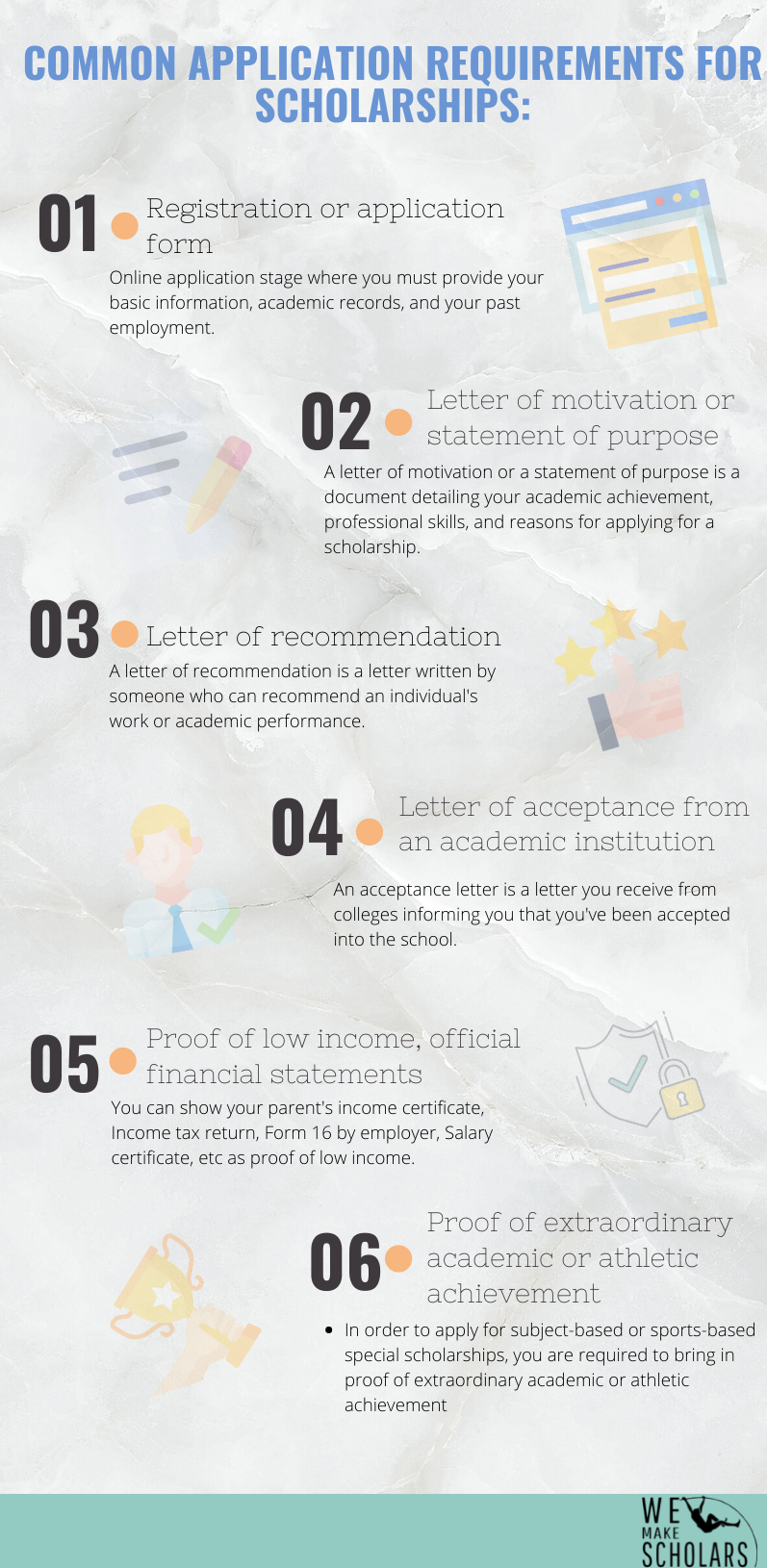 These scholarships are extremely competitive, making it tough for the vast number of students to get one. The majority of these scholarships are only partially financed, requiring students to arrange the remaining funds on their own. Education loans turn up as a viable source to fund the rest of the amount. This is where WeMakeScholars can also help you out. We have extended the funding options by launching education loan assistance to all those who need an education loan, who are not eligible to apply for scholarships or miss out on one.
So do reach out to our financial officers by requesting a callback. Our team of Financial officers assists you with the entire education loan process until sanction, disbursement, and beyond.
Note: WeMakeScholars is an organization funded and supported by the Government of India that focuses on International Education finance. We are associated with 10+ public/Pvt banks/ NBFCs in India and help you get the best abroad education loan matching your profile. As this initiative is under the Digital India campaign, it's free of cost. The organization has vast experience dealing with students going to various abroad education destinations like the US, Canada, UK, Australia, Germany, Sweden, Italy, New Zealand, France among others.