"Your application for an education loan has been approved and your loan has been sanctioned,"
a statement that fills the eyes of overseas study aspirants with cheerfulness and serves as a reason for relief. However, the majority of students are unaware that the fight is still just halfway over. The process of getting an education loan sanctioned by a student on their own is a challenging task. On top of that, the post-sanction loan disbursement issues make it worse.
Introduction
Applying for an education loan is comparable to making a Masterchef recipe. Everything needs to be put in perfect quantity to complete the procedure as it should be done. Study shows that the number of students seeking education loans has risen to 27.8 lakh in the last 4 decades, also during the same period, the average loan size increased from 5.3 lakhs to 9 lakhs.
But, for a student or their parents, applying for an education loan on their own and getting it sanctioned without any hassle is an uphill task. As the lenders do not give the complete information in one go and of course for them, your time might not be precious as their profit. And that is where WeMakeScholars comes to your rescue and helps you get the best education loan deal. Request a Callback today to start your education loan process.
In this article you will find the different types of post-sanction issues which the students face, also, we will tell you the solutions to deal with those issues so that you can avoid the bumps in your journey of getting the best education loan sanctioned for yourself.
Issues in disbursement
Your dream of going to a foreign land to pursue higher studies to uplift your career can turn into a nightmare if you are left out of funds and cannot even ask for help from your friends or family. Imagine yourself in such a situation when you have to pay your tuition fees within a week and manage your everyday living expenses abroad but your lender, even after promising you a disbursement on a particular date, backs out and doesn't fulfil their commitment on time.
This is true as we have heard from many students who have flown abroad by taking loans from anonymous lenders and later had to face issues in timely disbursement and post-sanction formalities. If you have already taken or are planning to take an education loan for further studies, we suggest you always keep little extra funds with yourself so that you can avoid this situation. An abroad education loan is the simplest and easiest method to raise funds for your dream education.
An education loan sanction letter is an assurance for students that now they will get a disbursement whenever they will ask for it, but little do they know that once their education loan is sanctioned and they fly abroad for studies, the lenders will not respond to their calls or emails as quickly as they used to do before loan sanctioning.
Sometimes, they do not pick up the calls from students or their parents and do not even reply to emails on time, due to which, the disbursement of loans gets delayed, a result of which many students miss their university's tuition fees payment deadline. Think of a moment when you are stranded abroad, your survival is at stake and your lender is not responding to your calls, this is certainly the worst nightmare for any student studying abroad, therefore, it is always better to take a loan from a reliable lender who has good market rapport and always keep a third party in between so that they can bridge the communication gap and keep both the parties on the same page.
Not covering certain expenses
While living in a foreign land, students often have to pay for unavoidable expenses like laptop purchasing, airfares, books and stationery costs, etc, which the lenders might not consider necessary. In that case, the students are not left with any other option other than paying it out of their pocket. And as soon as the student pays for it out of their pocket their entire budget shakes and it becomes difficult for students to reestablish the equilibrium. This is one of the disbursement issues that most of the students face but could not do anything about, as the lenders hold their policies to be the reason. Therefore, we suggest students carry a little pocket backup of around 2-3 lacs so that students can manage their miscellaneous expenses.
Disbursement is directly done in third-party accounts.
The universities in foreign countries generally do not accept payment of tuition fees directly from student accounts to their account. Instead, they partner with third-party mediators, like flywire, etc. who receive tuition fees and other university expenses from students and accept them on the universities behalf. (and then transfer the funds to the university's account as a whole). That is why students can not afford to get their disbursement delayed. Manier times due to negligence from lenders end, the disbursement of student's tuition fees does not happen on time, and a penalty is charged to the students. You can avoid this penalty and pay your tuition fees on time by having a responsible direct point of contact, here in India who will look after all your post-sanction disbursement issues.
Not disbursing the full amount
Most of the students who pay the initial application fees or seat booking token amount to universities, out of their pockets while processing to take an education loan, do not know that the amount which they have given to the universities can be reimbursed and also if the student has already done some expenses in abroad from their pocket which were otherwise covered in their education loan, then the student is entitled to get complete reimbursement for that expenses too. Students have to just provide proper proof of expenses and keep reminding the lenders about the reimbursement again and again (which is not at all an easy task). Yet, sometimes the lenders do not reimburse the entire asked amount and the students have to settle with no reimbursement or less reimbursement amount.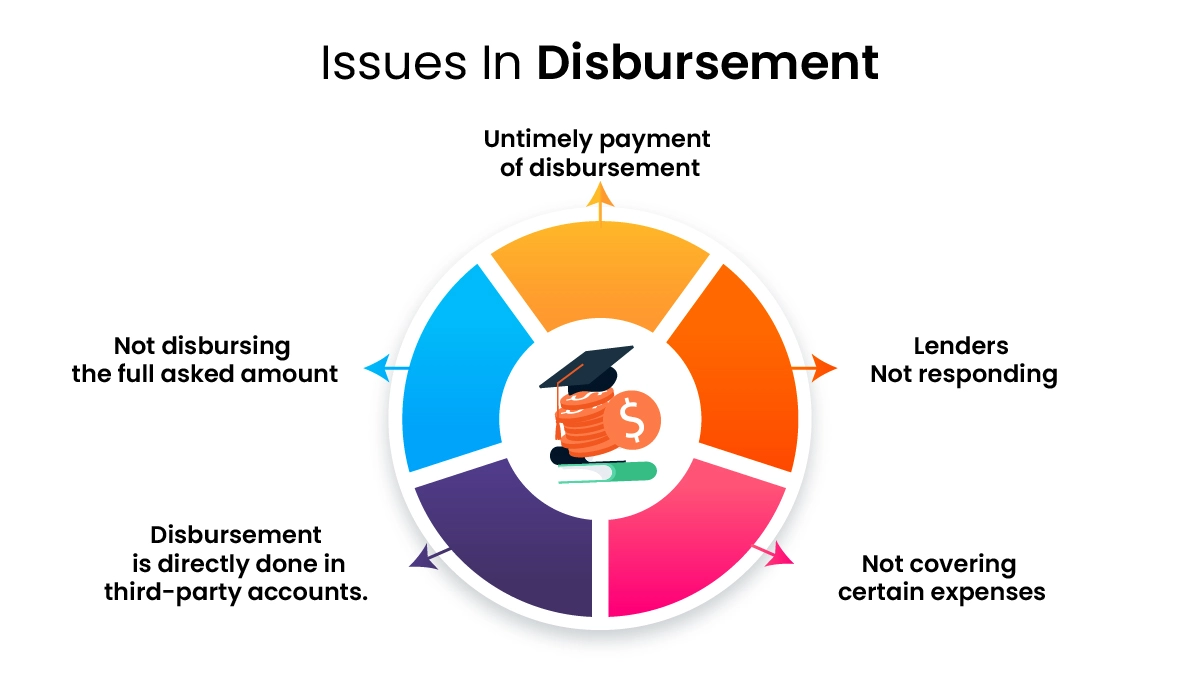 WeMakeScholars can help
By now you must have got a detailed idea that getting the education loan sanctioned from a lender is just not enough, to celebrate and go bananas about your study abroad plans. You will still have to go through a lot of difficult times without letting them affect your studies.
This is where WeMakeScholars comes into the picture as your saviour, we are empanelled with 10+ public and private banks along with NBFCs. We will help you get timely disbursement by directly contacting the lender on your behalf as we have a professional and experienced team of Financial Officers who take complete care of your pre-loan sanction process and leave no stone unturned to resolve your post-loan sanction issues also that too free of cost, as we are funded and supported by the Ministry of Electronics & IT, Government of India.
We here at WeMakeScholars have only one goal: to make your dream of studying abroad come true by providing you with the best education loan in terms of rate of interest and loan terms & conditions by analyzing your profile in detail. So that you can excel in your career with flying colours.
Conclusion
If you are planning to fly abroad to study soon, this information about post-sanction loan disbursement issues will help you avoid the problems you might face after your education loan gets sanctioned.
In the modern era of digitalization where the internet is the new oxygen, it would be very unfair if you are looking for a partner to help you to skyrocket your educational learning by studying abroad and yet haven't visited our website. Because of the collective efforts of our team, we have successfully fulfilled the dreams of 3000+ students to study abroad and are ready to fulfil yours too.
Still worried about managing funds for your education abroad? We have got you covered. Applying for an education loan is already simple and gets simpler when you process your loan with WeMakeScholars. We are here to help! Simply Request a Callback on our website, and one of our expert loan officers will revert to you at the earliest.
Thanks for reading this blog on 5 issues you can face in education loan disbursement. If you are interested in learning more about studying abroad and student life abroad, then I highly recommend you to read: