Introduction
Students who are contemplating on pursuing their education in the USA must look over a few things before taking the huge plunge. Studying in the USA can be enthralling but can be strenuous at the same time. Because of this, most students look for an education loan to finance their higher education.
Apart from this, students also look for different employment opportunities while studying abroad. This can be exhausting but can be challenging at the same time. But to work, students must make an informed decision before heading towards the land of opportunities i.e. the USA.
There are certain employment policies set in the USA. They are further bifurcated into two employment categories i.e OPT and CPT. There's always some confusion among the students regarding these two programs. So, we will be clearing all the doubts in this blog today.
Scroll down to know about the employment in detail and also acknowledge the CPT vs OPT in USA difference.
Types of Employment to Work in the USA
There are hundreds and thousands of students flying to the USA to pursue their higher education. Due to the large volume of international students, they are given two different types of work authorization to work in the USA.
Two types of work authorization given to the international students are:
Optional Practical Training
Curricular Practical Training
Read further to know more details regarding the two types of work authorisation.
Students applying to study in the USA look for an education loan. This is because it is difficult to accommodate all the finances through self-funding. So, if you happen to look for an education loan to study in the USA, then apply via WeMakeScholars. Our financial team will help and assist you throughout the education loan process.
Apart from that, WeMakeScholars and The Hindu launched the USA Education Loan Festival 2022 where students can apply for both secured and unsecured education loans with lower interest rates and with faster processing of loans. To know all the details of the same - Click here.
What is OPT?
Optional Practical Training (OPT) is a temporary employment period offered to the students which is related to the student's area of study. Under this, students are allowed to work under F-1 visa for up to 12 months.
Students who are willing or are eligible for OPT employment authorization can apply for the same either pre-completion of their studies or post-completion of their studies. As per the stated norms, students are allowed to work up to 12 months only but students with a STEM degree are permitted to extend it to 24 months.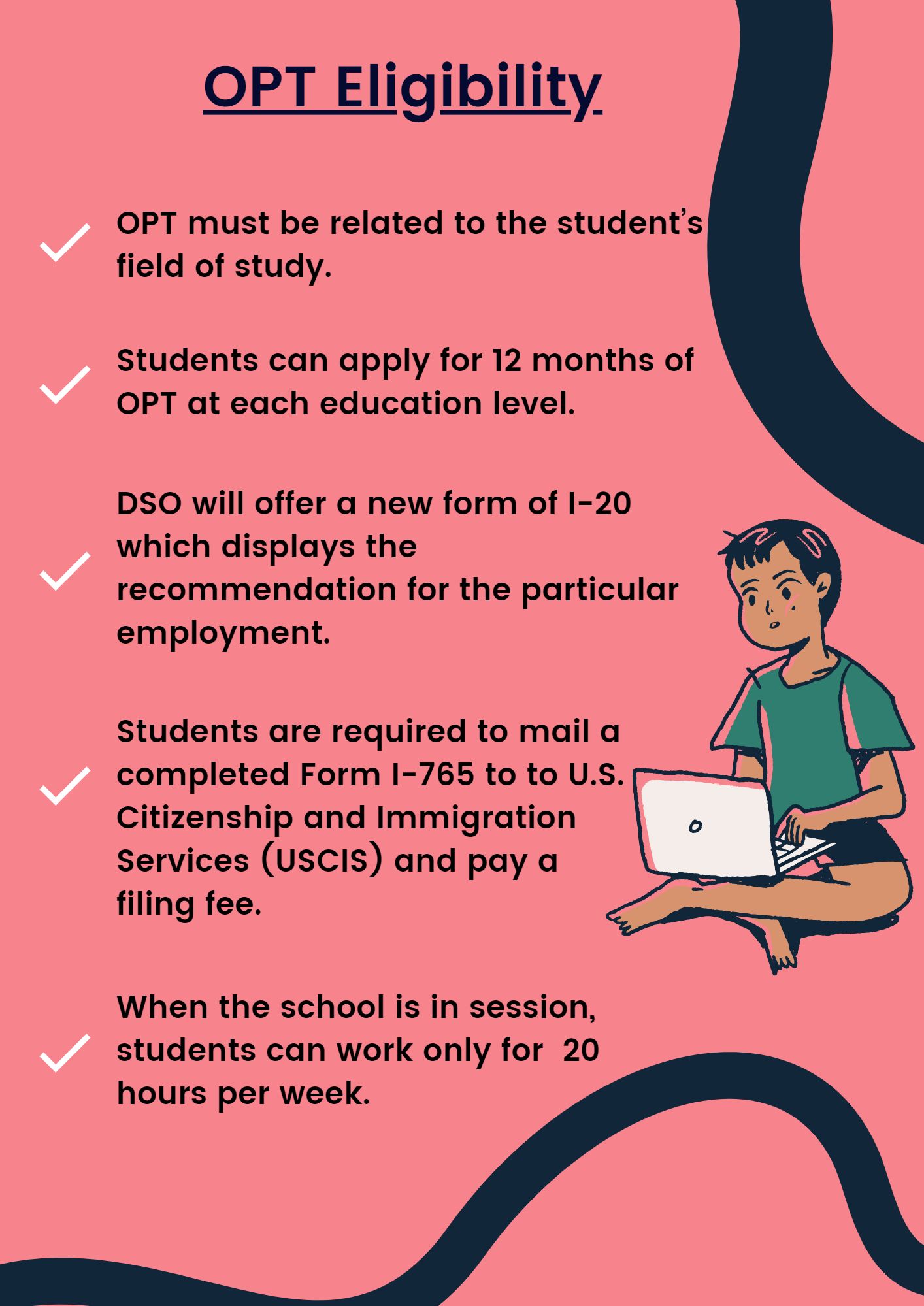 What is CPT?
Curricular Practical Training (CPT) is a program which allows students to gain practical experience in their major field of study through paid or unpaid employment. It can include full-time employment, internship experience, or any other co-operative or education experience.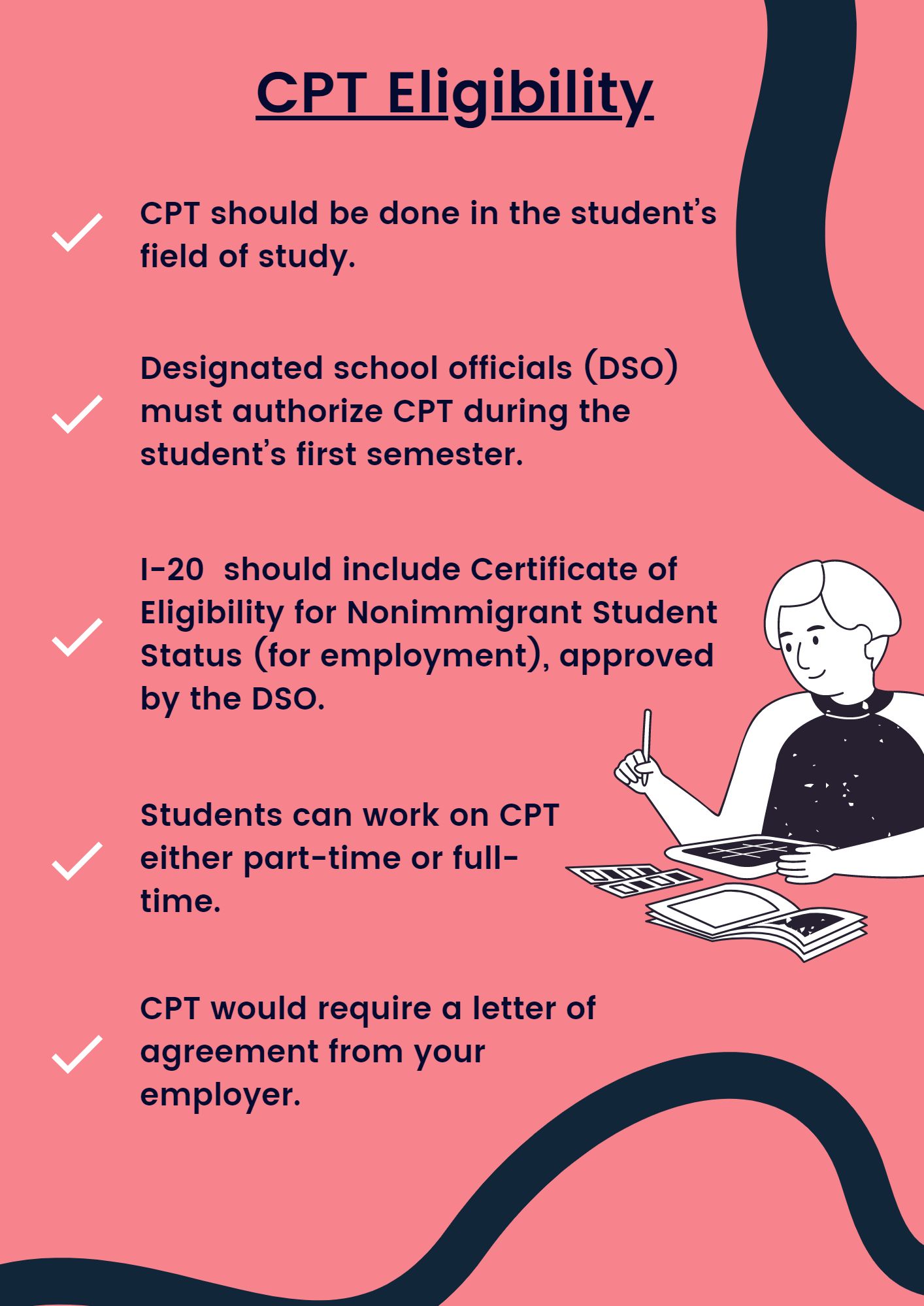 CPT vs OPT in USA
As many international students struggle to differentiate between OPT vs CPT, we are here to pull them out of the bog. Refer to the table below to get a clear clarity of CPT vs OPT in the USA.
| | | |
| --- | --- | --- |
| Parameter | CPT | OPT |
| Purpose | Students usually use it during their degree program | Students usually save this to use after graduation. |
| Requirements | Field specific | Not field specific (can be related to the field) |
| Duration of employment | up to 12 months | up to 12 months but can be extended up to 24 months for STEM degree |
| Employment Authorization Document | does not get EAD from USCIS | will get EAD from USCIS |
| Working part-time or full-time | CPT can either be part-time or full-time | students can work only for 20 hours per week (during school session) |
Note: This article aims to educate students with CPT vs OPT USA differences for their reference. We do not deal with visa processes. We only help students who are willing to finance their education abroad by availing of an education loan. If you wish to avail an education loan to study in the USA, then connect with our team at WeMakeScholars. We will help you throughout the education loan process. Services offered by us are totally free of cost as we are funded and supported by the Government of India. So, what are you waiting for - Apply here.
Conclusion
As we now have a clear understanding of OPT vs CPT, you can now decide what's best for you. Both of them provide students with employment opportunities. But supporting your living expenses in the USA while studying can be hard. So, students can avail an education loan as it covers all the expenses incurred by the student like living expenses, tuition fees, books, laptop, travel etc.
Students directly applying in banks for their education loan have to go through the cumbersome procedure i.e. running around from pillar to pillar in order to know about the loan procedure and have to deal with the managers too. But if you apply via WeMakeScholars, students can get all the education loan information just by sitting at home and the services offered by us are totally free of cost. So what's holding you back?
In order to apply for an education loan via WeMakeScholars, Click here.
We provide education loan services to students willing to pursue their higher education in India or abroad. We guide and assist them throughout their education loan procedure and also assist them post-sanction with education loan queries.
Note: WeMakeScholars is an organization funded and supported by the Government of India that focuses on International Education finance. We are associated with 10+ public/Pvt banks/ NBFCs in India and help you get the best abroad education loan matching your profile. As this initiative is under the Digital India campaign, it's at free of cost. The organization has vast experience dealing with students going to various abroad education destinations like the US, Canada, UK, Australia, Germany, Sweden, Italy, New Zealand, France among others.