Cornell University: Qs Ranking, Tuition Fee, and Course Details
Admissions | Updated
Located in the beautiful city of Ithaca, Cornell University features prestigious Ivy League Universities. Cornell University proudly wears the badge of awarding the world's first degree in Journalism, the nation's first degree in veterinary medicine, and the first doctorate in electrical and industrial engineering.
Cornell University ranks #21 in the QS world ranking and #1 in World University Ranking. The University includes 608 buildings spread across 2300 acres of land. International students constitute about 24% of the total number of students.
Cornell University was established in 1865 by Andrew Dickson and Ezra Cornell. A day before the university's inauguration, an entrance exam was conducted. With 412 successful applicants, Cornell's first class was America's largest entering class at that time. The university has a strong alumni network of more than 2,50,000 alumni around the world.
Cornell University has made its name on the list of prestigious universities through the years. Below is a list of rankings in which Cornell University is featuring currently.
Cornell University World Ranking
| | | |
| --- | --- | --- |
| Rank | Name of the Ranking | Ranked by |
| 21 | QS World University Rankings | QS Top Universities |
| 5 | College Ranked by acceptance rate | Open Education database |
| 1 | World University Rankings | Times Higher Education |
| 15 | Top 200 Universities in the world | Uni Rank |
| 1 | 3 easiest Ivy League colleges to get into | College Vine |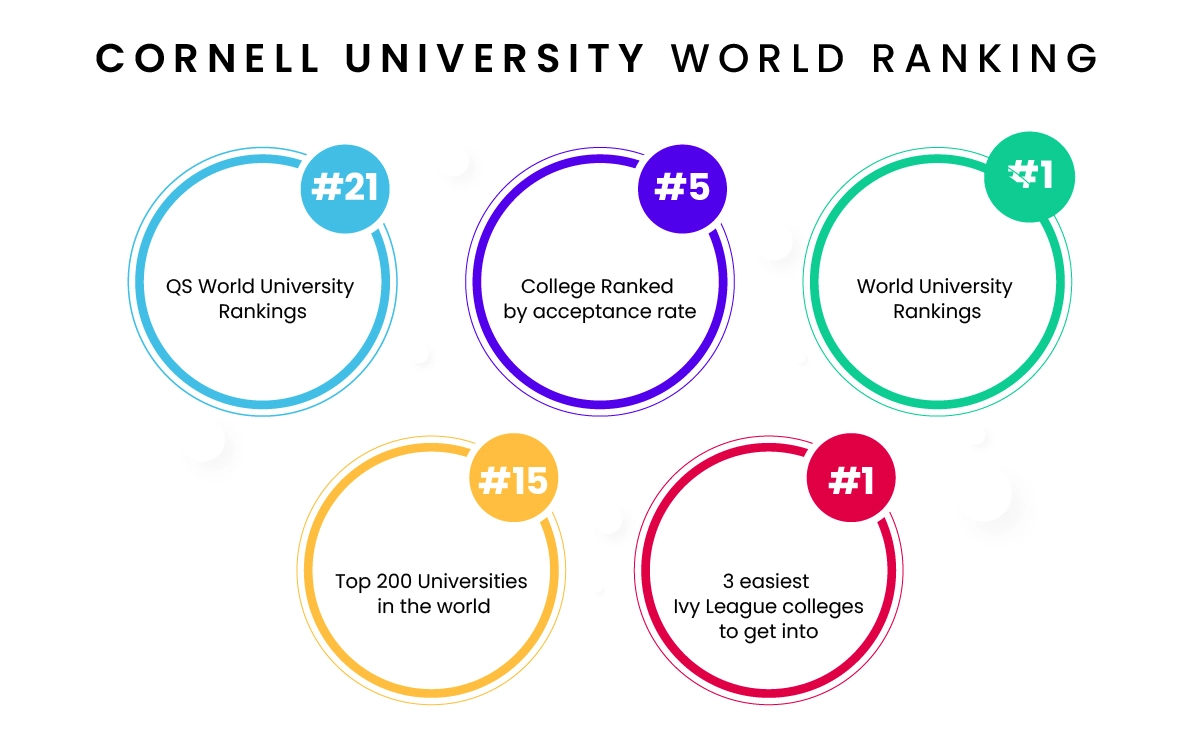 Cornell University Acceptance Rate & Eligibility Criteria
The acceptance rate for Cornell University is nearly 11%, which means for every 100 applications only 11 are selected. This shows that the University is very selective and you will have to be very careful while applying to it.
The common eligibility requirements to apply for this University are:-
Should have Great Academic Records.
International students who are applying should have written English proficiency tests
Cornell University has suspended SAT Exam or ACT requirements, so they are not needed.
SAT subject scores are also not required to apply to the University.
Top 10 Courses with Fees and Duration
Cornell University offers as many as 80 majors and 100 fields of graduate study, with opportunities for further exploration in 18 minors. We are going to discuss the top 10 courses offered at Cornell University.
| | | |
| --- | --- | --- |
| Course Name | Course Duration | Estimated fee per annum |
| MBA | 2 years | 55.07 lacs |
| MS in computer science | 2 years | 22 lacs |
| MPS in Management | 1 year | 43.58 lacs |
| Information systems (M.S) | 2 years | 43.58 lacs |
| Bachelor in Economics | 4 years | 44.85 lacs |
| MPS in Applied statistics | 1 year | 43.58 lacs |
| Master of Architecture | 42 months | 42.07 lacs |
| Master of Management in Hospitality | 1 year | 65.37 lacs |
| BS in Mechanical Engineering | 4 years | 43.58 lacs |
| B.Sc in Agricultural Science | 4 years | 43.58 lacs |
How to Apply to Cornell University
To apply for Cornell University, you will have to register yourself on Common app. To do so, follow the below steps:-
First gather documents, that you will need in the process of filling the form, at the link given above you will have a list of documents that you will need.
Create an account on the common app, to create, follow the below steps.
If you are applying to college for the first time you'll select the "First-Year Student" button. Provide your login credentials.
Make sure you use an email address you check often. This is the email the Common App and colleges will use to get in touch with you.
Complete your registration information.
They will need some basic information about you like your name, home address, phone number, and date of birth.
Be sure to use your legal name as it appears on official school documents and standardized tests. This will make sure colleges can match documents to the correct person.
At the end, you will adjust your communication preferences and accept the Common App privacy policy.
Select "Create Account" to complete your account.
Add colleges you wish to apply to along with Cornell University.
Add recommendations from your school teachers or parents, that will increase your chances of getting into great colleges.
Check if your application syncs with the requirements of the university and then submit it before the deadline(the deadline varies, please check on the official website according to your course).
You can apply to Cornell through the common app and along with it, you can also apply to a number of colleges according to your preference. Before applying check your eligibility to apply to Cornell University in the above article.
We have seen the estimated fee of each course is way too high, so it is difficult for students to get into the university with their own funds. In that case, you can go for an education loan through Wemakescholars, as we have expertise in dealing with education loans. We process around 1000 profiles every day. So we can provide you with the best-suited lenders for you as well as we can negotiate on your behalf for the best deals. Go to this link to request a callback from our team to check your eligibility for an education loan and apply for one.