The Canada Work Permit Guide for Education Loan Applicants
Study Abroad Visa | Updated
Is Canada your dream destination to pursue your study? Apart from breathtaking views, hilltops and coastlines, Canada has a lot more to offer for students who wish to pursue their higher education there. Canada has been one of the most preferred destinations for students who are keen to study abroad and build their careers. It is a major gateway for world-class education with exceptional job opportunities in a country which accommodates a diverse workforce.
In this article we'll discuss the Canada work permit guide for education loan applicants. Every year, hundreds and thousands of Indian students enrol into various Canadian universities or colleges in the hope of getting better employment opportunities. However, not many are well aware of the requirements of a Canada work permit after graduation/post-graduation.
This article aims to bring light on two important factors of studying in Canada.
Firstly, the entire process of obtaining a Canada work permit
And secondly, how consultancies often misguide students regarding the Canada work permit and how this affects their education loan process.
But before that, let's have a look at what is a Canada work permit, types of work permit and the conditions applicable on the work permit.
What is a Canada work permit?
In simple terms, a Canada work permit stands for the permission to work or take a job in Canada. It is an official statement to work in Canada given by the authorized officials to a person who is not Canadian citizen or a permanent resident of Canada. A Canada work permit is issued by the Canada immigration and Citizenship under the Temporary Foreign Worker Program (TFWP).
According to TFWP, they have categorized people in four different streams:
high-skilled workers,
low-skilled workers,
the Seasonal Agricultural Worker Program,
and the Live-In Caregiver Program.
Canada work permit is valid only for employer-specific jobs and one can apply for work permit based on:
Labour Market Impact Assessment (LMIA) from Employment and Social Development Canada (ESDC)
Or an offer of employment from a Labour Market Impact Assessment (LMIA)-exempt employer
What are the types of Canada work permits?
There are two types of Canada work permit:
a. Open work permit Canada: With open work permit Canada, students can work for any employer similar to the Post-graduation work permit (PGWP)
b. Employer-specific work permits: With an employer-specific work permit, students are supposed to work for only one employer.
This is all about Canada work permit. Now let's move on to the conditions applicable on the work permit visa.
Conditions on Canada work permit visa
There are few conditions of a Canada work permit visa. If students do not oblige to the same, an official person may impose, vary or cancel your Canada work permit visa. Few of them which the officials refer to are:
The type of employment a student is willing to pursue
The employer or the company a student may work for
Location or the place a student may work
Time duration of the work
And how long will the student work for
Now let's understand the co-op work program and how to apply for the same.
What is the co-op work program?
Co-op program is basically an internship program which is offered to international students as they have to complete an internship program in order to finish their graduation or post-graduation. To be able to work or do an internship students will need a co-op work permit and a study permit. If the students qualify for a co-op work program, then an open work permit Canada can be issued by the organization who selects the student.
If you are looking to fund your Canada education loan or looking for scholarships, connect with our team at WeMakeScholars where our financial officer will help you find the best option in the market and also assist you through the entire education loan process in India.
Conditions to keep in mind before applying for a co-op work permit?
There are few conditions for co-op work permit that students are required to meet in order to be eligible for one apart from having a valid study permit. Few of them are:
Student's intended employment must be a postsecondary academic, vocational program or a professional training program.
Student intended vocational training program should be at the secondary level in Quebec or should have a secondary level program where student is required to work in order to acquire their secondary or high school diploma or certificate of graduation
Student intended employment should be offered by a Designated Learning Institution
Student intended employment must be certified as part of the academic program by an official person of the institution
Student intended employment should not form than 50 percent of the total program of study
What is the post-graduation work permit?
A work permit visa issued under the Post-graduation work permit program allows to gain work experience for students immigrating from different countries to study in Canada. Students are allowed to work in Canada for up to 3 years after the completion of their graduation. Students can opt for full-time employment, part-time, self-employment etc. This is an open work permit Canada which means students are allowed to work for any employer.
The major advantage of the post-graduation Canada work permit is that the students are not required to produce a job letter in order to apply for the work permit. They are not required to do a Labour Market Impact Assessment (LMIA). LMIA refers to a document that an employer of Canada may require to produce before hiring a foreign worker.
Post-Graduation Canada Work Permit Eligibility
Students who have migrated from different countries to study in Canada and are in the final phase of their study have a total of 180 days to apply for post-graduate work permit application after they receive their marks. Also, candidates have to ensure that their study permit must have been valid at some point within these 180 days. So what happens if the permit to study in Canada expires even before students get their final results? The Canada work permit eligibility criteria state that in such a case where a student's study permit expires before their 180-day lock-in period, they will be given two different options.
Apply for a visitor record to extend their stay in Canada
Return to their native country and re-apply for a post-graduation work permit to work in Canada.
If they successfully meet these post-graduate work permit requirements, students will be eligible to apply for a Canada work permit.
So to summarize the post-graduate work permit application requirements, it is extremely important to keep a close eye on your study permit expiry date in order to be able to qualify for a post-graduation work permit, and a work permit is only granted to migrant students who have finished their graduation/post-graduation from any Designated Learning Institution with a valid study permit. This is a mandatory requirement mentioned in the Canada work permit eligibility criteria.
Post-Graduation Canada Work Permit General Eligibility
Students should complete an eligible program which is at least 8 months in length
Students must enrol in a full-time enrollment in regular academic terms
If in case of distance learning program, then it must not exceed 50% of the program
Student must possess a valid study permit at the time of receiving their final grade
How to Apply For a Post Graduate Work Permit?
As mentioned at the beginning of this article, students are granted a total of 180 days to fill and submit their post-graduate work permit application after receiving their final degree, diploma, transcript or an official letter from their respective educational institutions. The post-graduate work permit application can be submitted on paper or online.
Post Graduate Work Permit Application Fees & Documentation
If the permit to study in Canada expires before the 180 day period begins, students are given a grace period of close to 90 days to re-apply for a new one in order to restore their status as students. In such cases, candidates will be required to first restore their status as students and then apply for a PGWP to work in Canada. The following charges are applicable to students whose study permits expire before receiving their qualifications:
Postgraduate work permit application fees - $ 255 CAD
Re-applying for student permit - $ 350 CAD
Students will not be allowed to work unless and until they possess both the documents. Should they fail to apply for the restoration of their status as students within the grace period, immigration rules require them to leave Canada and apply for a fresh study permit and Canada work permit.
Before applying for a PGWP, it will be better to keep the following documents handy:
An official letter from your school that confirms you've completed your study program
An official transcript, or a copy of your transcript from your school's website
A valid status of the student or visitor if you are in Canad
A valid passport
Digital photo of the student
Post Graduate Work Permit Processing Time
Although students are allowed to submit their post-graduate work permit applications via paper, the immigration department strongly recommends applying online to make the entire process easy for students. Although the post-graduate work permit processing time for both online, as well as paper applications, are more or less the same, the procedure of applying online is easier as opposed to sending the Canada work permit application form physically. Students will be required to submit their biometrics online in order to successfully complete their post-graduate work permit application process.
If you think that the entire process ends here, you are mistaken. If you may have observed, the validity of a typical post-graduate work permit was not mentioned in the beginning. This brings us to the next important part of the article, the validity period of a Canada work permit.
Canada Work Permit Validity
Once issued, the validity period of a Canada post-graduate work permit is equal to the total course duration. The following table depicts the validity period of the PGWP for different courses. It is essential to note these validity periods before you approach any consultancy for guidance regarding your course.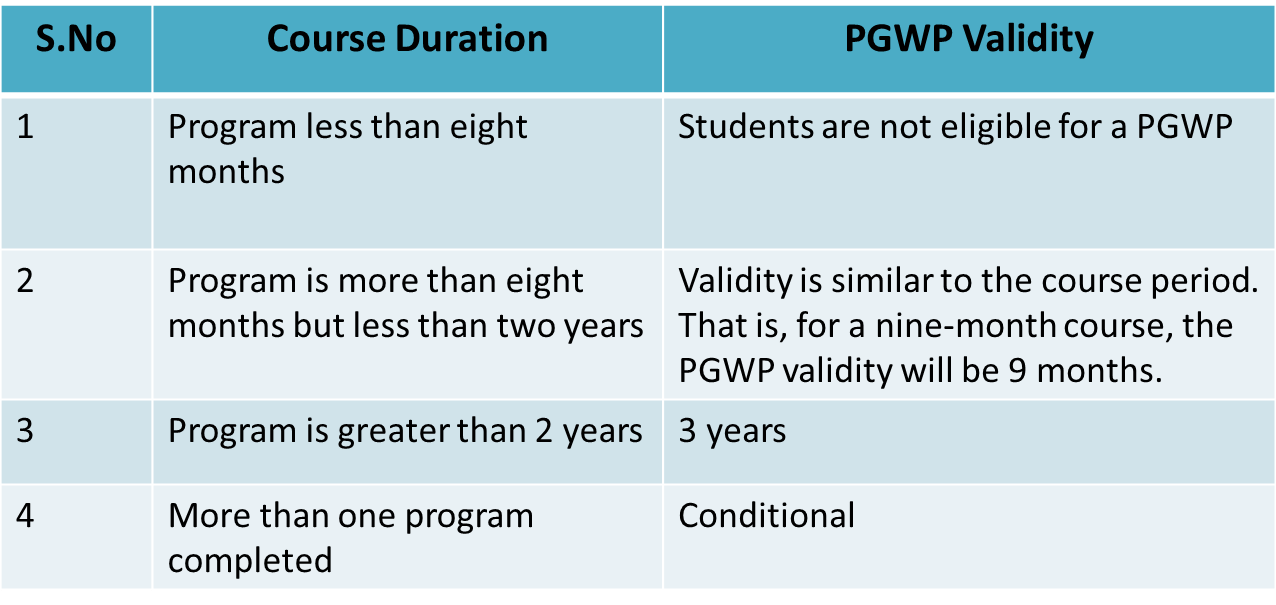 Students who have completed multiple programs in Canadian universities/colleges can get a post-graduate work permit whose validity period combines the length of each course. Again, students who fulfil the following Canada work permit requirements are eligible
All the courses must be eligible for a post-graduate work permit
Each course must be at least 8 months long. Courses which are shorter than that will not be considered as eligible for a PGWP.
How Does the Validity of Canada Work Permit Affect Your Education Loan?
The promise of better job opportunities with better salaries is what attracts a significant percentage of Indian students to Canada. Since a lot of them are unaware of the rules and regulations of obtaining a Canada work permit after completing their studies, many students tend to turn to consultancies for guidance regarding the same.
This is a very common practice observed among the students who have been accepted into lesser-ranked universities and colleges across Canada. The above table shows that students who are enrolled in 2-year courses are granted a PGWP of 3 years, and those who have enrolled for a 1-year course are allotted a PGWP validity of the same duration.
Now, candidates who need a post-graduate work permit extension are often advised by their higher education consultancies to enrol for 1-year courses first and then on completion of the same, they could apply for another course. This way, by consecutively completing two programs, each of which lasts for 1 year, such students get to avail a 3-year PGWP.
There is nothing wrong with this method. However, it is quite risky. If students fail to complete their course, they will only be granted a one-year PGWP. Once this PGWP expires, they will be required to return to their native country. It is essential to understand that two different programs of the same duration are not considered as one by banks and NBFCs when students apply for an education loan. Since a lot of students who wish to study in Canada fund their higher studies with an education loan, it is important to understand this fact.
Now, the abroad education loan schemes of most government banks are designed to cater to the regular, two years long undergraduate/postgraduate programs in Canada. Hence, very few government banks agree to lend a Canada education loan to students who have been enrolled in certificate/diploma programs for one year on collateral basis. If a student does not acquire any collateral, then unsecured education loans are the only funding option for such courses which also are taken on a case to case basis.
The 18th episode of Loanflix discusses the unsecured Canada education loan options. Students can get unsecured education loans of up to INR 25 Lakhs to fund their studies in Canada. When candidates who are now convinced of obtaining a Canada work permit in the same manner as advised by their respective consultancies apply for unsecured education loans with NBFCs, stating their total course duration to be of two years, their applications are outright rejected.
However, organizations like WeMakeScholars still make it possible for such students to obtain an abroad education loan successfully by convincing them to first borrow a Canada education loan for the one year course and on successfully completing the same, apply for a second education loan to fund their second course. This is only possible if you approach our financial team for assistance regarding education loans. Request a callback today to understand the entire education loan process in a clear manner.
Why apply through WeMakeScholars?
The funding requirements laid down by the embassy of every country is different. In the abroad education loan process, candidates require funds in different phases. One of the most important phases is when they apply for a student visa to the respective country. Sometimes, many students who apply for US and Canada visas are required to show proof of liquid funds in their accounts, even before their visa is processed, for different purposes.
This is a requirement asked by the many embassies. Banks disburse these funds in the form of a pre-visa disbursement. Now, many a time, being unaware of the policy changes made by embassies, government bank officials have been known to hesitate to process this amount to the candidates at the time of disbursement. At WeMakeScholars, our team understands these requirements and helps students secure their pre-visa disbursement and other documents at the right time. So if you are stuck at any point in your education loan process, do not hesitate to pick up that phone and request a callback from our team.
Note: WeMakeScholars is an organization funded and supported by the Government of India that focuses on International Education finance. We are associated with 10+ public/Pvt banks/ NBFCs in India and help you get the best abroad education loan matching your profile. As this initiative is under the Digital India campaign, it's free of cost. The organization has vast experience dealing with students going to various abroad education destinations like the US, Canada, UK, Australia, Germany, Sweden, Italy, New Zealand, France among others