Should I go abroad for Undergraduate or Postgraduate Course
Admissions | Updated
Introduction
In current times, education abroad is not just about the wish to study in a foreign country, it is more about the need to study in a place where there are more opportunities for growth and success. Due to the world-class facilities that help in quality education and career growth, abroad education is on the tip of the tongue of ambitious students. As we live in a dynamic world filled with information and technology, to make the most and best use of it, we must upgrade our knowledge too. And attaining the right education is like building a strong foundation to construct a skyscraper of a successful career.
While talking to many students who apply for their education loan at WeMakeScholars, we daily come across students who are in a dilemma of whether to pursue undergraduate courses or postgraduate courses from abroad. Not just the students but sometimes, the parents are also not sure of this decision about their child's career and future.
Parents may have to cope with emotional and financial issues in addition to scholastic difficulties. Many of them believe that children who are graduating from high school are too young and impressionable to adapt well to a foreign environment and culture. Therefore, they prefer to let their children complete their undergraduate degrees in India before arranging funds for them to pursue postgraduate studies overseas.
Although education counselors claim that UG offers more prospects and alternatives, as a candidate you should carefully weigh the benefits and drawbacks before making a decision.
In this blog, we will tell you the advantages and disadvantages of pursuing Undergraduate and Postgraduate courses from abroad. After reading the complete blog you will have a clear idea and will be able to decide which level of degree will be the best for you to pursue from abroad.
Advantages and Challenges of pursuing Undergraduation from abroad
You are graduating from high school, what next? Taking admission to a university, right?
But if you are planning to take admitted to a university in your hometown, state, or country, then let me tell you that's not it. You can pursue your undergraduate course from top universities abroad and we are sure that you will, after reading;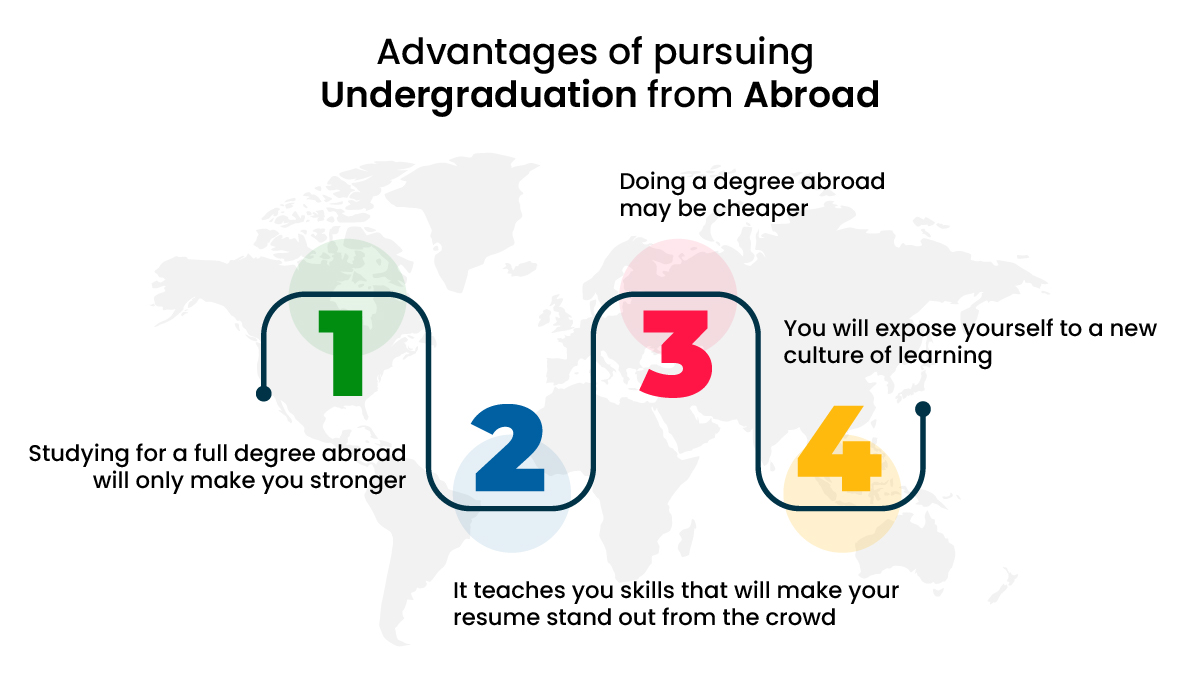 1. Studying for a full degree abroad will only make you stronger.
Pursuing a full-time bachelor's degree from abroad is an uphill task. You will have to uproot yourself from your comfort zone in all aspects like daily routine, food habits, sleep cycles, climate, etc, and then will have to not only accept but get used to the new culture and customs of the foreign land. It requires a significant portion of patience and the one who goes abroad for studies is sure to become mentally and physically strong because of this.
2. It teaches you skills that will make your resume stand out from the crowd.
Studying from a college or university abroad will not only upgrade your learnings but will also lay a great impact on anyone who sees your resume. It will surely be considered a plus point and will always pull you one step ahead of the crowd, wherever you are standing.
3. Doing a degree abroad may be cheaper.
Most of the students do not know this, but many times the cost of education abroad (tuition fees and living expenses) is cheaper than the cost of education in their native country. Specifically during the phase of global inflation, pursuing undergraduate courses from abroad at a cheaper cost will help students to save from the hit.
4. You will expose yourself to a new culture of learning.
Studying in a different country will give you exposure to different teaching and learning styles. We are sure that you must be familiar with the different teaching methodologies but the pedagogy and course structure in abroad colleges is different and based upon a practical approach. It will give you exposure to a new style of learning that might prove beneficial for your progress.
5. You learn to understand people from varying backgrounds.
You, yourself will become a foreigner when you will be pursuing your undergraduate degree abroad. It will be an altogether new experience for you as there will be numerous instances when you will have to reach out to people coming from different places and backgrounds for your daily needs. It will help you to overcome shyness and become upfront in life. So, this is another great advantage of pursuing undergraduate studies abroad.
We are sure now you are all set to open a new tab in your laptop or mobile and apply for admission to abroad universities to pursue your undergraduate degree. But wait, a coin had two sides. Now let me tell you about a few challenges of studying abroad so that you can make a well-informed decision about whether or not to pursue an undergraduate degree from abroad.
The challenges of pursuing an undergraduate degree from abroad are:
1. Home Sickness
Even if you have only moved across the nation or to another state, it may be challenging to study away from home. Think about how much more challenging it could be to attend school in a place distant from home and in a nation that is very different from your own. Due to living halfway around the world, returning home for the holidays or the weekend will be more difficult. Abroad education may sound amazing as of now but sooner or later, homesickness will catch up with you. However, don't worry too much about being homesick; it will pass.
2. Barriers to language and culture
Keeping up with your education and your surroundings can be daunting if you don't know the first language of your study abroad destination. Apart from adjusting to other things, learning a new language or a new accent can be hard for you. But, this can be turned into a pro as learning a new language sets you apart professionally and improves your multitasking skills and your memory. Learning the first language of your study abroad destination can make your life easier and helps you in blending with the culture there.
You must consider all the above-mentioned points before applying to your preferred foreign university. We are sure that the information provided will help you answer the question of why or why not abroad for an undergraduate degree.
Advantages and Challenges of pursuing Post Graduation from abroad
Moving on to the other side of the table, we have the advantages and challenges of pursuing a postgraduate degree from abroad. Now we all know PG is a master's degree that requires a student to hold some undergraduate degree previously.
So now you have already completed your graduation or are now ready to resume your studies after working in a corporate office for a while and are now looking for colleges to pursue your post-graduation, then all we want to say to you is that don't settle with limited study options. The world is big and abroad study opportunities are for ambitious students like you. Go through the advantages and challenges of pursuing post-graduation from abroad and make the right decision to skyrocket your future.
Starting with the advantages of pursuing post-graduation from abroad:
1. Build a better network
Studying abroad is a fantastic way to expand your network and meet people you probably wouldn't have met otherwise. Along with learning about other cultures and lifestyles, traveling will help you discover more about who you are. It can be simpler to adjust to a new environment and try new things without feeling overwhelmed by the support of other students who are experiencing the same thing.
2. Provides a wider perspective
Developing a global perspective is a crucial aspect of college life. You will get the chance to learn about other academic fields and other cultures in a setting that is different if you study abroad. Additionally, you'll get a chance to experience all the new culture has to offer, which will help you understand what it's like to live there. Knowing this will assist you in making decisions regarding your work and way of life in the future.
3. An international diploma helps you stand out on the job market
According to statistics, graduates who choose to pursue a Master's degree overseas had higher access to work chances. This holds whether you decide to work abroad or go back to your nation of origin. There are several options available to you even if you wish to remain and begin a new life in the nation where you are studying.
4. Find professional avenues
Your career trajectory may be significantly influenced by your experiences abroad. Discover new career paths, interests, and passions. The possibilities are endless, from entrepreneurship to working in your preferred industry overseas to learning a new language. Some people could even decide to continue their studies and research overseas.
5. Enhance professional opportunities
While you may return home after completing your studies, there is no denying the positive impact on your professional profile. Many students stay back and apply for work visas. The foreign educational experience is also favored by top employers in India. It goes without saying that you will naturally be more confident and mature in your interviews with a foreign stint under your belt.
After going through the advantages of pursuing a postgraduate degree from abroad, we are sure that its challenges will be no big deal in comparison to its advantages. But to give you both perspectives, here are
The challenges of pursuing postgraduate courses from abroad.
1. You'll have greater expenses with your studies
The cost of pursuing post-graduation from abroad is higher, this is probably a major challenge for most students who do not have a strong financial backup. However, there are quite a few affordable universities in the world, but, The total cost of studies will include tuition fees, accommodation, traveling, and food expenses.
But do not worry, WeMakeScholars is here to help you overcome this challenge. You can apply for an education loan through WeMakeScholars to arrange funds for your studies abroad. We are India's most trusted education loan processing organization, which is supported and funded by the Ministry of Electronics & IT, Government of India. You can get in touch with us to start your education loan processing today, or you can click here to check your education loan eligibility.
2. Limited program compared to bachelors courses
The number of study programs offered post-graduation is comparatively lesser than the number of study programs offered at graduation. Sometimes your options are restricted to limited programs that you might not find aligned with your career goals.
Conclusion
Expanding your professional horizons and giving your education fresh views are two benefits of studying abroad. However, a few drawbacks can offset its numerous advantages. Therefore, it's crucial to thoroughly consider your alternatives and pick one that aligns with your tastes and professional ambitions. We are sure that after going through this article you have decided on your niche and have opened the WeMakeScholars website in another tab because we don't want you to miss out on the opportunity of getting a scholarship to fund your education abroad.
Still worried about managing funds for your education abroad? We have got you covered. Applying for an education loan is already simple and gets simpler when you process your loan with WeMakeScholars. We are here to help! You can get in touch with the financial officer by requesting a callback from them or directly check your education loan eligibility.
Global education is a life-changing experience and if you too are planning to change your life by going abroad for your higher education, then I am sure you will find these articles insightful.