Top 50 Universities in the USA for the year 2023
Admissions | Updated
Introduction
Education abroad is nowadays the first choice of genz students. Not just because everyone wants to live the fascinating lifestyle of students studying abroad, but because they understand the importance of quality education and exposure that they can get while studying abroad. But it is equally important for students to know the ins and outs of education in the USA along with the top 50 universities. So that students planning to go to the USA for their studies abroad can make the best and most use of their study abroad opportunity.
In this blog, I will tell you about the important details that will help you make informed decisions while you study abroad in the United States of America. Also, I will tell you about the top 50 universities in the USA to which you can apply for admission.
By the end of this blog, you will have answers to all your questions like
Which is the number 1 University in the US?
Which is the #1 public university in the world?
Which is the hardest university to get into?
So keep reading to find all the answers.
Education in the USA
It is because of factors like unique academic structure and quality education standards that more than 9 lac students enrol themselves in the USA, every year. The country has a state-of-the-art educational infrastructure, library facilities, student-friendly local transportation network and recreational activity spots which help students to experience holistic learning and get good exposure to modern-day industry requirements. The course structure is designed such that students can not only study the problem but also, under the expert guidance of experienced faculties are trained to fit in and solve the problem.
The US is also home to a few of the world's most decorated and prestigious universities, which have had great significance in the evolution of mankind and continue to do so. Now let me tell you about the top 50 universities in the USA according to the recently published QS World University Rankings 2023.
Universities List
1 Massachusetts Institute of Technology (MIT)
Massachusetts Institute of Technology, known also as MIT is a private institution founded in 1861 with the thought-provoking motto "Mind and Hand". Today, MIT has evolved into an educational behemoth with some 1,000 faculty members and more than 11,000 undergraduate and graduate students.
Massachusetts Institute of Technology courses spans various fields such as Architecture, Finance, Analytics, Applied Science, Business Administration, Engineering and much more. The average tuition fee for undergraduate courses at MIT for 2021-22 was $55,510 for 9 months.
2 Stanford University
Located 20 miles north of San Jose and 35 miles south of San Francisco, Stanford University lies in the heart of Northern California's dynamic Silicon Valley. It is home ground to Google, Yahoo, Hewlett-Packard and many other tech giants that were founded and are being run by Stanford faculty and alumni. The university has been nicknamed the "billionaire factory", as the graduates from Stanford end up getting loads of pay cheques.
Covering 8,180 acres, Stanford has one of the largest university campuses in the US, with seven schools in the country and 18 interdisciplinary research institutes.
3 Harvard University
Harvard is the oldest higher education institution in the United States as it was established in 1636. It is widely regarded in terms of its academic pedigree, influence and reputation as a leading university in not just the US but also in the world.
As a fresher student, you will have to live in one of the dormitories in Harvard Yard and eat in the picturesque Annenberg dining hall, which is historic by the way. Harvard students are active around and beyond the campus also, with over 400 official student societies including athletic, co-curricular and extracurricular opportunities.
4 California Institute of Technology (Caltech)
Located in Pasadena, California, around 11 miles northeast of downtown Los Angeles, the California Institute of Technology (Caltech) is a prestigious science and engineering research and education institution. The university was founded by Amos G. Throop as a vocational and preparatory school in 1891, with the mission "to expand human knowledge and benefit society through research integrated with education."
Caltech offers undergraduate, graduate, and doctoral degree programs in physics, chemistry, biology, mathematics, computer science and earth sciences to students across the world. Spread over 124 acres of land, Caltech has seven buildings that are for students and family residences on the campus. The university also maintains several athletic teams in soccer, swimming, fencing, basketball and volleyball, and tennis for both men and women.
5 University of Chicago
The University of Chicago is a private research university based in the urban centre of Chicago, established in 1856. Presently, it has approximately 16,000 students enrolled, with a female to male ratio of 44:56. One-fourth of all students hail from overseas, a nod to the higher acceptance rate of international students to promote global education.
Students here run more than 400 societies and clubs, which consist of a typical mix of cultural and religious groups, sports teams, academic & political groupings, arts, and societies that promote broad common interests. If you have an interest in film and media, then you will get ample opportunities to take your interest to the next level because the university is home to the longest continuously sustaining student film society Doc Films and publishes several magazines and newspapers.
6 University of Pennsylvania
The University of Pennsylvania is a private Ivy League research university located in the city of Philadelphia. It was founded by Benjamin Franklin, one of the founding fathers of the United States, in 1740. The university's core campus expands to 279 acres and student life at Penn serves up opportunities to discover new passions and interests galore, through a wide diversity of political, cultural, social and religious activities.
There are multiple cultural centres and distinctive museums on campus that allow the arts to play an impactful role in student life. The university also takes sports and recreation very seriously, with students taking part in athletics, and ice hockey and joining a variety of recreational, competitive, and instructional sports and clubs.
7 Princeton University
Princeton is one of the oldest and most prestigious universities in the United States. It was founded in 1746 and moved to its current site in New Jersey in 1896. Princeton is renowned for the spectacular greenery of its 600-acre campus and the architectural splendour of some of its landmark buildings.
Today's Princeton provides undergraduate and graduate education in the humanities, social sciences, natural sciences, and engineering as well as offering several professional degrees. International students make up 12 per cent of total undergraduates, which is a good number.
8 Yale University
Yale University is one of the lists of prestigious Ivy League universities in the United States. The university was founded in 1701, making it the third-oldest higher education institution in the United States.
Yale University's central campus spans 260 acres and includes buildings from the mid-18th century. On top of this, you'll also find the usual array of top-quality sports facilities, a golf course and centres for tennis, polo, sailing, ice hockey, and more as well as competitive sports, with over 30 men's and women's varsity teams.
9 Cornell University
Cornell was founded in 1865 with the then radical intention of making contributions and teaching in all fields of knowledge. The main campus of Cornell is on East Hill in Ithaca, New York, overlooking Cayuga Lake and the entire city. It spreads over 2,300 acres and comprises administrative buildings, laboratories, and almost all the campus' athletic facilities, academic buildings, museums and auditoriums.
As a first-year undergraduate, you will have to live on North Campus, while upper-level students often hone in on the communities that they have found off campus. There are more than 1,000 organisations on campus, ranging from volunteer programs to skateboarding. Outdoorsy and sporty students also have facilities for rope climbing and caving along with four sports centres dedicated to inclining students towards their fitness goals.
10 Columbia University
Columbia University is a private Ivy League research university located in Upper Manhattan, New York City. It was established in 1754, as King's College by the royal charter of George II of Great Britain and later renamed Columbia College in 1784 following the American Revolutionary War.
Academically, Columbia University is home to 20 colleges, 120 academic departments and 21 schools which offer over 500+ courses for all levels of study. Some of the popular study areas include – Medicine, Computer Science, Business, Engineering, Humanities, etc. As per 2021-22 enrollment statistics, Columbia University enrolled around 18,000+ international students and scholars from 150 countries, which means that the university has a high acceptance rate for international students as well.
11 Johns Hopkins University
Johns Hopkins University was inaugurated in 1876 to make scholars bright, strong, true and useful. It is a private research university where students study and learn across more than 400 programs in the social and natural sciences, engineering, humanities, the arts and music, education, health professions and international studies.
There are more than 3000 international students from 121 countries at both graduate and undergraduate levels at Johns Hopkins University. The university also provides need-based scholarships to undergraduate international students. The average scholarship grant is $25,000, but the individual amounts can be more or less as per the financial need of a student.
12 University of Michigan-Ann Arbor
Established in 1817, The University of Michigan is one of the leading public research universities located in the U.S. It is the oldest university in Michigan with Ann Arbor as its main campus. The university is known for its employment outcomes, academic reputation, and excellent research network. With a 1:15 faculty-to-student ratio it is one of the best among the top universities in the United States.
The University also offers more than 250-degree programs in 15 of its 19 schools and colleges. The graduate program offered by the university also offers doctoral degrees in STEM fields, humanities and social sciences. Apart from this, it also offers professional degrees in pharmacy, public health, law, business, social work, dentistry, architecture and medicine.
13 University of California Berkeley (UCB)
The University of California, Berkeley campus is the state's first land grant university, established in 1868. It is located in San Francisco's Bay Area and its campus expands to 1,232 acres. Its huge campus also accommodates several museums, laboratories and many more institutional buildings which are also of historic importance.
The university offers a plethora of courses, in its 14 colleges and schools, which in turn comprise 180 departments and 80 interdisciplinary units offering over 350-degree programmes. Colleges serve both undergraduate and graduate students and postgraduate students are encouraged to apply for fellowships, teaching assistantships, or research assistantships.
14 Northwestern University
Northwestern University is one of the most preferred research universities by students from all across the world. It is a private university founded in 1851, known for its innovative research and excellent pedagogy. Initially, the University started with 2 faculty members and 10 students and currently accommodates over 21,000 students and more than 3,000 full-time faculty members. It also has a long list of popular recruiters like Google, IBM, Amazon etc.
Due to better placement, quality education and top-ranking every year so many students apply for admission here to study in the USA. You can also receive bumper scholarships while studying at Northwest University as the university awarded over $200 million in scholarships to students in their 2020-21 session and almost 50% of undergraduates receive Northwestern University scholarships.
15 New York University (NYU)
New York University is a private research university founded in 1831. It is one of the most respected and prominent private institutions and is regarded as the epitome of quality education in the US. New York University has two campuses in New York City, one located in Manhattan, and the other in Brooklyn.
The university offers over 9,700 courses across 650 areas of study in its three degree-granting campuses and 11 global academic centres. Not to overshadow but the New York University received over 1,00,000 applications for admission to the freshman Class of 2023. With an overall acceptance rate of 12.8 per cent the university also maintains a fair ratio of both domestic and international students on campus.
16 the University of California, Los Angeles (UCLA)
The University of California is a world-class university which stands true to its mission statement of creation, dissemination, preservation and application of knowledge for the betterment of global society. Established in 1927, UCLA is the southern branch of the University of California. Its campus is spread across 419-acre land across the foothills of Santa Monica Mountain.
UCLA offers more than 250 courses and programs that are taught by well-qualified professors. These courses comprise of 90 undergraduate minors, 120 undergraduate majors and 120 graduate and doctoral programs in various streams such as Life Science, Social Science, Humanities etc. On-campus international students from 118 countries make up nearly 12% of total students. UCLA also has an Indian Student Union that aims to create awareness of South Asian Culture, host community events and promote cultural education.
17 Duke University
The wheel of Duke University will roll back to a small school that opened in 1838 in Randolph County, North Carolina. Its campus is spread across 8,693 acres of land which also accommodates a Duke Forest. The campus consists of four parts, namely, East Campus, West Campus, Central Campus, and Medical Campus. In addition to this, there is a Golf Course and a Marine Lab as well all these facilities contribute to value learning.
Duke University offers a variety of courses through its ten colleges and schools. Students here study Management, Engineering, Science Humanities, etc. It also offers master's and doctoral degrees in more than 80 departments, along with certificate programs and dual and joint degrees. Computer Science, Public Policy, Biology, Economics, and Psychology are some of the most preferred undergraduate courses at Duke University.
18 Carnegie Mellon University
Carnegie Mellon University is a private global research university located in the city of Pittsburgh, Pennsylvania. It was founded by Andrew Carnegie as Carnegie Technical School in 1900, in 1912 it became the Carnegie Institute of Technology granting four-year degrees. In 1967 it was merged with the Mellon Institute of Industrial Research to establish Carnegie Mellon University.
The university has over 14,799 students enrolled along with a faculty and staff strength of over 5,000 hailing from 109 countries across the globe. It is popular among students as it offers interdisciplinary programmes in information systems, computer science, business administration, biology, and computational biology courses
19 The University of California, San Diego (UCSD)
The University of California, San Diego is an open research university which was established in 1903. It has a campus area of approximately 1,200 acres located near the Pacific ocean. The campus is built with world-class amenities to provide all necessary facilities for the holistic development of students during their time at the university.
The undergraduate programs offered by the University of California comprise about 125 courses categorised into 6 departments Similarly, the postgraduate degree program includes 35 courses and the doctoral level program has 47 courses along with 5 professional programs. With dynamic learning practices, the University of California is undoubtedly one of the most prestigious and respected Public Ivy colleges in the US.
20 Brown University
Established in 1764, Brown University is one of the renowned research Ivy League Universities in the US. It offers memorable academic and student life experiences with the help of its excellent faculty and student-centric learning model. The university follows a flexible approach to education and helps students enhance their entrepreneurial outlook, potential and creativity.
You will experience a classic New England college feel at the Hill campus which is equipped with modern architecture, spectacular scenic beauty and the latest infrastructure amenities, and that's why prospective students can take a tour of the university either personally or online, as per convenience.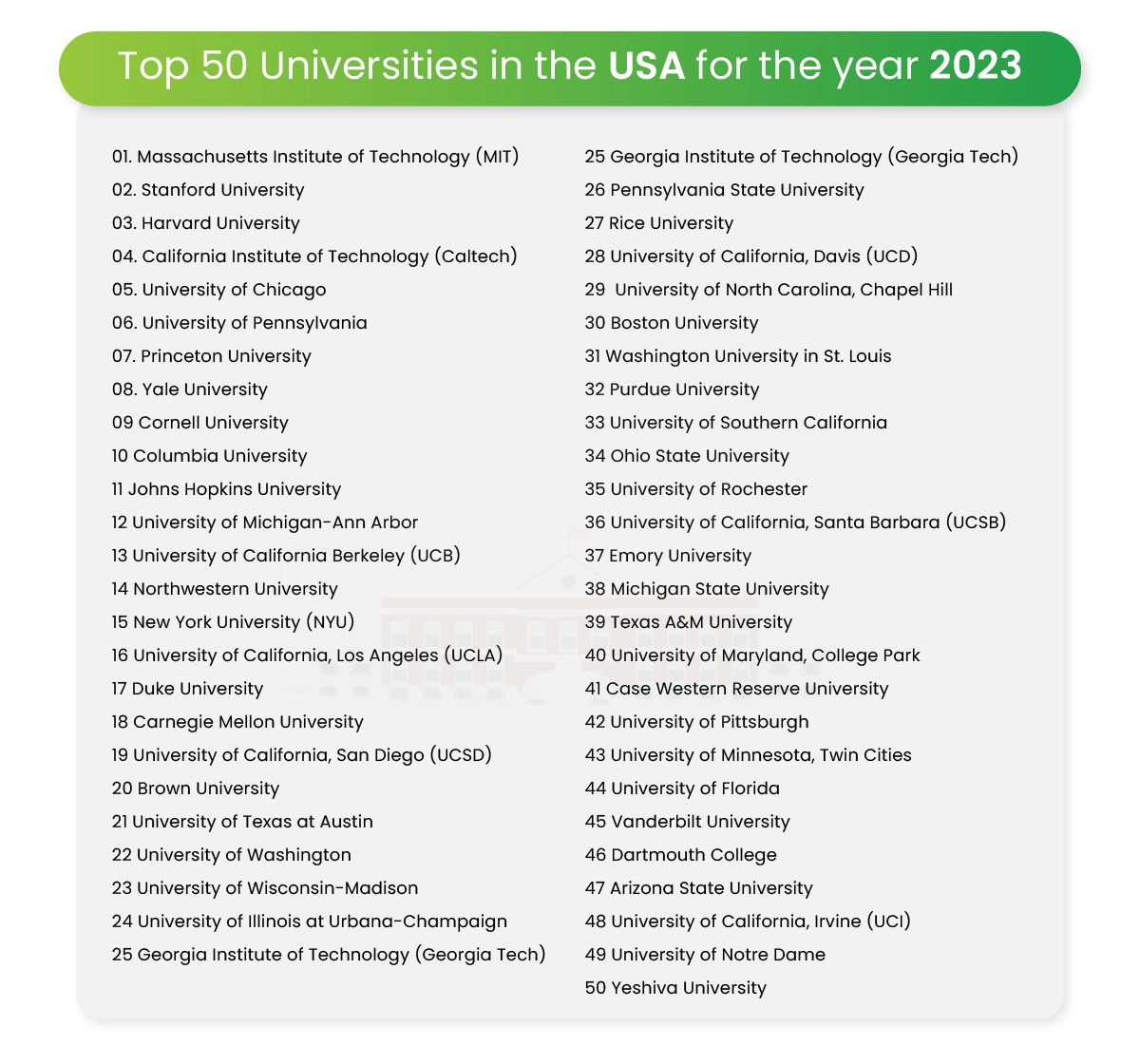 Conclusion
The list of universities is according to the recently released list of top universities of the US by QS World University Rankings 2023. Hopefully, after reading the article you will be able to draw a clear picture of what to look for while choosing a university in the United States of America. I am sure the information provided to you in this article will help you decide and choose the best educational institution for your higher studies in the US.
But not to forget each student is unique and so is each university. It doesn't matter whether your preferred university is on the list or not, if the course, facilities and future employability prospects of your preferred university are good then you are good to go, my friend.
After all, where there is a will there's a way.
Still not sure which university would be the greatest fit for you or whether you're qualified to get an education loan? Don't worry, we've got you covered. Applying for an education loan is already simple and gets simpler when you process your loan with WeMakeScholars. We are here to help! You can get in touch with the financial officer by requesting a callback from them or clicking here to check your education loan eligibility.
Thanks for reading this blog on the Top 50 Universities in the USA for the year 2023. If you are interested in learning more about studying abroad and student life abroad, then I highly recommend you to read:
FAQs
Which is the number 1 University in the US?
MIT is the number 1 university in the US. Its ranking is a reflection of the institute's quality education standards along with a high standard of integrity, creativity and intellectual excellence and high-quality research output.
Which is the #1 public university in the world?
The University of Oxford is the best public university in the World. It is located in Oxford, England and is the oldest university in the English-speaking world and the second oldest university in the World. One interesting fact about Oxford is that it has one of the lowest drop-out rates in the UK.
Which is the hardest university to get into?
Columbia University ranks top in the list of hardest universities to get admission into. It has an acceptance rate of just 3.9%. It is so because Columbia's admissions committee considers factors such as letters of recommendation and extracurricular activities also, beyond academics.