Seoul National University: Ranking, Courses and Tuition Fee
Admissions | Updated
Introduction of University
Seoul National University (SNU) aims to teach students a lifetime love of education and instill the ideals of flexible education. The goal of SNU in the twenty-first century is to establish a thriving intellectual community where students and academics collaborate to shape the future. In addition, it is dedicated to educating pupils in a world that is becoming more and more competitive. Most of its graduates serve as public employees in the Korean government, which is regarded as the most respected job in South Korea. SNU continues to raise the bar for excellence in public service, research, and teaching.
History
As South Korea's first national university, Seoul National Institution has a history of advancing democracy and peace on the Korean peninsula. It was started back in 1946. Ten colleges and universities in the Seoul region were combined to become Seoul National University on August 27, 1946. The following institutions were merged:
Gyeongseong (Seoul) University
Gyeongseong College of Education
Gyeongseong Women's College of Education
Gyeongseong Law College
Gyeongseong Industrial College
Gyeongseong Mining College
Gyeongseong Medical College
Suwon Agriculture College
Gyeongseong College of Economics
Gyeongseong Dentistry College
The Gwanak campus in Seoul is the primary location of the South Korean National University. It also contains campuses dedicated to medicine and agricultural research and teaching. Seoul National University is dedicated to developing global interchange, advancing research in all areas of knowledge, and diversifying its staff and student body.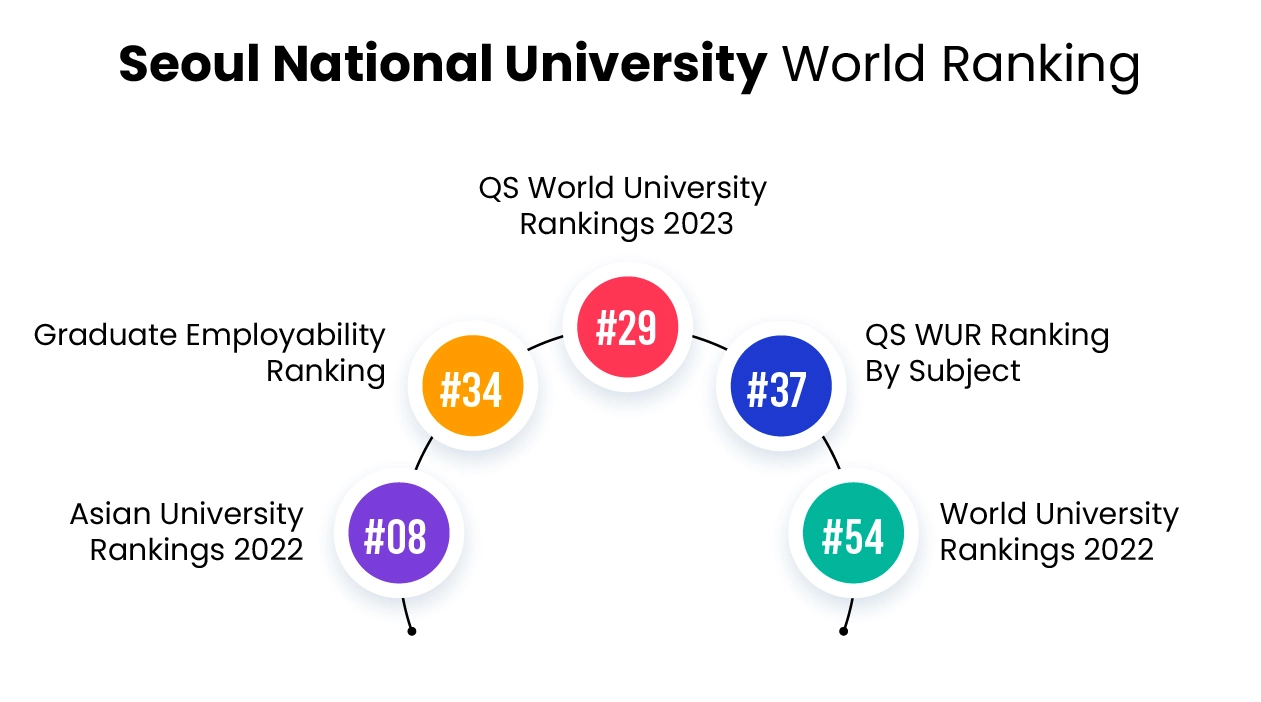 Requirement
| | |
| --- | --- |
| Acceptance rate | 20% |
| Admission requirements | Graduation from a teachers' college, high school, or other institution recognized by the Korean Ministry of Education, as well as passing a written admission test. |
| Academic calendar | March to February (March – June; September-February) |

Decisions on admission are made are based on factors such as:
Proficiency in Korean and other languages
Grade point average (GPA)
Letters of recommendation
Personal statements
Achievement records
Study plan
Interview
Descriptions of specific qualifications.
When evaluating applications, the admissions committee takes into account the applicant's level of education, the standard of their achievements, the features of the school they attended, the compatibility of their objectives, and their degree of preparedness for the proposed program of study. If interviews are required, candidates will be informed in advance.
Courses and attendance cost
The tuition for students at Seoul National University varies depending on the courses they are enrolled in, however, for foreign students, the average tuition ranges from KRW 2,442,000 to 5,038,000 each semester. This amounts to around 1.5–3.1 lakhs Indian rupees every semester.,
Undergraduate Freshman (All figures are in Korean won)
College of Engineering 3,206,000
College of Social Sciences 2,643,000
College of Humanities 2,643,000
College of Education - Humanities and Social Sciences 2,643,000
College of Education - Mathematics Education 2,651,000
College of Education - Natural Sciences and Physical Education 3,182,000
College of Nursing 3,182,000
College of Fine Arts 3,869,000
College of Liberal Studies 3,182,000
College of Agriculture and Life Sciences - Humanities and Social Sciences 2,643,000
College of Medicine 3,280,000
College of Music 4,135,000
College of Business Administration 2,643,000
College of Veterinary Medicine 3,280,000
College of Natural Sciences - Mathematical Sciences 2,651,000
College of Human Ecology - Natural Sciences 3,182,000
College of Natural Sciences - Natural Sciences 3,182,000
College of Human Ecology - Humanities and Social Sciences 2,643,000
College of Agriculture and Life Sciences - Natural Sciences and Education 3,182,000
Note: Fees are subject to college decision, refer college website to know the exact fee for your course.
How to take admission/Procedure?
The candidate's academic performance and potential, as well as his or her achievements, are taken into consideration while making an admissions choice.
The selection panel looks at a variety of things, including transcripts from prior coursework, such as the Grade Point Average (GPA), study schedule, personal profile, and letters of recommendation. Additionally, other accomplishment histories and particular requirements, such as language skills, are taken into account. The application of the applicant is examined in light of the candidate's degree of education, the standard of their accomplishments, and the features of the institutions they attended. Finally, the adequacy of the applicant's educational objectives and level of preparedness for the suggested course of study are evaluated.
The SNU International Admissions application process has two entry points:
Method 1 for international student admission
The candidate must have completed high school or have earned an equal level of study, and neither they nor their parents are Korean nationals.
Method 2 for International Student Admission
For International Admissions II, the applicant must have either foreign or Korean citizenship, as well as have completed all of his or her primary and secondary education (from the first year of elementary school to high school graduation) outside of Korea. This includes international marriage migrants who have become naturalized Korean citizens.
Depending on the requirements of the particular institution or department, the candidate may need to participate in interviews, tests, and/or submit extra papers. If the candidate is applying to the Department of Physical Education, the College of Music, or the College of Fine Arts Education Major, the applicant will be informed in advance of the same.
Conclusion
While studying abroad is a fantastic opportunity with countless benefits for all ambitious students as they learn more about their subject area, explore the world and create lifelong friends, it is not advisable to hold yourself back worrying about arranging funds for your higher education abroad. Applying for an education loan is already simple and gets simpler when you process your loan with WeMakeScholars. We are here to help! You can get in touch with the financial officer by requesting a callback from them or directly check your education loan eligibility. You can simply leap with a trusted and experienced partner, who should be there with you at every step in your journey of studying abroad to handle all the education loan-related issues. So that, you can completely focus on your whole & sole purpose to study and make your future bright.
Thanks for reading this blog on Seoul National University: Ranking, Courses and Tuition Fee. If you are interested in learning more about studying abroad and student life abroad, then I highly recommend you to read: