Lancaster University: Ranking Acceptance rate and Courses
Admissions | Updated
Considering going to Lancaster University for higher education, but confused about the quality of education and life there? Here's a guide on the ranking, acceptance rate, and popular courses at Lancaster University. Read it till the end, to know more.
Lancaster University is a very young university that was established only in the year 1964. Despite the university being very young, it has established itself in the world by delivering quality education and a warm experience to its domestic as well as international students. It has been very kind and welcoming to its international students, resulting in approx 29% of the student population at Lancaster University being international.
The University hasn't taken much time in marking itself in the world ranking. It has been consistently ranked among the top 15 universities in the UK in the table of major ranking publications.
The quality of education at Lancaster University promises to provide employment to its graduates, which is also supported by statistics. The University was ranked third in the UK for graduate prospects in the Times and Sunday good times University guide with 89% going for work or further education.
Let us have a detailed overview of the world ranking of the University. Meanwhile, you can also check about your eligibility for an education loan to study at Lancaster University by requesting a callback from WeMakeScholars.
World Ranking: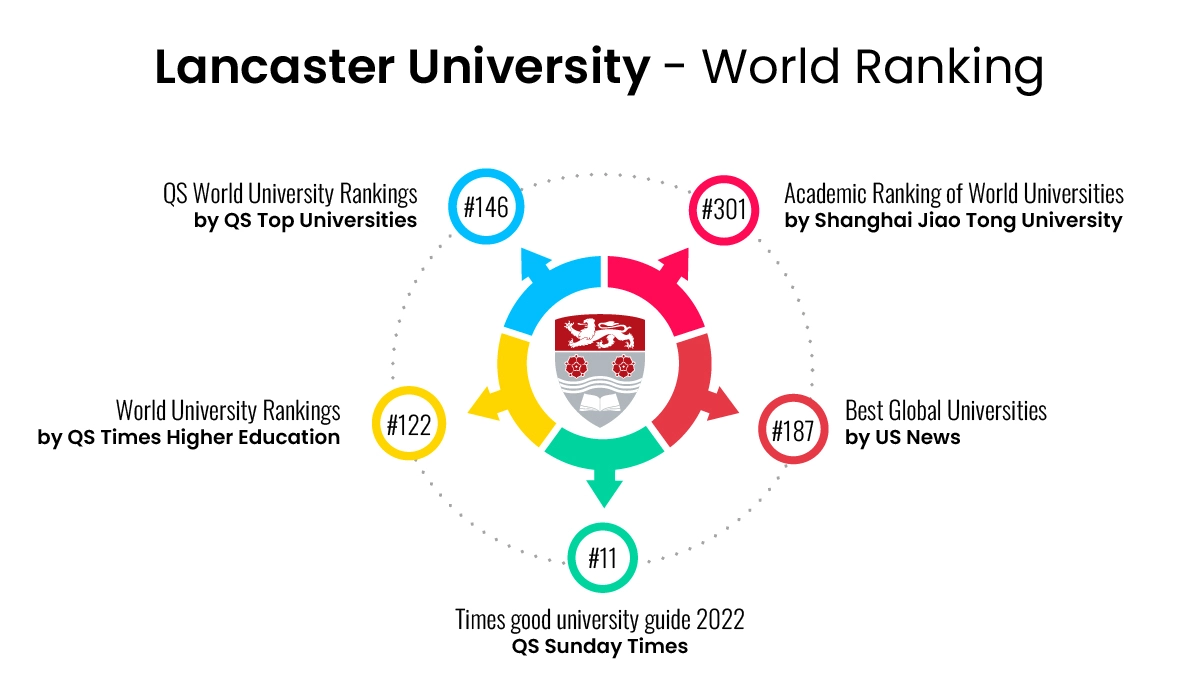 Lancaster University is young compared to other prestigious universities of the world which are top-ranked, still it has been able to rank among them. Below are some of the rankings achieved by the university.
| | | |
| --- | --- | --- |
| Rank | Name of the Ranking | Ranked by |
| 146 | QS World University Rankings | |
| 122 | World University Rankings | Times Higher Education |
| 11 | Times good university guide 2022 | Sunday Times |
| 301 | Academic Ranking of World Universities | Shanghai Jiao Tong University |
| 187 | Best Global Universities | US News |
Requirements to apply at Lancaster University:
Lancaster University has an acceptance rate of 18.69%, which means you need to be very good to get into the university, starting with fulfilling the basic requirements listed below.
The applicant must be 17 plus years old at the time of applying to Lancaster University.
Score at least 50% in your Higher Secondary school(HSC)
Provide academic transcripts
Provide the personal statement or the statement of purpose
Provide English Language proficiency test scores, like IELTS and if your scores don't meet the required level, then you can also take 10 weeks online preseasonal English program.
Provide references from your teachers and ask them to write the references in detail with your achievements and your behavior in the institution.
These are not specific requirements, as the specific requirements differ according to the course you are applying to. Do check the official website for specific requirements according to the course you are applying for.
Courses with fees:
Lancaster university offers courses in almost every field, but the most famous are courses in Arts and Design, Drama, and management. Let's discuss the popular courses offered at the university with fees.
| | | | |
| --- | --- | --- | --- |
| S.No. | Course Name | Course Duration | Fee per annum(in INR) |
| 1. | MBA | 12 months | 33.65 lacs |
| 2. | MSc Management | 12 months | 24.74 lacs |
| 3. | BA Honors Drama, Theatre and Performance | 3 years | 19.44 lacs |
| 4. | BA Honors Fine Art and Design | 3 years | 19.44 lacs |
| 5. | MA Arts and management | 12 months | 19.45 lacs |
| 6. | MSc Human resource management | 12 months | 21.46 lacs |
| 7. | MSc Business Analytics | 12 months | 24.74 lacs |
| 8. | MSc Accounting and Financial Management | 4 years | 21.36 lacs |
| 9. | MA History | 12 months | 19.45 lacs |
| 10. | Master of Architecture | 2 years | 19.44 lacs |
How to Apply:
Eager to apply after looking at the courses and the requirements? Do not worry as we are here to help you out regarding the process of application at Lancaster University. Below is a step-by-step guide to applying to the university.
Choose the course that you are applying to along with the fees.
Check your entry requirements according to the course you are applying for.
Asses the requirements of the course like the language proficiency skills or the required grades.
Apply to the university by filling out the form which requires your basic details to register, like your full name and email address.
Submit all the documents that are required according to your course. You can either submit them while filling out the form or come afterward with the login credentials and submit the documents.
Read the terms and conditions and agree to them to submit.
Once you submit the documents, you will receive a response from the student enrollment advisor from Lancaster University in 48 hours who will guide you with the rest of the application.
The University of Lancaster is located in the countryside, which is very safe for students. Also, it provides all the facilities for international students, which has attracted many international students in the past. The quality of education is exceptional at the university, which lures into taking admission to the university. Do not control your temptation of studying at such a prestigious university which is also not that costly if compared to other top universities.
Though you will have to keep a good amount of money for tuition fees as well as living expenses. We are here to help in regard to managing expenses. We at WeMakeScholars provide students with education loan guidance and also connect them to suitable lenders according to their profiles. So, wait no more! Connect to WeMakeScholars today to get started with the process of your education by requesting a callback.