Considering your PG Program in Canada? The country's reputation for its world-class universities, multicultural environment, and comparatively low cost of education and living has led to Canada becoming the third most preferred destination for Indian students after the US and Australia. Canada is a contemporary and liberal country. It's one of the very few countries worldwide that embrace foreigners with open arms. In 2019, around 642,000 overseas students arrived in Canada to pursue higher education.
PGDM in Canada:
A significant number of students opt to study in Canadian colleges rather than universities solely because of its low tuition. And many of these colleges offer either PG diploma or PG certificate programs instead of master's degrees. However, when it comes to taking an abroad education loan, which most students do, keeping in mind its benefits, they always have one question: Will I get a job after PGDM in Canada?
And to that, we say, Yes! In this article, we'll explore what courses you should opt for and how to apply to and crack jobs in Canada after a PG diploma program. We will also see some of the infamous 'Canada 2 yrs scam' to which many of you might fall, victim.
Let's start by discussing the top PGDM courses in Canada!
In-demand courses in Canada: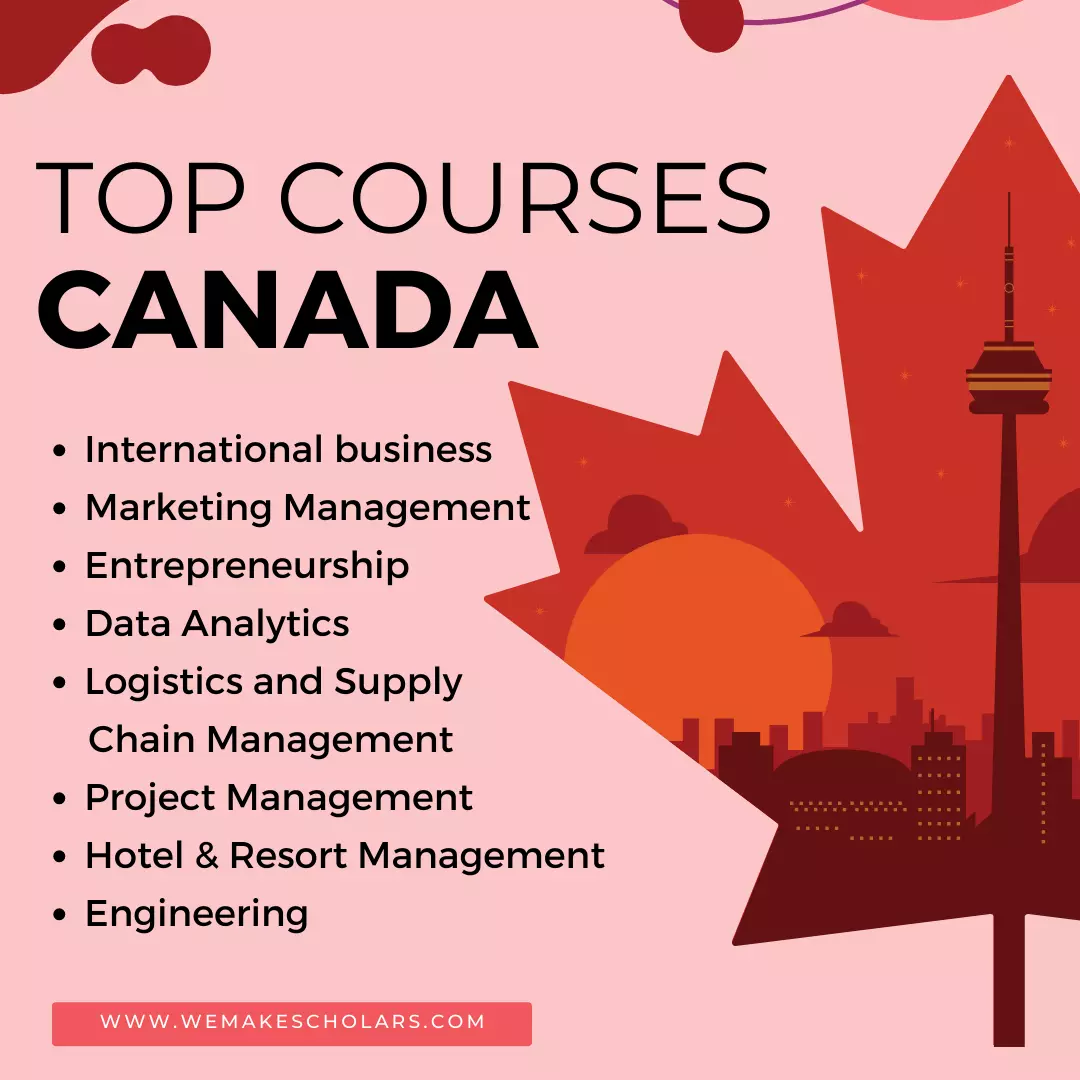 International business
Marketing Management
Entrepreneurship
Data Analytics
Logistics and Supply Chain Management
Project Management
Hotel & Resort Management
Engineering
Is it worth doing a PGDM in Canada?
If students want to study in Canada, opting for the courses mentioned above makes their desire more logical. The best colleges in Canada for PG diplomas provide students with a bright career and high-earning jobs. Let us dive deeper into the benefits of pursuing PG diploma courses in Canada.
Affordable PG programs: The best part is that a postgraduate diploma in Canada is cost-effective. You can not only study and work but also repay the loan without breaking your back.
Co-op options: Many Canadian universities provide the cheapest postgraduate diplomas in the country and allow students to do internships with businesses and organizations. This alternative will also aid you financially while you are studying, and working simultaneously without any pressure.
A practical approach: In comparison to other post-graduate master's degrees, pursuing PG certificates in Canada provides you with practical expertise. You'll gain a lot of experience in a variety of fields and learn how to solve problems effectively.
Postgraduate diploma with PGWP: Some institutions in Canada offer free post-graduate work permits, which is one of the amazing benefits of post-graduation courses. It means you will not be required to pay for a work permit visa. Keep in mind that the duration of the work permit may differ from one university to another.
Work-life balance and student experience: Without a question, Canadian professionals live a dream job. According to a 2018 survey, 66.6 percent of Canadian workers rate their work-life satisfaction as satisfactory to excellent. In addition, 35% of employees believe their work-life balance is improving compared to three years ago, according to the survey.
How to find jobs after PGDM in Canada?
Before you start finding jobs in Canada, make sure you prepare a CV that includes all necessary details of your academic as well as professional achievements, work experiences, skills, etc. in such a way that catches the eye of the employer. Here is how you can find job opportunities in Canada for international students:
Networking: In short, the HOLY GRAIL! Make connections with the people around you and develop useful contacts who could really assist you in your search for international student work opportunities in Canada.
Social Media Platforms: In today's world, digital media platforms have become quite important for job search. LinkedIn is used for professional networking, job searching, networking with employers, and discussing employment opportunities. Other social media channels, such as Facebook and Twitter, might help Indian students identify career possibilities in Canada.
Newspapers: The classified section of newspapers provide useful information regarding top jobs in Canada for international students.
Service Canada: It is a federal program that allows you to look for jobs in Canada and apply for them.
Immigrant-Serving Organizations: You can seek assistance from immigrant-serving groups and enrol in job training, resume writing workshops, and other resources to help you obtain international student jobs in Canada.
Job Banks: This is a free resource that provides information about job vacancies, wages, job duties, educational requirements, and employment data. Over 1,500 foreign student jobs in Canada are posted on a regular basis through job banks alone.
Job Fairs: Most Canadian institutions have a dedicated career team that conducts job fairs and career activities to assist graduates in obtaining employment offers. You can also go to employment fairs in the city where you live.
Recruitment Agencies: Recruitment companies can provide information on the top employers in Canada for overseas students.
Tips for Finding Jobs in Canada After Masters:
Here are some tips to help you land one of the best jobs for international students in Canada:
Upskill yourself right from the beginning so you have an edge over other candidates.
Educate yourself about any latest developments in the job market.
Tell your contacts that you are looking for jobs as they may be able to help you with leads.
You can start by volunteering in Canada as it can be a great way to show your employers that you are dedicated and hardworking.
Don't feel dejected if you are rejected after an interview.
Know about the workplace standards in Canada and learn about your rights as an employee.
Given the vast array of opportunities available in Canada, finding ideal jobs for international students can be a piece of cake. Keep in mind that you are competing against a pool of similarly competent people, so tailor your CV to your employer's demands. In every sector, there are several alternatives, so think about what you're interested in and pick a Canadian university and programme that suits your skills and ability.
Education loans & Canada 2 years scam:
Canada offers you a 3 years work permit/visa if you study there for 2 years which is called 2+3 but if you study there for 1 year, you get only a 1-year work permit/visa. And most of the PG diploma and PG certificate programs are of 1-year.
So, studying for one year and getting a job permit for only one year is clearly not a very good return on investment as a year of earning won't be enough to even recover the cost of your education. This is why many students want to go for a 2-year program to get a 3-year work permit.
But since many consultancies in India mostly get their commission from this 1-year program, they push students into pursuing these 1-year programs. Consultancies assure students that once their 1-year program gets complete, they'll help them get admission into another 1-year program to get 2+3 which is risky, many times consultancies stop responding, and many times students are not able to get admission into another 1-year program.
Students sometimes come for an education loan for 2 years despite having mentioned one year on their offer letter. In such a case we'll only be able to get you a loan approved for 1 year as per the offer letter. But later if you are luckily able to get admission into another 1-year program then we can extend your education loan for Canada for the second year based on your profile eligibility without you having to come back to India.
If you are looking for an education loan for Canada for your PG program, then your best chances are with WeMakeScholars, we try our best to get students the best deal they can get. So do reach out to our financial officers by requesting a callback. Our team of financial officers assists you with the entire education loan process until sanction, disbursement, and beyond.