Guide to Masters in Media and Communication
Admissions | Updated
Mass media refers to the technology of reaching to masses through media, which can be digital media, broadcast media, or print media. We need it when we want to deliver a message to millions of people. Media has been the main reason behind many revolutions in the past and it hasn't really deviated from its purpose as of today. The media and communication fields have evolved through the years. Today the demand for media is constantly increasing as the demand for information is growing day by day. Hence there is also a higher demand for professionals in the field of media and communication.
Curiosity gives rise to creativity and the two combines to give rise to quality content, which is consumed by millions of people across the world. As the consumption of content is increasing, so the demand for fresh content is also increasing. This demand is driving more and more people to pursue media and communication. In this article, we will discuss the course structure of media and communication, requirements, and top countries to pursue media and communication. We will also discuss job prospects after completing Masters in media and communication.
The course structure and syllabus of Media and Communication
Master of media and communication is a post-graduate course. It is generally for 2 years, which includes 4 semesters. During the course, sociological, cultural, and economic aspects of media are also looked into. Below is the detailed syllabus for Media and communication.
M.A (Media and Communication) Semester-I
| | |
| --- | --- |
| Sr. No. | Subjects of Study |
| 1 | Advanced Reporting |
| 2 | Basic Photography & Photo Journalism |
| 3 | Business Media & Media and Cultural Studies |
| 4 | Copy Editing and Page Design |
| 5 | Communication Theory and Practice |
| 6 | Introduction to New Media |
| 7 | Indian Media and Current Affairs |
| 8 | Media Laws and Ethics |
M.A (Media and Communication) Semester-II
| | |
| --- | --- |
| Sr. No. | Subjects of Study |
| 1 | AM Plus & Advertising |
| 2 | Corporate Communication & Communication Research Methods |
| 3 | Environment & Development Communication |
| 4 | Introduction to AV Media |
| 5 | Media Writing & Media Management |
M.A (Media and Communication) Semester-III
Sr. No.

Elective

1

Specialization Subject-I

Broadcast Media
Communication Management

2

Specialization Subject-II

Film Studies
Print and New Media
M.A (Media and Communication) Semester-IV
| | |
| --- | --- |
| Sr. No. | Further steps |
| 1 | Dissertation |
| 2 | Internship |
Eligibility Criteria for Media and Communication
The candidate applying for the course must have completed a bachelor's degree. Most Universities prefer candidates with 50% or more percentage of a bachelor's degree.
You may also need to write an entrance test, as some renowned Universities also conduct entrance exams for admission into the course.
Scores of PTE or IELTS for admission. Scores depend on the requirement of the country or University.
Top countries to pursue MA in Media and Communication
United States of America:- United States of America is the topmost destination for students as it provides unmatchable quality of education. The USA is also a very hospitable country, which we can know by looking at the number of students who enroll in US universities every year. Another important reason for media and communication students to study at US universities is that 6 of its universities are listed in the top 10 of the world's ranking.
United Kingdom:- The USA and UK are among the top countries which the students are preferring to go to. Rightly so as the UK too has quality universities and 2 of them are listed in world's top universities.
Netherland:- Netherlands makes an unexpected entry in the list of best countries to pursue a master's in media and communication and for all the right reasons as the best university for media and communication is in the Netherlands. The University of Amsterdam with 96.6 overall scores is ranked as the best university in the world to pursue media and communication.
Career prospects for Master's in Media and Communication
The generation we are living in is a generation of digital revolution and media has played a huge role in it. As the horizon of media and communication is increasing, so is the demand for media and communication background students. Here we list some of the types of careers that you can pursue after completing a master's in media and communication.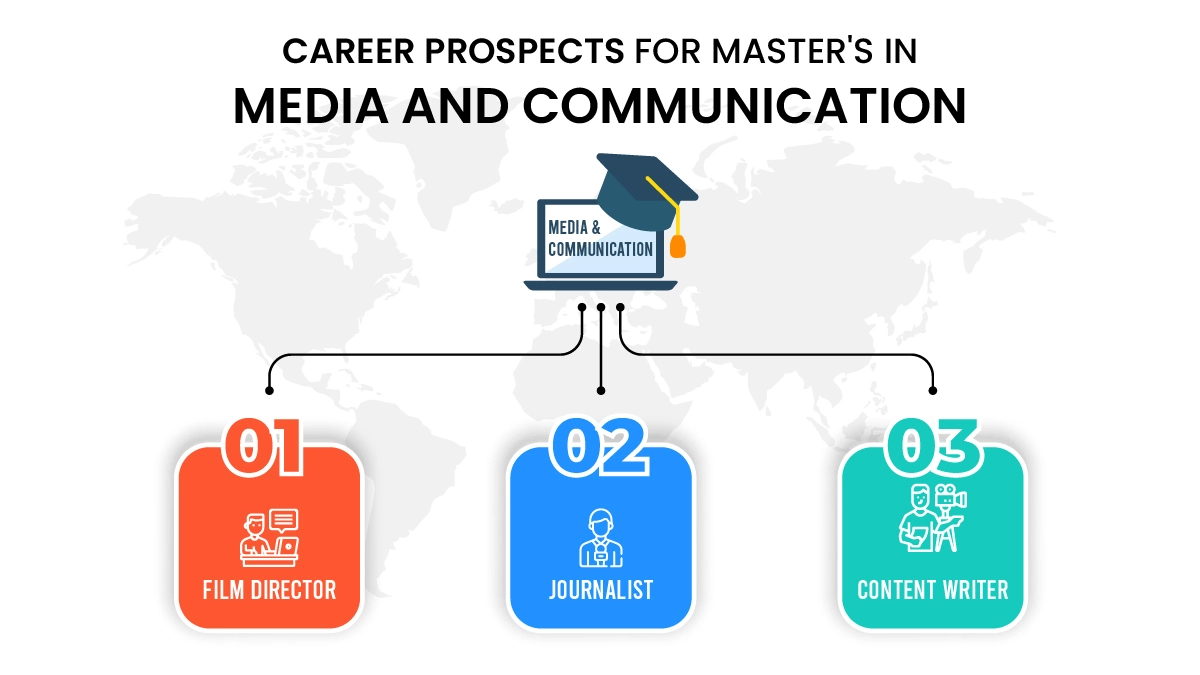 Film Director:- How many times does a person on average watch a video or movie on youtube or some other apps? As per statistics on average each day a person spends 100 minutes of their life watching a video online. With the rising consumption of visual content, the career of a film director feels very enticing. On average, a fresher in this field makes around 5 lakhs per annum.
Journalist:- The career of a journalist is adventurous as well as a very responsible job, as it is concerned with delivering authentic and unbiased news to the viewers. The average salary of a journalist is 2.5 lakhs per annum for a fresher, which only increases with time.
Content Writer:- The consumption of content has been rapidly increasing day by day. Also with the increasing pace of the current generation, they want everything at a rapid speed. The video content plays at its speed, which sometimes becomes unbearable for people and so they sought the information through written content. This is where content writers come into use as they are the ones writing all the content. Content writing is a lucrative career option if you think you have the charisma in your writing which can attract the masses. The average salary of a fresher in this field is 3LPA, which can spike up with experience.
Masters in Media and communication require individuals who are curious and creative. Now that you have read the article to the end, I am sure you have got the zeal to pursue this course. You should kickstart your journey of pursuing a master's in media and communication today. We are here to help you manage expenses if you are unable to. Request a callback from our team at Wemakescholars and. We will help you choose the best education loan to fulfill your dream of pursuing Masters in media and communication. Our financial officers will provide you with negotiation support in case you need it. All these services are free of cost, So! Wait no more! Connect to us today.