Fellowship vs Scholarship: The Difference is significant
Admissions | Updated
Scholarships or fellowships are like grants offered to students to help with their studies or research. These are programs run by the government, NGOs, private organizations, or Universities. Every fellowship or scholarship has certain eligibility requirements that need to be met by students applying for them. Fellowships and scholarships both offer financial assistance and so it is natural to get confused between the two terms. Though there is a significant difference between the two terms, which we will discuss in the below article. Before seeing the key differences between the two, let us have clarity on the definition of scholarship and fellowship.
Scholarship:
Scholarships are the financial aid provided to students to attain higher education. Scholarships serve as the motivation for students to study well in the future. They help meritorious students attain quality education, irrespective of their financial background. The purpose of the scholarship is that meritorious students or students who are financially not that sound should not be deprived of education. To financially sound, meritorious students, scholarships serve as motivation as they stand out from a bunch of people. Scholarships can also be provided when students choose a prescribed course by the University.
Fellowship:
A fellowship is more of a status that is given to students or scholars rather than financial help. It is an opportunity presented to students on completing their studies, to research a certain topic. This is provided to students on the basis of academic excellence or expertise in a certain subject. The fellowship is not necessarily a financial aid but a stipend provided to students to aid the research that he is doing. It is not to support students with weak financial backgrounds but is based only on academic achievement or expertise in a subject. The fellows can also be provided with some privileges like access to libraries or travel expenses for research.
Difference between Scholarship and Fellowship:
The difference between the definition of scholarship and fellowship looks minor, though it is not. There are various differences between a scholarship and a fellowship. Below are some of the differences between a scholarship and a fellowship: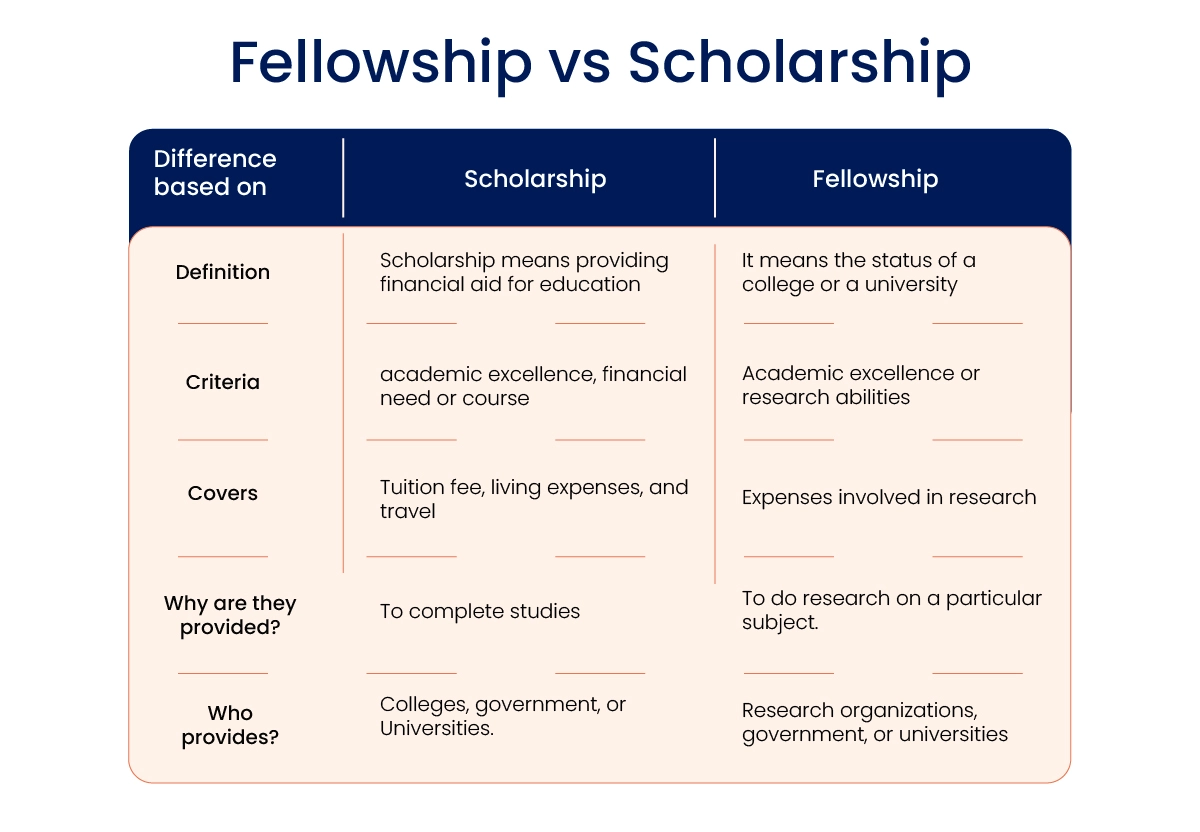 | | | | |
| --- | --- | --- | --- |
| S.No. | Parameter for difference | Scholarship | Fellowship |
| 1. | Definition | Scholarships basically mean providing financial aid, which can be for tuition fees or living expenses. There is no scholarship without financial aid | Fellowships do not mean financial aid. They do not necessarily provide financial aid. It means the status of a college or university. |
| 2. | Criteria for the grant | scholarships are given based on factors such as academic excellence, based on the needs of students, and the course the student is pursuing | Fellowships are mainly awarded based on the academic excellence of students. |
| 3. | What do they cover? | Scholarships may cover tuition fees, living expenses, or travel. | Fellowships cover the expenses that are involved in the research that the fellow is conducting. |
| 4. | Why are they provided? | Scholarships are given to students to complete their basic studies. | Fellowships are provided to students aiming to specialize in a certain topic or to scholars to research in their area of study. |
| 5. | Who provides them? | Scholarships are provided by the government, colleges, or universities. | Fellowships are provided by the government, research organizations, or Universities. |
| 6. | Can they be renewed or extended? | Scholarships can be renewed or extended based on the duration of the study. | Fellowships cannot be extended or renewed. It is awarded for a fixed time. |
The scholarships and fellowships have a lot in common and that is the reason there is a lot of confusion between the two. We hope you will be able to make out the difference between the two after reading the above article. Meanwhile, you can also apply for scholarships by going to the Wemakescholars portal. We have listed scholarships from all over the world and from various universities. In case you are not able to get a scholarship you can always go for an Education loan. We at Wemakescholars guide you with the process of education loan and also connect you with suitable lenders for you. We are funded by the government of India, hence we do not charge any fees for our services. So do not delay in thinking too much! Give us a callback request today and get started with your Education Loan process!