Duke University: Rankings, Courses, and Fees
Admissions | Updated
Duke University, known as the prettiest university in the USA, is famous for basketball. It has produced some world-class athletes since its inception. It is also among the youngest prestigious universities in the USA, as it was established late in the year 1838.
The other famous universities were established in the 1600s or 1700s. Over the years it has developed its reputation for competitive admissions, quality education, and world-class sports facilities. It consistently ranks among the best in the USA and in the world.
Duke University was first started in 1838 as Trinity college nearby Rudolph county by methodist and quaker communities. It was named Duke University in the year 1924 by James Buchanan Duke in the memory of his father, Washington Duke. The Trinity College moved to Durham in the year 1892 and in 1924 James B. Duke created the Duke endowment. This provided Trinity college with funds to expand itself and so became Duke University. The original Durham campus became the east campus and the west campus was also built in a gothic style dominated by a 210-foot tower Duke chapel.
In this article we are going to learn, where the university stands in the world's ranking, the requirements to get into Duke University, programs at the university with an estimate of fees, and we will tell you the procedure to take admission into the university.
Read More: Ivy League Universities details
Duke University World Rankings
Duke University, being the youngest prestigious university still features in the list of best universities. We list down the rankings given to the university by different media outlets or ranking websites.
| | | |
| --- | --- | --- |
| Rank | Name of the Ranking | Ranked by |
| 50 | QS World University Rankings | QS Top Universities |
| 23 | Global Universities | US News and World Report |
| 33 | Top 200 Universities in the world | Uni Rank |
| 20 | Global 2000 list by CWUR | The Center for World University Rankings |
| 23 | World University Rankings | Times Higher Education |
Duke University Acceptance Rate and Admission Requirements
The acceptance rate in Duke University is 8.9%, which means less than 9 people are selected in 100 candidates to get into the university. This shows how competitive it is to get into the University. As the University is too competitive, try and meet all the requirements of the university.
Below we list down the requirements to get into Duke University:
GPA: Universities do specify minimum GPA requirements, that enable you to submit the application. Though, to stand a great chance of getting into the university you need to average GPA similar to that of their average GPA. The average GPA for students of Duke University is 4.13. So score higher than that to stand a greater chance of getting into Duke University.
SAT or ACT: You need to take either SAT or ACT test to get into Duke University. The average SAT score requirement for Duke University is 1510. The average ACT score requirement for Duke University is 34.
Read More: SAT Exam 2022
Application requirement: Fill out the application properly and provide all the details accurately so as to make sure that it is not rejected.
Note:- The requirements tend to change according to the course that you are applying for. So do check the requirement according to the course of your interest by going to Duke University's official website.
Duke University Courses with Fee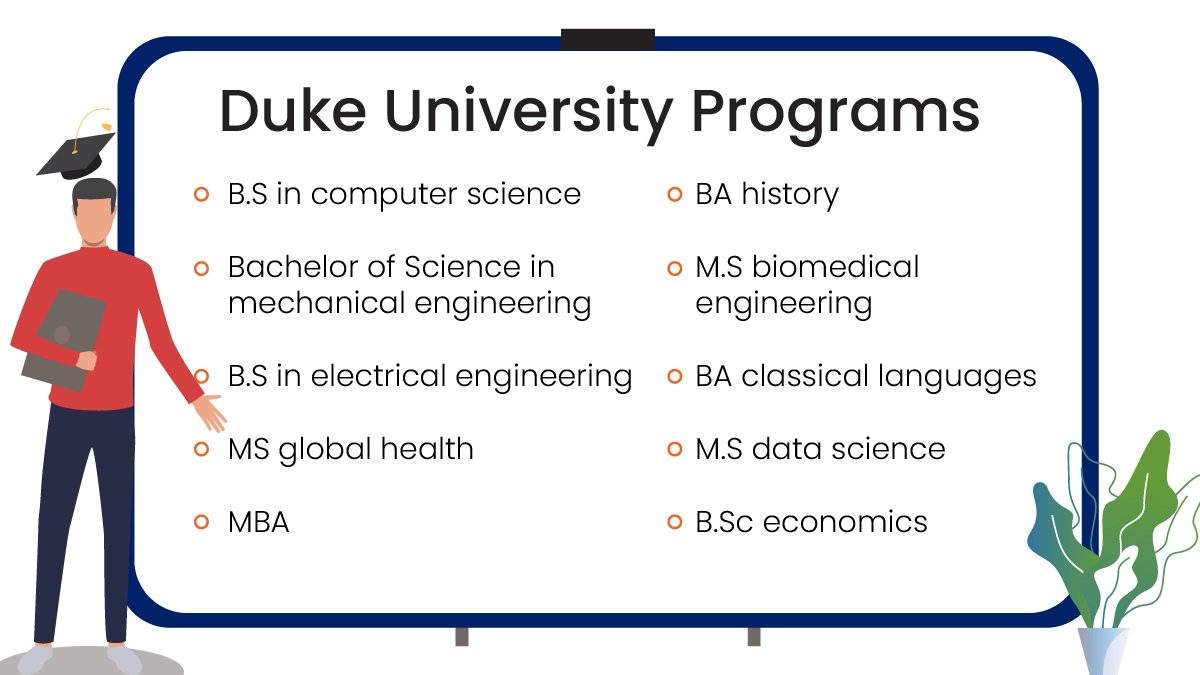 The below listed 10 courses are the ones that are in demand at Duke University.
| | |
| --- | --- |
| Course | Estimated fee per annum |
| B.S in Computer Science | 50.1 lacs |
| Bachelor of Science in Mechanical Engineering | 49.6 lacs |
| B.S in Electrical Engineering | 25.6 lacs |
| MS Global Health | 25.6 lacs |
| MBA | 62.6 lacs |
| BA History | 50 lacs |
| BA Classical Languages | 50 lacs |
| M.S Data Science | 27 lacs |
| M.S Biomedical Engineering | 25.6 lacs |
| B.Sc Economics | 50 lacs |
Read More: Affordable Universities in USA
How to take Admission to Duke University
Before applying for admission to the university get the following documents ready.
Transcripts
Letters of Recommendation
Statement of Purpose
Resume
GRE scores
English language Proficiency Test Scores (if English is not your first language)
GPA
Supplemental Application Requirements
After readying all the documents you need to fill out the application by going to the official website of Duke University. Upload all the documents on the website. You will also have to pay a fee of $95 at the time of application submission which is non-refundable.
Read More: Education Loan for USA
As we have seen that the fees for the above-listed courses are a bit high, so managing on your own becomes a bit difficult. In such a situation, you can opt for an education loan. There are many suitable lenders who provide education loans to students, Picking one among many is tough.
Also if you go to a bank and ask for an education loan, they wouldn't pay you much interest. In that case, your case you can get a loan through Wemakescholars. We make scholars provide you with guidance to get an abroad education loan that will meet all your expenses during your studies. All the guidance or services that Wemakescholars are offering is free, as they are funded by the Ministry of IT, Government of India. So do not delay in taking a step in the direction of fulfilling your dream of studying abroad.