9 Canadian Universities which help you get high paid jobs after Graduation
Admissions | Updated
Introduction
Getting a high-end paying job is the first dream of any student. Moving to Canada for higher studies is the first step toward this dream because Canada has the ninth-largest economy in the world with a nominal GDP of $1.64 trillion of which major contribution is from the service sector. And, that is why Canada is an apple of the eye of employers globally.
According to the official Labour Force Survey in Canada, The unemployment rate held steady at 4.9% in July 2022, matching the historic low reached in June, which is astonishing for a country that amasses a population of over 38 million people. Renowned as one of the most desirable locations for education on the globe, students studying or planning to study in Canada are naturally inclined to search for the highest paying sectors in Canada. According to the National Statistics Office of Canada, in 2021, 621,565 international students hold study permits intended for different study levels.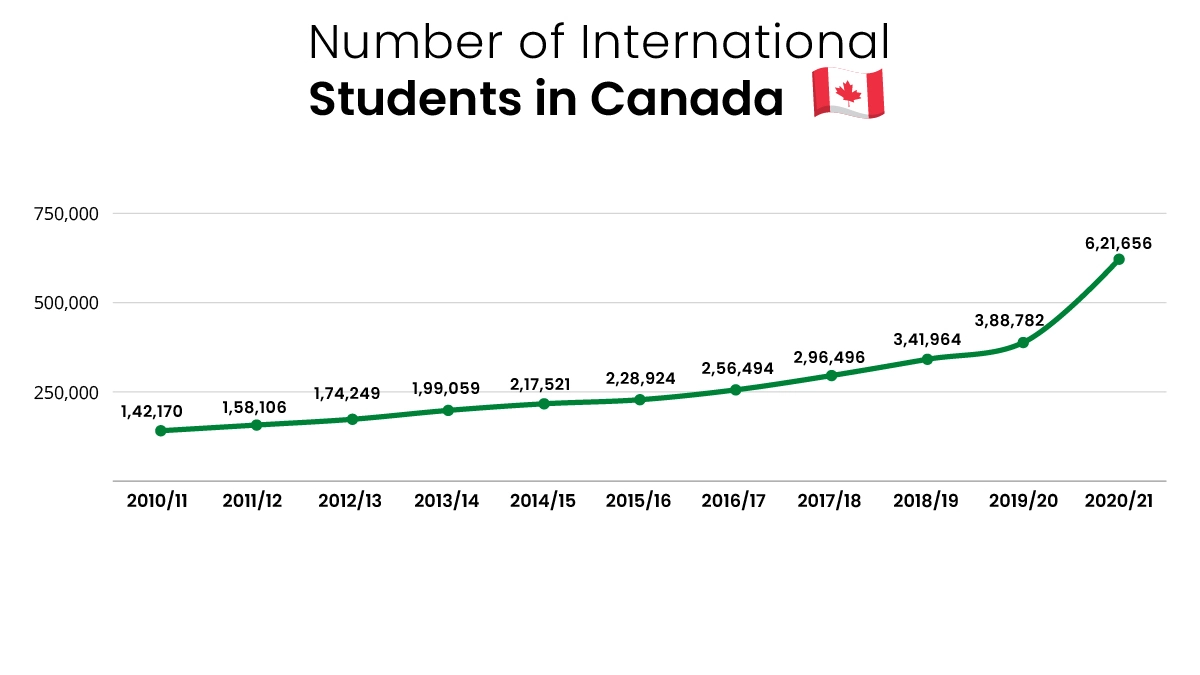 If you too have a clear vision of getting an advantageous job after completing your higher studies in Canada, then my friend you have landed on the right page. In this blog, We will be telling you about the 9 Canadian universities offering high salaries after graduation. We hope the list will help you narrow down your choices for universities in Canada to get admission. You can always visit our website to look for scholarship opportunities, which will financially support you while you can entirely focus on your studies without worrying about the tuition fees and living expenses in Canada.
Before we start let me clear one of the most common doubts, which almost all international students pursuing their degree in Canada have, that is -
How can we work in Canada immediately after completing our studies there?
So the answer is as soon as you finish your degree course in Canada as an international student, you are allowed to work there for a period which sums up to the length of your program, but can't be more than three years. At the end of this duration, you must apply for the Post-Graduation Work Permit Programme, within 90 days from when you receive the written confirmation that you've finished your academic degree course.
Now let's start with our topic.
List of Canadian Universities which help you get high-paid jobs after Graduation
1. University of Toronto – The University has evolved into Canada's leading institution of learning, discovery, and knowledge creation. It stands proud to be the world's top research-intensive university, driven to invent and innovate. It's home to notable alumni and offers a remarkable student community.
Parameter

Details

QS Top Universities 2022 Ranking

26

Average Tuition Fees

Undergraduate tuition fees:
CAD39,560 - CAD60,150

Graduate tuition fees:
CAD6,210 - CAD42,710

Placement Rate

91.3%
2. University of Waterloo – The university has three satellite campuses and 6 faculties that run 100+ programs in business, health, engineering, maths, science, the arts, environment, and more. Established in 1957, the University has 11 faculty-based schools and 4 affiliated institutions.
| | |
| --- | --- |
| Parameter | Details |
| QS Top Universities 2022 Ranking | 149 |
| Average Tuition Fees | CAD 21,762 - CAD 57,462 |
| Placement Rate | 96% |
3. McGill University – It accommodates 40,000 undergraduate and graduate students and has 12 professional schools through which it delivers outstanding education to its students. McGill University owes its reputation to its 400+ programs, 50 research centres and institutes, rich history, and thriving alumni network of 250,000 people around the globe.
| | |
| --- | --- |
| Parameter | Details |
| QS Top Universities 2022 Ranking | 27 |
| Average Tuition Fees | CAD 31,000 - CAD 63,000 |
| Placement Rate | 91% |
4. University of British Columbia – The University of British Columbia attracts, inspires, and nurtures more than 68,000 students from Canada and 140+ countries around the globe. UBC's global alumni network has more than 370,000 individuals, representing 148 countries. It accommodates nearly 60,000 undergraduate and graduate students and offers several different programs at its two campuses – Vancouver and Okanagan.
| | |
| --- | --- |
| Parameter | Details |
| QS Top Universities 2022 Ranking | 46 |
| Average Tuition Fees | CAD 38,946.2 |
| Placement Rate | 94.87% |
5. University of Calgary – The University of Calgary is amongst the top 50 to have global partnerships with employers. The university currently offers more than 200 graduates, undergraduate and professional degree programs, and provides the wider community with lifelong learning opportunities and advancing to become a global intellectual hub, where over 33,000+ students thrive in programs made rich by hands-on experiences and thorough research.
| | |
| --- | --- |
| Parameter | Details |
| QS Top Universities 2022 Ranking | 235 |
| Average Tuition Fees | CAD 12,695.9 |
| Placement Rate | 95% |
6. University of Alberta – It is a public research university based in Edmonton which has 200 undergraduate and 170 graduate programs on offer research-intensive learning, with expertise in subjects like humanities, sciences, creative arts, business, engineering, and health sciences.
| | |
| --- | --- |
| Parameter | Details |
| QS Top Universities 2022 Ranking | 126 |
| Average Tuition Fees | CAD 20,395.2 |
| Placement Rate | 96% |
7. Queen's University – Influencing Canada's higher education since 1941, Queen's University is one of the oldest degree-granting institutions and a contemporary hub of academic research in Kingston, Canada. The university is among the top medical-doctoral universities in Canada making notable advances in recent topics like cancer research, particle astrophysics, biodiversity, art conservation, geotechnical engineering, and clean energy technology. The University is home to international students from all countries and backgrounds.
| | |
| --- | --- |
| Parameter | Details |
| QS Top Universities 2022 Ranking | - |
| Average Tuition Fees | CAD 27,513 |
| Placement Rate | 90% |
8. University of Montreal – By accommodating its affiliated Polytechnique Montreal (engineering), schools, and HEC Montreal (business), the university has one of the largest university complexes in North America, and attracts over $500 million in research funding every year, making it one of the top university research hubs in Canada.
| | |
| --- | --- |
| Parameter | Details |
| QS Top Universities 2022 Ranking | 170 |
| Average Tuition Fees | CAD 21897 |
| Placement Rate | 90% |
9. Western University – Western University is based in Ontario and ranks amongst the top 43 universities this year for graduate employment rate. It ranks as one of Canada's top research universities from fundamental to applied knowledge, social, and Western discoveries benefit economic, health, and cultural development in Canada and around the world. Students from 117 countries share classroom experiences and engage in research, study abroad, and volunteer opportunities to broaden their perspectives and knowledge.
| | |
| --- | --- |
| Parameter | Details |
| QS Top Universities 2022 Ranking | 170 |
| Average Tuition Fees | CAD 24,851.7 |
| Placement Rate | 92.5% |
Conclusion
As you all are aware that the sole purpose of receiving a good education is to get a suitable job matching your knowledge and skills - a job that will shape your career, a job that will show you different facets of life, a job that will teach you many things and help you understand how the corporate world works.
With the same intention more than 6 lacs international students fly to Canada every year for their higher education, and many even plan to stay there after they graduate, trying to get a good job. Of course, there are many areas of work that pay high enough for one's imagination. But, don't forget that average salaries are meant to give you an idea about how much you could earn. But your income will often depend on your knowledge, skills, and connections and this is why the university you chose matters a great deal.
We are sure after going through the blog you would have got a clear idea about the top universities in Canada which offer high salaries to students after they complete their graduation. Also, just in case you are worried about arranging funds for your education in Canada, you can always visit our website and get your education loan process to start with us.
The process of applying for an education loan is already simple and it gets simpler when you process your loan with WeMakeScholars. We are here to help! Simply request a callback on our website, and one of our expert loan officers will revert to you at the earliest.
Thanks for reading this blog on 9 Canadian Universities which help you get high-paid jobs after Graduation. If you are interested in learning more about studying abroad and student life abroad, then I highly recommend you to read:
Study Abroad Without IELTS in the US, UK, Canada Universities
Effect of Repo Rate on Education loan Interest Rate
The Canada Work Permit Guide for Education Loan Applicants