For prospective managers, deciding to pursue an MBA degree (Master of Business Administration) is a significant step. Is it a wise decision to enroll in an MBA program at a business school in another country? Are the monetary investment and admission requirements justified? Is an MBA degree worth it in the end
We believe it is if you are looking to enter the highly challenging business world.
Why should you do MBA?
Many people get confused when making a stern decision to go for MBA or not. Is it worthy of the time and huge cost it takes? Let's see if you should do MBA or not.
So, what can you accomplish with a master's degree? An MBA, especially one from a prestigious business school, will usher you with several benefits. Obtaining a high income after graduation, securing a management job, building a strong professional network, and even being your own boss are just a few of the benefits of pursuing an MBA degree overseas.
Need to know more? Here are some of the most compelling reasons to get an MBA degree!
Enhance management skills
A lot of specializations to choose from
Great networking opportunities
Serious money
No age bar!
How many years is an MBA course?
A full-time MBA programme lasts two years on average, while there are many accelerated full-time MBA programmes that last just a year. This style of fast-paced MBA is typical, particularly at non-US business schools.
The length of a part-time or executive MBA programme depends on how many credits a student acquires in each academic semester or quarter. Executive and part-time MBA programmes are designed for working people who want to continue their education while working full-time.
Now that you know what an MBA is and an overview of why it is the right fit for you, let us move on to know which countries provide world-class education.
Which country is best for MBA?
1. USA:
It's where MBA rose to prominence. The first course was developed by Harvard Business School in 1908, and American universities have been leading the way ever since. An MBA from one of the most prominent and globally respected business institutions in the United States will make employers sit up and take notice.
The USA offers an amazing education system, prestigious universities, guaranteed career opportunities, a strong support network for international students, and like these, there are many more reasons why a master's in the USA is so lucrative.
Benefits of an MBA from the USA:
Home to top universities
Renowned faculties
Better job opportunities
Diversity
Top-ranked B-schools in the USA:
Harvard Business School – Harvard University
Stanford Graduate School of Business – Stanford University
Booth School of Business – University of Chicago (UChicago)
Wharton School of Business – University of Pennsylvania (UPENN)
Kellogg School of Management – Northwestern University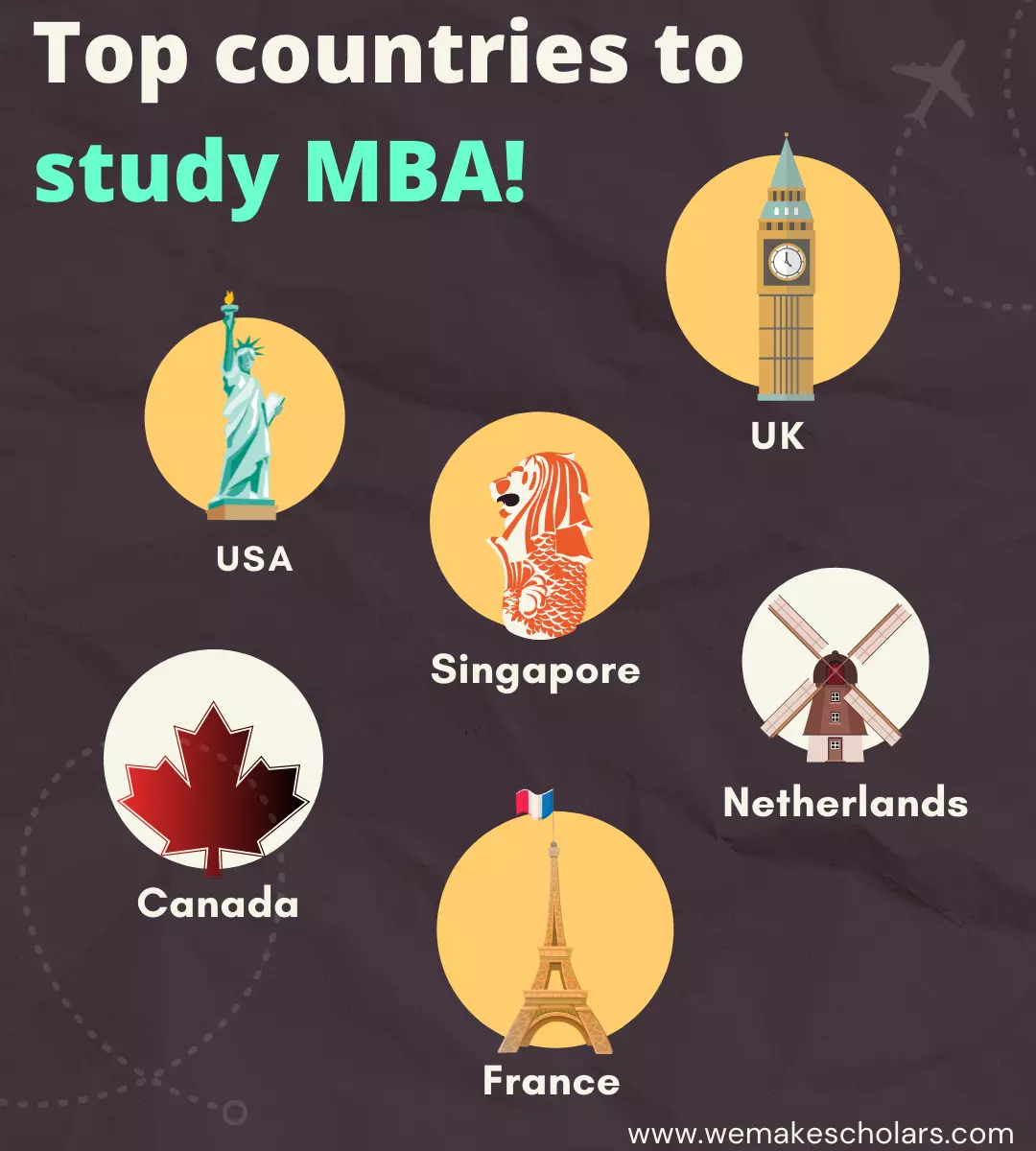 2. Canada:
In recent decades Canada has emerged as a popular choice for international students wishing to study abroad. The reason is simple, Canada not just offers world-class universities with high standards of research and teaching but plenty of job opportunities to its graduates.
When it comes to MBA, Canada may not be as well-known as its southern neighbor, but it is certainly worth considering - and not just for its breathtaking surroundings. The country's top business schools currently compete with the best in the world, and studying there is often less expensive when compared to other countries.
Benefits of an MBA from Canada:
Affordable Fees
Quality Education
Multiculturalism
Value for your Money
Top-ranked B-schools in Canada:
Schulich School Of Business – York University
Rotman School of Management – University of Toronto
Sauder Business School – University of British Columbia (UBC)
Queen's School Of Business
UNB Saint John Faculty of Business – University of New Brunswick
Desautels Faculty of Management – McGill University
Ivey Business School – Western University
3. United Kingdom:
After the United States, Britain is the second country with the most universities ranked in the top 10 business school rankings. The UK is one of the most popular destinations for MBA students. The Global Financial Center Index now ranks London as the world's most competitive financial capital, and it is this competitiveness that attracts prospective students.
The QS Global Employer Survey consistently shows that UK degrees are highly valued and recognized worldwide. There are 24 UK Business Schools in the global list of 200.
Benefits of an MBA from UK:
A Wider employment scope
Global Exposure
Quality of institutions
One year programmes
Affordable tuition
Top-ranked B-schools in the UK:
London Business School (LBS)
Said Business School – University of Oxford (OU)
Cambridge Judge Business School
Imperial College London
Warwick Business School
Manchester Business School
Strathclyde Business School
4. Singapore:
Singapore is a dynamic, innovative, and business-friendly place to study for an MBA. It has long been recognized as one of the Asian Tiger economies. It has a reputation for providing high-quality education, which has recently expanded to its business schools. In all of the country's universities, English is the primary language of instruction.
Benefits of an MBA from Singapore:
Launchpad for tech and startups
High employability rates
A vibrant, cosmopolitan city
Global outlook
Top-ranked B-schools in Singapore:
National University of Singapore (NUS)
INSEAD Singapore
Nanyang Business School
Lee Kong Chian School of Business
5. France:
Prolific culture, distinct cuisine, stunning architecture, a slew of artists, and an intellectually challenging environment are just a few of the characteristics that make France a popular destination for higher education. Universities in France, as part of the Bologna Process agreement, offer a variety of programmes and courses to meet the needs of all students.
France was the first country in Europe to offer an MBA programme, and it remains one of the top countries in which to get an MBA. Today, an MBA in France is a sought-after destination for a wide range of career ambitions and prospects. You will have access to many of the world's best business schools.
Benefits of an MBA from France:
Robust Economy
Business Hub
Global Experience
History and Influence
Top-ranked B-schools in France:
HEC Paris
INSEAD
ESSEC Business School
Emlyon Business School
Grenoble Ecole de Management
6. Netherlands:
The Netherlands is one of Europe's greatest countries for international students, particularly in terms of higher-quality education, affordability, a multicultural atmosphere, and accomplishing career ambitions. The Netherlands was the first non-English-speaking country to create English-language higher education programmes. More international students are attracted by this element since it is simple to communicate for a living, study, and work across the country.
Benefits of an MBA from The Netherlands:
High quality of life
High-quality education
Generous work visas
Exciting job opportunities
Top-ranked B-schools in the Netherlands:
Rotterdam School of Management
TIAS School for Business and Society
Tilburg School of Economics and Management
University of Twente
Maastricht School of Management
What are the Average Fees for MBA Abroad in a different country
Here's a table depicting what your average tuition fee is expected to be in the top countries mentioned above:
| | |
| --- | --- |
| Country | Average tuition fee |
| USA | 60 to 80 Lakhs |
| Canada | 15 to 60 Lakhs |
| UK | 20 to 65 Lakhs |
| Singapore | 45 to 65 Lakhs |
| France | 12 to 25 Lakhs |
| Netherland | 7 to 40 Lakhs |
MBA Abroad can be an expensive affair. The fees can shoot up to INR 80 Lakhs to even a few crores. This is much higher than the MBA Fees offered in Indian colleges. However, the candidates have the option of availing various financial benefits available through the various MBA scholarships & Education Loans.
Applying for Education loans for MBA Abroad
The Master of business administration (MBA) is one of the most expensive postgraduate courses abroad. Even though the course offers high returns, Institutes/universities that offer MBA demand a high investment up front, which many students are unable to afford out of their pockets.
Hence, many of them choose to fund their MBA courses with the help of an MBA education loan. There are many education loan benefits that don't just serve financially backward students but also students coming from affluent families like Tax benefits, saving on TCS, etc.
The benefits of taking an education loan for an MBA abroad are as follows:
The loans are offered to students who have already secured admission to an MBA institute. By opting for an MBA education loan you can-
Save your pocket
Covers all education-related expenses
Prevent missed opportunities
The ease of any abroad education loan procedure greatly depends on the terms and conditions of the lending institution. The general process of applying for abroad education loans is pretty simple. You can apply for an education loan online these days. However, getting the respective bank/NBFC to process your loan application is a bigger task. And when you apply individually, there are higher chances of you not getting your education loan at the right time.
This is where we come into the picture. The financial team of WeMakeScholars has experience in tackling even the most difficult cases. Our financial officers analyze all aspects of a student's profile minutely and accordingly suggest a suitable lender. When you choose to apply with us, we will ensure that the entire loan process becomes a cakewalk for you.
WeMakeScholars, being a government-funded organization, has no hidden clauses when it comes to the process. If you are looking to apply for an MBA education loan through a specific lender, or for a specific country, do explore the other articles on this blog.