Winning a scholarship is like winning an IPL match against Gujarat Titans, which is impossible unless you prepare well and perform the best. You will have to be good at studies, essay writing, or filling out the application form. The reason for tough competition is the number of students eyeing a particular scholarship. There are millions of students applying for thousands of scholarships. That is why you will have to have that extra charm in your application to corner other students who are applying for the same scholarship. In the below article we will provide you with 11 tips to maximize your chances of winning an international scholarship. We will also discuss alternatives to fund your study abroad, in case you are not able to get a scholarship.
About Scholarship applications
An application form for the scholarship is no different from different forms that we fill, like bank forms or forms for licenses. It too asks for basic information which includes your name, parents' names, addresses, ID proof numbers, and occupations of your parents.
Fill in the details accurately and do not try to fill in any wrong information. Apart from the basic information, the scholarship provider may also ask you to submit essays or letters of recommendation which we will discuss below in tips to maximize your chance of winning an international scholarship.
11 tips to maximize your chance of winning an International Scholarship
You definitely need to prepare yourself to get through to the scholarship and have a clear picture of what you need to do, to get one. The below tips will help you maximize your chances for the scholarship:-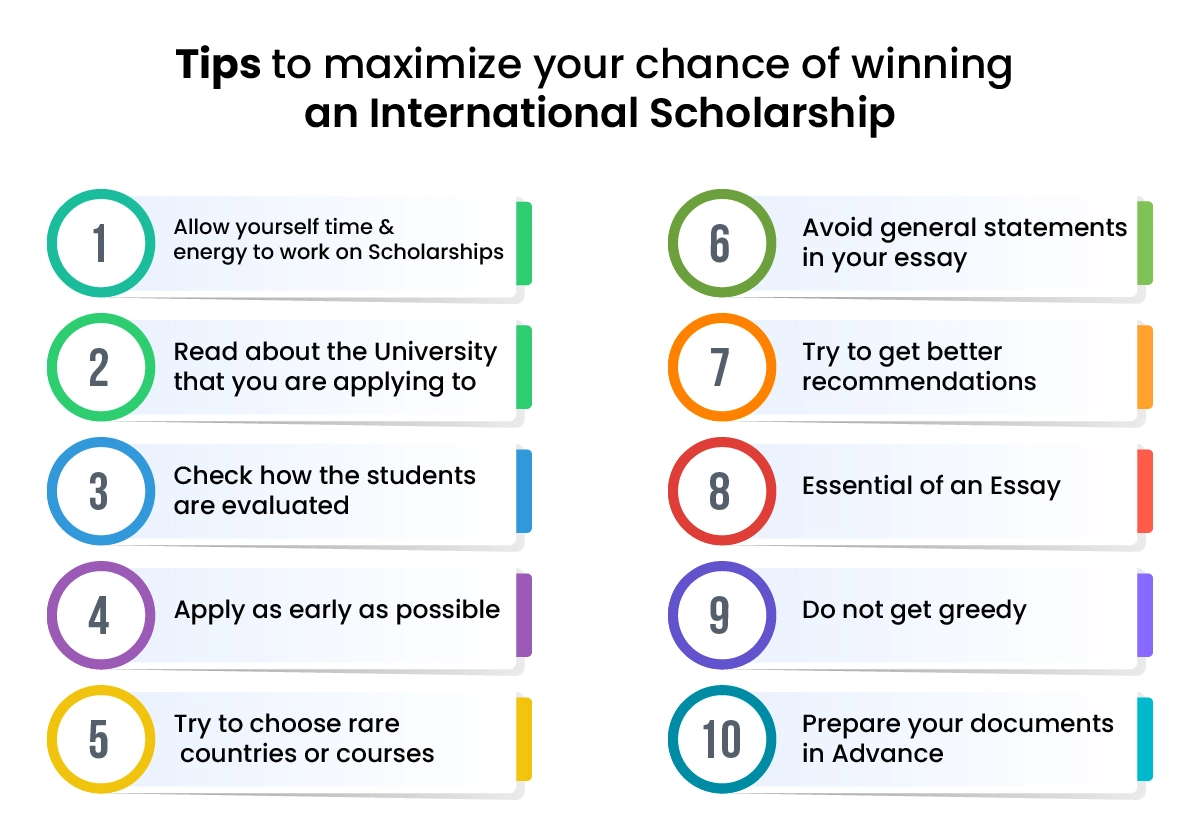 1. Allow yourself time and energy to work on scholarships:
You will have to apply for a bunch of scholarships before you get one. So allow yourself time to search for different scholarships and read details about them so that you can pick the best ones for you. Do not rely on just one particular scholarship, apply for a range of scholarships. Do not be disheartened by rejection, believe that you will be able to get through the next scholarship.
2. Read about the University that you are applying to:
Read about the University, and its vision or objectives to understand it. That will give you an idea of what the university is truly looking for in its student. Mold your application or your thoughts in the direction of the university's requirement. When your thoughts will start matching with that of the University, it will give you an edge over other applicants as your profile will totally align with the requirement of the university.
3. Check how the students are evaluated:
Of course first, check the basic eligibility criteria like nationality, course, and level of study. After getting through the basic eligibility criteria, check specific details of the requirements. Like some scholarships are looking for students who have got good leadership skills, some want students with good communication skills. Do not miss these intricate details, they may seem small, but can make a huge difference in getting you the scholarship that you are looking for.
4. Apply as early as possible:
The saying 'the early bird gets the worm' holds true in the case of scholarships. When you apply early you compete with less number of applicants, hence your chances are high. Also, you have ample time to look for different types of scholarships. You don't go through the stress of worrying about the deadline. So be quick in making decisions and try to apply as early as possible.
5. Try to choose rare countries or courses:
Most of the students aspire to go to USA, UK, or Australia. That is why the competition for scholarships in these countries is very high. But the same courses could be found in other countries which provide scholarships. So try to choose rare countries that offer the same kind of funding and quality education. This will maximize your chances of getting a scholarship.
6. Avoid general statements in your essay:
An essay is your way into the scholarship. So try to write a good one and exclude general statements like 'I was always interested in studying at the given University. An essay is to narrate your story to the evaluators, so make sure you write a good one. Tell the evaluator how you got interested in a particular subject or University.
7. Try to get better recommendations:
Ask your professors or lecturers to give you recommendation letters. Show them the University website and the skills that the scholarship requires. Ask them to write according to the required skill set by the evaluators.
8. Essential of an Essay:
Try to start the essay well, possibly any unique traits that you possess, so that the evaluator reads your essay till the end. Do not start the essay by introducing yourself, as this is too common. Try to match the word limit given; do not try to extend the length by dragging it. Try to use your own words rather than picking quotes from the internet.
9. Do not get greedy:
Do not bias between scholarships that are offering low amounts, as any amount is better than no amount. Apply to all kinds of scholarships, once that are offering low amounts as well as those offering full funding. After the results, you can opt for the scholarships that are offering a good amount.
10. Prepare your documents in Advance:
Do not wait till the deadline to prepare all your documents. Ready them in advance to meet any emergencies that you might face.
The standard documents are:
Your CV or resume
Your Essay
Letter of recommendation from your teachers.
11. Proofread:
Read your essay and application, not once but a few times to make sure that there are no errors in it. Read carefully and check if there are spelling or any grammatical errors. Do not neglect minute errors, they can turn out disastrous for your application.
Do not delay in submitting your application. Do it before the deadline and make sure it is proofread several times. Don't be disheartened if you don't get through a scholarship. Try for more scholarships, which may offer low amounts but always remember anything is better than nothing. The rest of the amount can be arranged by getting an education loan from public or private banks. Yes, we do understand the process of a loan can be tedious. But it can only get tedious if you are going directly to banks. Go through Wemakescholars, make the process of education loans simple and rewarding. Request a callback from our team to get started with an education loan.