Arizona State University: Admission application, fees and World Ranking
Admissions | Updated
Introduction to University
University of Arizona was the state of Arizona's first university. It is a public research university which was founded in the year 1885. It is governed by the Arizona Board of Regents and offers a great opportunity to students from all across the world to become a part of its rich education system, to encourage students and fulfil their dreams. It is always among the list of best-ranked institutes in the United States of America.
The university has evolved multiple times since its beginning. In the modern day, Arizona State University is an epitome of research infrastructure, its campus has a perfect balance of heritage construction with the construction of state of art amenities considering the present day's need for students' holistic development.
Read the complete blog, to know the rich history, current rankings and courses along with their tuition fees that are being taught at the Arizona State University, so that you can have insights and plan accordingly for your higher studies at the Arizona State University in the USA.
History
Arizona State University has a very bold, vibrant and as I already mentioned rich history. In 1885, the university was established as the Territorial Normal School and after a series of name changes, in 1958, the university finally got its name as Arizona State University. Due to its century-long existence, it was also recognized as the most innovative university in the country by the U.S News and World Report, for seven years in a row.
Arizona State University has always been on the list of most popular universities among abroad study aspirants.
Four campuses of Arizona State University are in the Phoenix area. Students preparing for vocations in medicine, journalism, law, media, the arts, sciences, etc. call the Downtown Phoenix campus home. The prestigious labs and facilities on the historic Arizona State University Tempe campus host hundreds of majors that encourage graduate and undergraduate students to engage in cross-disciplinary study and discovery. Students studying integrated sciences and arts, engineering, management, technology, etc. may be found on the Arizona Polytechnic campus. In its more than 50 undergraduate and graduate programmes, Arizona State University's West campus combines a liberal arts education with training for 21st-century leadership.
World Ranking
Arizona State University has always been one of the top-notch education institutes in the United States, which is known for its quality education and innovative teaching methodology. This can be well said from the fact that US News has placed Arizona State University at 121st spot among the best national universities in the United States for the year 2022.
To sum it up, here is the world ranking of Arizona State University given by different ranking agencies.
| | | | | | |
| --- | --- | --- | --- | --- | --- |
| Ranked by | 2018 | 2019 | 2020 | 2021 | 2022 |
| ARWU (Shanghai Ranking) - Universities Ranking | 101-150 | 101-150 | 101-150 | 101-150 | NA |
| QS - World University Ranking | 209 | 212 | 215 | 220 | 216 |
| THE (Times Higher Education) - University Ranking | 126 | 123 | 155 | 184 | 132 |
| US News & World Report - Global Universities | 145 | 146 | 146 | 146 | 165 |
| US News & World Report - National University Ranking | NA | 115 | 117 | 103 | 117 |
Requirements
Along with 10th, 11th and 12th scores, Arizona State University also requires students to clear the TOEFL, IELTS or PET exams. It also grants credits for CLEP, IB and AP. If any student is given a conditional offer letter, they must submit their IELTS/PET/TOEFL passing score within three semesters or successfully graduate from Arizona State University Global Launch.
There are different requirements for undergraduate and graduate programs, depending on the major or course. Some courses may also have higher requirements for English proficiency while the average English proficiency scores required are as follows:
| | | |
| --- | --- | --- |
| ELP Tests Accepted for ASU Admission | Undergraduate Score Requirements | Graduate Score Requirements |
| TOEFL PBT | 57 | 550 |
| TOEFL iBT | 61 | 80 |
| PET | 53 | 60 |
| Duolingo English Test (DET) | 95 | 105 |
| IELTS | 6.0 | 6.5 |
If we talk about the documents required to apply for admission at different levels, then I believe, the below-mentioned table will be helpful to you:
| | |
| --- | --- |
| UG aspirants | PG Students |
| AP score report | GRE/GMAT/LSAT/MCAT score reports |
| SAT or ACT score reports can be submitted if the applicant wishes to, otherwise, ASU is test-optional | Resume/CV |
| Letter of recommendation | Essay or SOP, as per course requirement |
| Supplement essays | Two to three LORs |
| Additional supplements such as audio recordings, videos or portfolios | Additional or optional supplements, as per course requirement |
| Financial documents | Financial documents |
| Fee waiver form, if any | Fee waiver form, if any |
| Academic transcripts | Academic transcripts |
| ELP test score reports | ELP test score reports |
Courses with tuition fees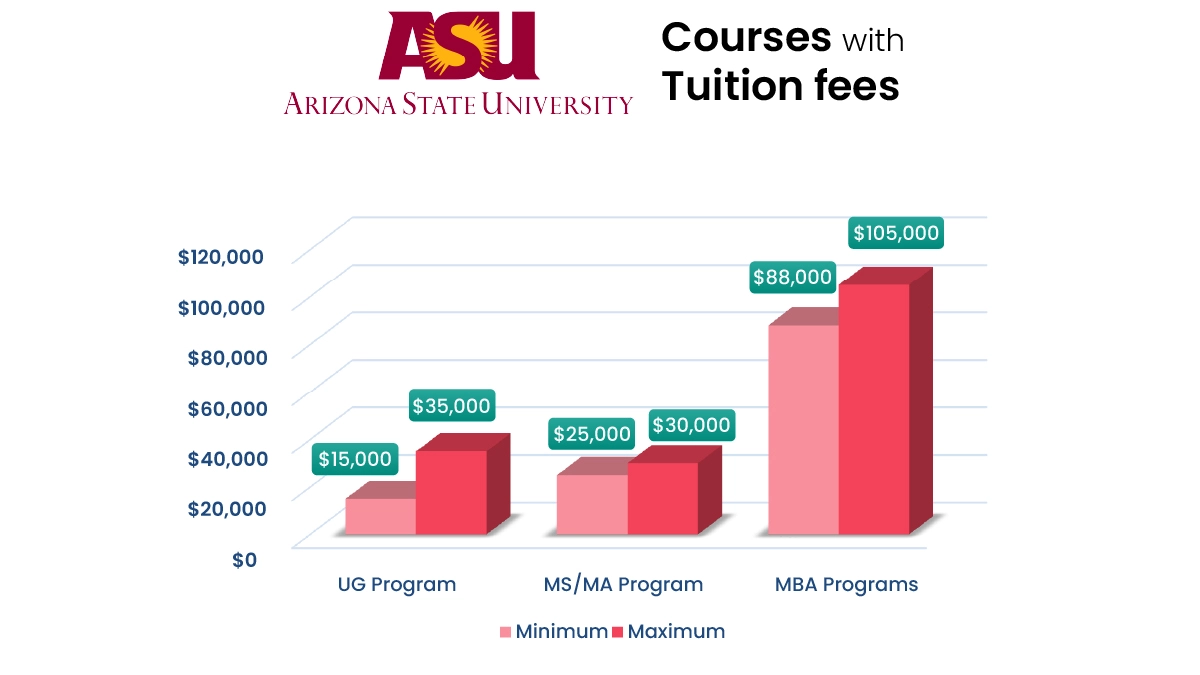 Admission Process
Arizona State University offers UG programs in the Summer, Fall and Spring intake. July-August is the period when admissions for spring intake begin, for summer intake the period is from October-November, while the fall intake begins from January-February. Don't forget to check the university website to know which courses are offered in each intake.
How to apply to UG courses?
Both the Common App and the ASU Application for Admission are available to UG applicants. Please be aware that only one application will be taken into account. One application will be immediately cancelled if two are received from separate portals. Students who have applied will get an email with information about the official university website. Students can check the status of their application, update or complete personal information, and learn what the university has decided.
Using the ASU Application Portal to Apply
To make an account, enter your information, and then click "Start Application."
As you are prompted for details, provide them and make sure you thoroughly complete all six areas.
Under ASU, choose your chosen college and school information. grades, and information about your residency. Select your desired major and after reviewing your application, submit the application fees.
How to apply to PG courses?
Through its application portal, ASU accepts graduate applications. Professional programmes like law school or an MBA, however, have their application portal. Check their respective college website for details.
Using the ASU Application Portal to Apply
First, create an account by providing all the necessary information.
Website address: website
Create an account, log in to the portal, and choose the degree type to begin your application.
Make sure you complete all of the requirements and provide accurate information in each section.
Conclusion
Global education is a life-changing experience and if you too are planning to change your life by going abroad for your higher education the State of Arizona University can be your greatest launchpad. But, if you are worried about the education tuition fees and other living expenses, then don't worry, we've got you covered. Applying for an education loan is already simple and gets simpler when you process your loan with WeMakeScholars. We are here to help! You can get in touch with the financial officer by requesting a callback from them or clicking here to check your education loan eligibility.
Thanks for reading this blog on State of Arizona University: Admission application, fees and World Ranking. If you are interested in learning more about studying abroad and student life abroad, then I highly recommend you to read: